Kids' Corner: Let's decorate for Easter!
For over 1,000 years, Easter has been celebrated in Norway. Påske, as it's called there, is a joyous time, and much of the fun is in the preparation. This article by Lori Ann Reinhall of the Norwegian American is all about decorating and getting everything ready for the holiday with your family.
Pick your colours
For a long time, the Easter holiday has been associated with four special colours: purple, white, green, and yellow.
Purple and white are colours from the church: purple is the colour of Lent, the 40 days leading up to Easter. Purple symbolizes dedication and good deeds, while white is the colour of purity and joy.
Green is the colour of hope and new life, as the meadows come alive again with the promise of spring.
Yellow is the colour of the sun, bringing warmth and happiness. The cheery daffodil is in bloom just in time for Easter with its bright, sunny colours.
GET READY: Make sure you have your colour palette ready for Easter: put out your paints and crayons, and make sure you have a nice assortment of construction paper on hand: you will need them for the fun and exciting projects that follow. You can pick some Easter flowers to get in a creative holiday mood.
Chicken hatchlings

The Easter chick (påskekylling) is one of the oldest Nordic Easter symbols. You will find them everywhere: on napkins, table runners, and paper plates. You can buy them at crafts stores, or better yet, you can make your own.
GET READY: Create your own Easter chicks from coloured paper using a few basic shapes: an oval, a circle, a triangle, and a three-fanned feather (you can trace around your fingers to make your pattern). Be creative putting the shapes together in different colour combinations. Depending on the size of your creations, you may want to use a black marker to draw the eyes. You can use these colourful cute chickadees just about anywhere: on tables, doors, and walls.
Easter Eggs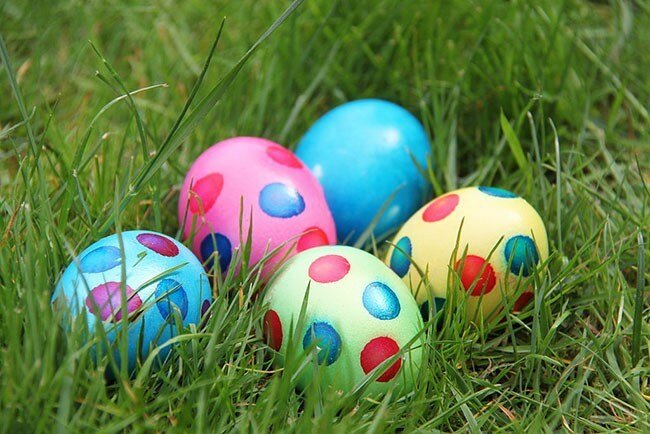 Easter chicks hatch from eggs, and that is why we paint them and set out on exciting Easter egg hunts. But there is no need to wait for a trip to the grocery or craft store to buy your Easter eggs: you can get started right away at home.
GET READY: Use the paints and crayons you gathered for Easter to create the most beautiful drawing. Why not colour or paint beautiful Easter placemats for your big family meal: they are sure to be delighted!
Bunnies

In more recent times, a new little friend hopped into the Easter scene in Norway. The tradition of the Easter Bunny, with its fluffy tail and floppy ears, has its origins on the European continent, but today, this happy little hare is loved by children everywhere.
GET READY: Making your Easter bunny is just as easy as making your Easter chicks: you can use the same shapes, just work with different colours and add some ears, and hoppity-hop, you are ready to go!
HAPPY EASTER! GOD PÅSKE! 
From all of us at Norway Today and The Norwegian American
---
---
This article was first published by The Norwegian American
©
The Norwegian American
/ #
Norway Today

---