Norway will be represented at this year's Eurovision Song Contest, in Turin, by two masked "intergalactic space wolves". The pop duo won over the public not only with their song "Give that Wolf a Banana" but with their mysterious identity. The country is abuzz with just one question: who are these pair of singing space wolves?
Won Melodi Grand Prix, next stop : Eurovision!
It is not often that a mysterious masked pop duo, claiming to be "intergalactic space wolves" get to represent this country but that is exactly what happened at the recent Melodi Grand Prix. The competition's winner gets the chance to represent Norway at the upcoming Eurovision Song Contest in Turin. Unlike other years, where humans have won, this year was a first as Subwoolfer, a pair of (as their spokesperson described them) intergalactic singing space wolves, won with their song "Give that Wolf a Banana".

So Norway's latest pop duo and/or unsolved mystery heads to Turin to compete against 40 other countries. Before we delve into the rabbit hole of just who Subwoolfer MAY be, let us first look at exactly what they have told the media.
Subwoolfer in their own words (or howls)
Almost a month ago, the newspaper Aftenposten published an article focused on an interview. Now, these happen all the time – any two-bit musician who tours Norway will normally do one – however, the key to a good interview is, of course, letting the subject open up as much as possible. This task was made even harder by the fact that the interviewees were Subwoolfer. So what did we find out from that interview?

Their dynamite performance at the MGP was no one-off, apparently, as they "We have been active for billions of years." Not ones to shy away from self-praise, they are used to the limelight, fame, and glamour of rockstar life as they are "the galaxy's biggest band". Judging from those that saw them recently at the H3 Arena in Bærum, the scene of the MGP final, all of Norway tends to agree!

One question which may unlock the key to their identities (more of that later) was whether the two wolves, named "Keith" and "Jim" are brothers. Not only did they confirm that they are brothers ("we always have been") but explained what happened when they first "landed" on Earth. "Jim" explained that "when we land on a new planet, we copy the behavior of the first creature we meet, while I [Keith] was lucky enough to requisition an Earthling to become a translator, Jim met some animal when we landed in the woods…" There is, however, a Norwegian comedy duo that is associated with an animal similar to a wolf. Could they be the singers behind the masks?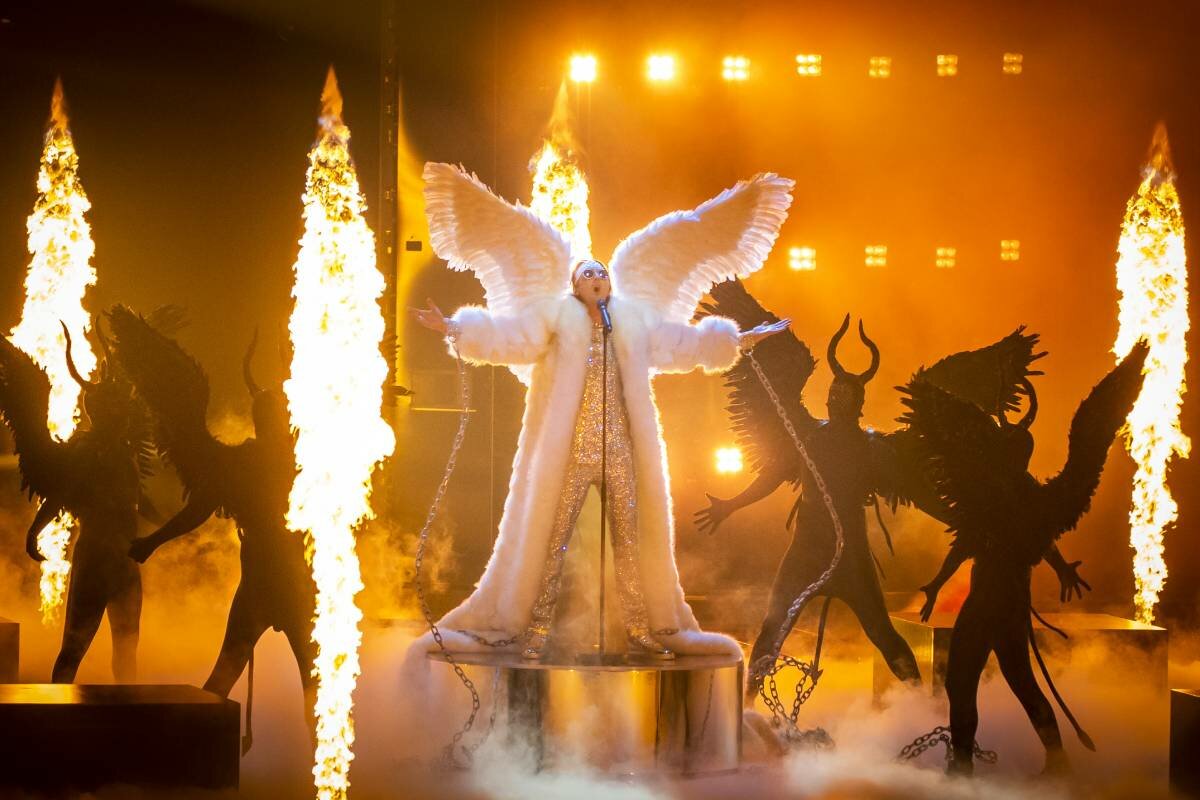 Ylvis – they just love animal songs…
Speculation is rife that Subwoolfer could indeed be the latest reincarnation of Ylvis. The comedy duo, who are also brothers, Vegard and Bård Ylvisåker, has been a mainstay of the Norwegian entertainment scene since 2000. Their major claim to fame, outside of Norway, was the 2014 worldwide smash hit (dare we say, "one-hit wonder"?) "The Fox (What Does the Fox Say?)". The video clip, featuring the brothers dressed up as foxes, has racked up over one BILLION views on Youtube and was one of the world's first viral Youtube clips. Not bad for a couple of boys from Bergen, eh?

So, we know that Ylvis has a penchant for animal songs. They have a strong sense of humor. If we dig further though, the similarities are striking. According to one Eurovision blog, Subwoolfer is signed to Universal Music Norway…which is the exact same record label as, you guessed it, Ylvis. The boys never got a follow-up hit to The Fox but the humourous undertone and lyrics in the MGP winning song, this is exactly the kind of hit you'd expect from Ylvis.
Winning MGP and heading to Eurovision is exactly their schtick
With their worldwide claim to fame almost a decade in the past, is it time that Ylvis re-emerged onto the global stage with Subwoolfer? If the Ylvis brothers are indeed "Keith" and "Jim," then this would play perfectly into one of their more elaborate, yet no less hilarious, sketches. Creating an animal-based pop duo, entering and winning Melodi Grand Prix, and then competing for Norway at Europe's oldest and most prestigious song competition could be the latest genius masterstroke from two of Norway's funniest men.

Could this whole musical caper be the basis for Ylvis to restart and relaunch a (somewhat) stalled career that has never reached the heights of their 2014 fame? If this is the case, then expect an absolutely hilarious documentary or interviews to come out of the whole Eurovision experience. Finally, of course, there is the small fact that the wolf masks look rather strikingly like another animal in the canine family…a fox!

Could they be a reality television show runner up and a former British boy band member?
The #Twitterverse is abuzz with over contenders for Subwoolfer. Gaute Ormåsen, the singer who was once runner up in Idol all the way back in 2003, has been labeled by one Twitter user as the lyricist (if not perhaps one of the performers) of Subwoolfer. In their words, "the person singing the second verse…has to be Gaute Ormåsen (or someone who sounds exactly like him)." Områsen is definitely no stranger to going the distance in song competitions and, if it is him, here's hoping that having a pal alongside him on stage can make him go one step further at Eurovision than he did in Idol…

Another name that has been strongly linked to Subwoolder is British singer, former member of the 1990s boy band A1. Adams has been based in Norway for the majority of his post-pubescent career. During an NRK recording of a backup performance of the Eurovision entry, journalists spotted two cars – registered to Ormåsen and Adams parked in the VIP area. When approached about what exactly they were doing there, both declined to comment.
Eurovision and the world awaits…
One of the more popular reality television shows over the past year has been "The Masked Singer." In it, a series of singers perform for an audience and judges, while they totally conceal their identities with costumes. The least popular singer gets voted off and only then do they take off their mask and reveal who they truly are. Could Subwoolfer be part of a marketing campaign for a new series in Norway? If so, it would be one of the most ambitious television campaigns we've seen in this country! Whatever place Subwoolfer finish at Eurovision, could their final act be ripping off their masks in front of a live audience of millions?

Whoever lies behind the masks of Subwoolfer, they certainly have Norway, and Europe, abuzz with speculation, anticipation, and excitement. How this will affect their Eurovision placing, only time will tell. One thing is for sure: Eurovision is in for a howling good time!

Source: #Norway Today /#NorwayTodayTravel
Do you have a news tip for Norway Today? We want to hear it. Get in touch at info@norwaytoday.no