Princess Astrid, the older sister of King Harald, is celebrating her 90th birthday this weekend. Her long life has consisted of dutiful service for the Royal Household and Norway, both at home and abroad.
More than just a representative of the Royal House, a big sister too
Princess Astrid – also known as Mrs. Ferner – will celebrate her 90th birthday on Saturday. The Royal House has confirmed that the celebrations will be a private occasion. The older sister of King Harald, she has spent a life dedicated to the service of both the Norwegian Crown and State.

An authorized biography released by the Royal House describes Princess Astrid as having "placed special emphasis on caring for the weak in society and on the inclusion of those who are a little different. The Princess enjoys sports and outdoor life and is a faithful guest at Holmenkollen and at other major sporting events."
Norway's "First Lady" with an impressive work ethic
Princess Astrid Maud Ingeborg was the second child of Crown Prince Olav and Crown Princess Märtha born in 1932. Raised at Skaugum Estate, she fled the country with her family when Nazi Germany invaded in 1940. Under the law of Norwegian succession, which was only amended in 1971 to include female lineage, Princess Astrid and her older sister Princess Ragnhild (1930-2012), and their descendants, were excluded from the line of succession. She studied social economics and political history at Oxford in her youth and also learned dressmaking at the famous Märthaskolen.

Princess Ragnhild married a Norwegian industrialist in 1953 and moved to Sao Paulo, Brazil where she lived the rest of her life. When Crown Princess Martha died a year later, Princess Astrid was the only remaining female royal left in the country. She thus dutifully stepped in as the "First Lady" of Norway, normally assigned to the wife of the reigning monarch. Her grandfather, King Håkon, whose wife had died in 1938, took her under his wing and was impressed with her high work ethic when representing Norway. He awarded her the Order of St. Olav after only two years.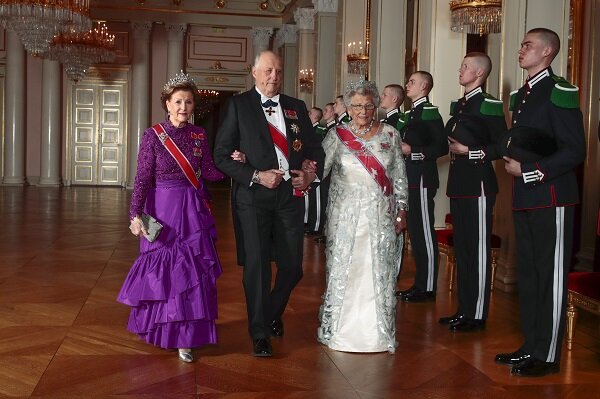 An increased role, controversial engagement, and family life
Her representation for Norway only increased when her father became King Olav in 1957. She often accompanied him on official visits, duties, and meetings and also helped him host foreign dignitaries. Notable visitors she entertained included Queen Elizabeth II of the United Kingdom and the two last crowned heads of Iran and Ethiopia – Shah Mohammad Reza Pahlavi and Emperor Haile Selassie respectively.

In 1960 she became engaged to Johan Martin Ferner (1927-2015), an Olympic sailor and medallist. Their engagement was a source of controversy as he was a divorced man. Regardless, they married in 1961 forgoing her apanage – a grant of an estate, title, or office given to the younger siblings of a King. The couple was blessed with 5 children over the next 10 years.

When her young brother, King Harald married in 1968, his wife, Queen Sonja became the new "First Lady" of Norway so Princess Astrid's royal duties diminished slightly.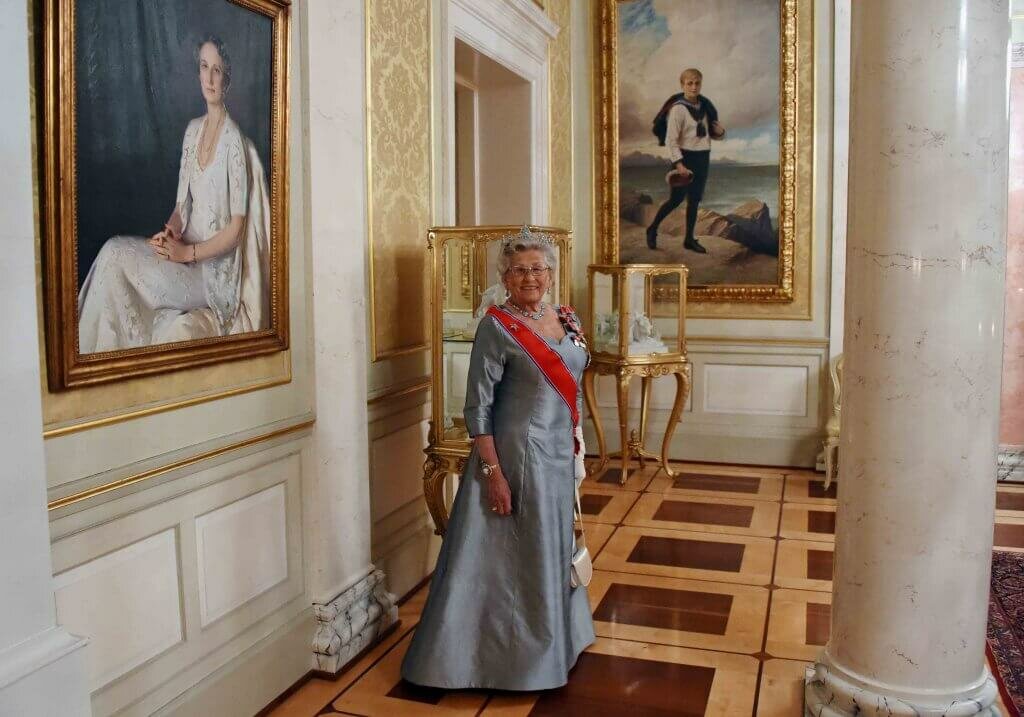 Honorary pension for state service
Over the course of the next half-century, the Princess still kept a busy schedule. She was patron to a number of charities and organizations including the Norwegian Women's Public Health Association, Trondheim Symphony Orchestra, The Norwegian Women's Voluntary Defence Association, and the Oslo Art Association. She has a long association with the Norwegian Dyslexia Association as she suffers from this condition creating a particularly trying time in her youth.

On her 70th birthday in 2002, the Princess was awarded an honorary pension granted for her services to both the Royal Household and the Norwegian state. In the commendation, it stated that "The Norwegian state has decided to show its recognition for the efforts Princess Astrid, Mrs. Ferner has made for Norway. As the country's first lady for a number of years, and later in connection with extensive representation duties. She will therefore be granted an honorary pension by the Treasury by the Norwegian state."

Her birthday is the second major royal birthday in 2022 after her grandniece, Princess Ingrid Alexandra, turned 18 last month.

Source : © NTB Scanpix / #Norway Today / #NorwayTodayTravel
Do you have a news tip for Norway Today? We want to hear it. Get in touch at info@norwaytoday.no