The Nobel Peace Prize will be awarded this Friday at Oslo City Hall despite the latest outbreak of the Omicron variant of the coronavirus. Pandemic restrictions will see the week-long celebrations continued but vastly scaled down. Read on to find out what's planned.
Celebrations will go ahead
This year's Nobel Peace Prize celebrations, a week-long festival of events and ceremonies, will go ahead despite rising coronavirus infection numbers due to the Omicron variant. New infection control measures, introduced last Friday, will see the celebrations scaled down for safety, Director of the Norwegian Nobel Institute, Olav Njølstad, told NTB. This will include a reduced capacity for the award ceremony, a mandatory face mask policy, and only 100 guests will be allowed to attend the prestigious Nobel banquet on Saturday.

The celebrations will continue regardless of the impact of infection control measures. The Institute wants to avoid having to cancel celebrations again as they did in 2020 due to a nationwide lockdown and travel restrictions. That was the 19th year without a Nobel award ceremony – the last being 1972.
Ressa will attend
The 2021 Nobel Peace Prize will be jointly awarded to Maria Ressa, from the Philippines, and Dmitry Muratov, from Russia. Ressa runs the news service Rappler, while Muratov is the editor-in-chief of the independent newspaper Novaya Gazeta.

This year's Peace Prize will emphasize how important a strong and independent press, as well as freedom of expression, are for democracy and peace.
There was uncertainty surrounding whether Ressa would attend the ceremony as she has a number of legal cases ongoing in the Philippines. However, it has been confirmed that she will attend.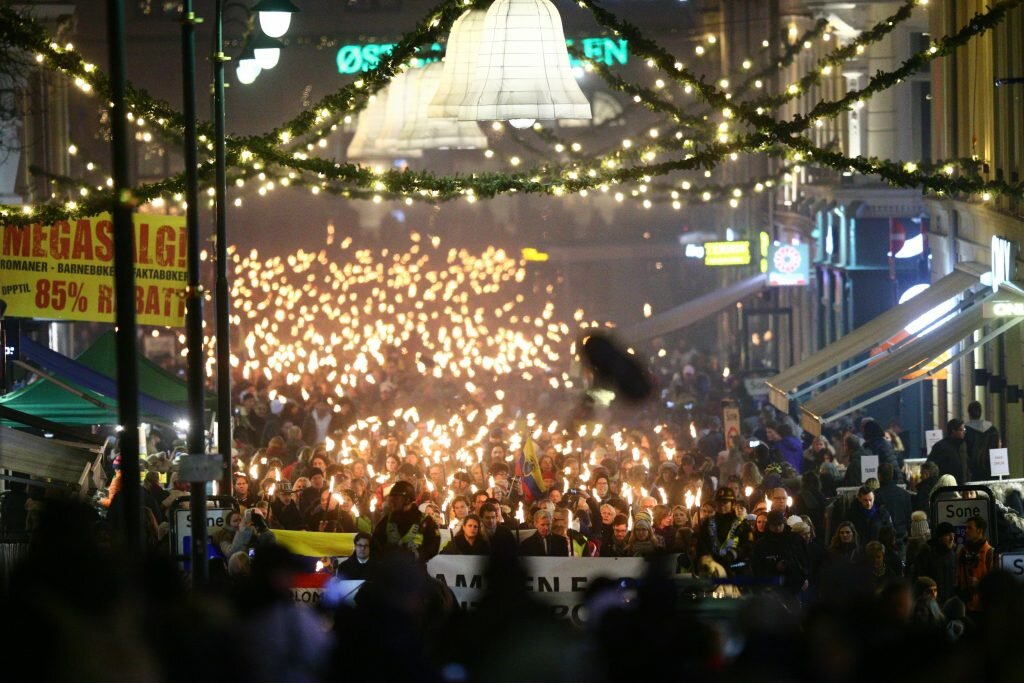 A week-long celebration of the Nobel Peace Prize
The week-long celebrations begin today at 4PM. The 'Peace Bench', designed by Norwegian firm Snøhetta, will be unveiled in front of the Nobel Peace Center attended by former Prime Minister, Gro Harlem Brundtland. On Thursday, there will be an official press conference with the winners at the Nobel Peace Institute.

Friday, December 10 is the big day. Celebrations will officially begin with a Save The Children's Peace Prize Party at the Nobel Peace Center at 11 AM. Here, the Peace Prize winners will meet children who will give a performance in their honor. The award ceremony itself takes place at 1 PM at Oslo City Hall. The leader of the Nobel Committee, Berit Reiss-Andersen, will give a speech, followed by lecture by the winners of the Peace Prize. There will be torchlight processions, from Oslo Central Station to the Grand Hotel, at 6 PM followed by the Nobel Banquet. This will be attended by dignitaries such as the Royal Couple, the Prime Minister, and other prominent members of Norwegian royalty and Government.

Saturday, December 11 will see the more public side to celebrations. The Nobel Peace Forum will be held at the University Hall from 10 AM with a theme of 'food safety'. At 4:45 PM, the Peace Prize winners will officially open the 2021 peace prize exhibition at the Nobel Peace Center. The day will climax with the Nobel Peace Prize Concert, at the Oslo City Hall, from 7 PM. Normally a star-studded event, with many Hollywood stars previously attending, this year's celebrations will be scaled down. The Oslo Philharmonic Orchestra will host the event.

Source: ©️ NTB Scanpix / #NorwayTodayTravel

Do you have a news tip for Norway Today? We want to hear it. Get in touch at info@norwaytoday.no