Taking part in modern-day Viking festivals is a great way to dive into the past. So channel your inner Lagertha or Ragnar, brush up on your knowledge of ancient runes – and come with an appetite, because you'll be FEASTING.
There are dozens, even hundreds, of large- and small-scale Viking festivals each year, during which you can live out all of your Viking fantasies.
We're here to guide you through four of the biggest, best, and most quirky Viking festivals in Norway.
How do modern Viking events relate to the actual Viking lifestyle?
At any Viking festival worth its salt(ed cod), you can expect a good dose of raucous rowdiness; in the best way.
You'll eat heartily (think seafood and farm animals like pork, cow, and goat), drink sweet mead out of horns, and watch – or maybe even participate in – a Viking skirmish.
So, is this how Vikings actually lived?
Occasionally.
Viking festivals can be most closely compared to the "feast" aspect of the real-life Viking Age lifestyle in the Nordic region.
At the turn of the second millennium AD, everyday life actually mostly revolved around farming and fishing in Scandinavia. Battles were fought, and feasts were held, indeed – but they were a more rare occurrence.
Most often, feasts were held by chieftains or other higher-ups of Viking society as a celebration and opportunity to show off all in one.
Lots of food and drink were served – the more you offered your guests, the more rich and powerful you appeared.

At Viking festivals today, you're likely to see a lot of these flashy feast aspects. But you'll experience reenactments, too – for example, you might see traditional techniques such as butter-making and authentic costumes depicting day-to-day Viking clothing.
In fact, cosplaying is usually encouraged not just by festival employees, but attendees, too!
Let's dive into some of the Norwegian Viking festivals you can experience for yourself.
Lofotr Viking Festival
The Lofotr Viking Festival is one of the biggest and most famous in the world – and for good reason.
The festival takes place at the site of the largest Viking chieftain's hall, at 83 meters long, ever found. Today, you'll find a reconstruction on the original's spot at Borg on the Lofoten Islands, along with a Viking-style forge, and the rich Lofotr Museum.

The Lofotr Viking Festival, lasting five days, takes place each year during the summer.
Feasting
During the Lofotr Viking Festival, you can try out fish, game, and domestic livestock meat, all prepared over an open fire as it was during the Viking Age.
Vegetables like cabbage, leek, onions, and turnips (also traditionally grown in Viking gardens) will also be served. 

If you feast in the rebuilt chieftain's hall, which seats up to 200, you can also experience the full Viking atmosphere where the aromas and tastes of food blend with Viking-style storytelling, song, and dance.
Here are just a few foods you can sample at the Lofotr Viking Festival:
Lamb
Wild boar
Wild berry sauces
Fish soup with cod, leek, and salmon
Viking bread
Lamb stew (this dish is perfect to warm up if you're visiting outside of the summer season – like on May 8, International Viking Day!)
Juniper-smoked salmon
Dairy dessert with honey
Reenactments and activities
Workshops led by experts, plus trading stands where you can purchase traditional goods, are a major part of the Lofotr Viking Festival. 
Along with workshops, there are reenactments you can watch, participate in, and craft your own goods (plus take them home as a memory!). Such activities include:
Textile coloring using natural ingredients: for example, making green out of birch leaves, yellow out of iron and copper, and brown out of walnuts
Knifemaking, including a leather sheath
Embroidery techniques
Runic alphabet learning
Traditional cooking
Beer brewing
Battle skirmishes
Archery
Rowing and sailing on Viking longships
Midgard Viking Festival
The fun-filled Midgard Viking Festival takes place over a two-day period each year during the summer. Where can you get in on the celebrations? At the Midgard Vikingsenter in Borre, about 100 kilometers south of Oslo.
Why Borre? Archeological evidence has proven the existence of at least three Viking feast halls in the area.
In their honor, a modern-day reconstruction (featuring intricate carvings inspired by the sagas) was built in 2013.
Feasting
Viking-style cuisine aplenty is available at the Midgard Viking Festival. Holding true to the Viking tradition that feasts were the time to serve the highest-quality food, the Midgard Viking Festival offers carefully prepared:
Barley casseroles with meat
Barley casseroles with fish
Barley casseroles with veggies 
Flatbread with butter
Cured ham
Smoked fish (think herring and mackerel)
And more!

God appetitt!
Reenactments and activities
Upon arrival at the Midgard Viking Festival, you won't know where to look, taste, smell, and listen first. You'll feel as if you stepped back in time. 
Ancient Viking folk music will be played by expert artists.
Craftswomen and craftsmen will show off their handiworks. Trade stalls with enticing goods will dot the festival grounds.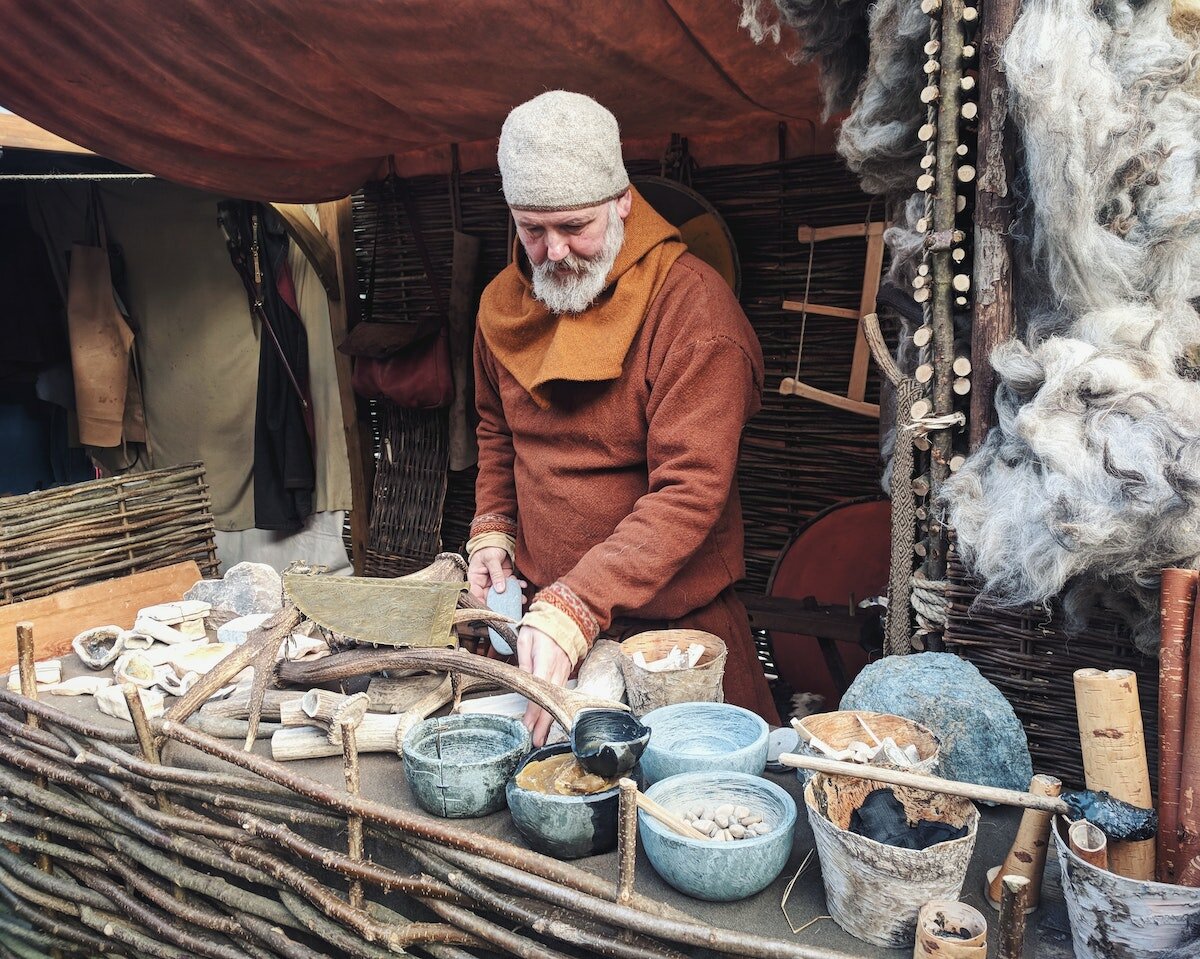 Resounding battle cries will draw your attention.
A Viking battle reenactment will commence, including costumes, weapons (not the real thing, of course), and Viking battle styles.
Shield wall!

Of course – the friendly atmosphere will show that it's all in good fun. Though remember – many Vikings laugh in the face of danger.
Gudvangen Viking Market
Located on the UNESCO-protected Nærøyfjord is the Gudvangen Viking Market. Fun fact: The surrounding Nærøy Valley was named for Njord, the Viking god of ocean and trade, while Gudvangen village translates to "god's place by the sea".
This five-day Viking festival is held annually, each summer, and includes a range of splendid sights to see and things to do.
Feasting
The Gudvangen Viking Market is full of food options to satiate even the hungriest warrior's appetite. Menu options (which are made traditionally and with fresh, local produce) include: 
Viking soup with sausage
Cabbage salad
Pan bread
Wild-garlic sour cream
Porridge with curdled milk
Kids are welcome to join in on the family-friendly fun and feasting.

Reenactments and activities
The Gudvangen Viking Market is set within the reconstructed Viking village of Njardarheimr, which is home to over 20 traditional buildings, all of which you can explore.
Many feature authentic construction materials such as peat and shingle. 
Onsite activities galore are arranged; from horseback riding and axe throwing to archery and storytelling around bonfires. 
A Viking battle, complete with a presentation about battle methods and weapons, can also be watched.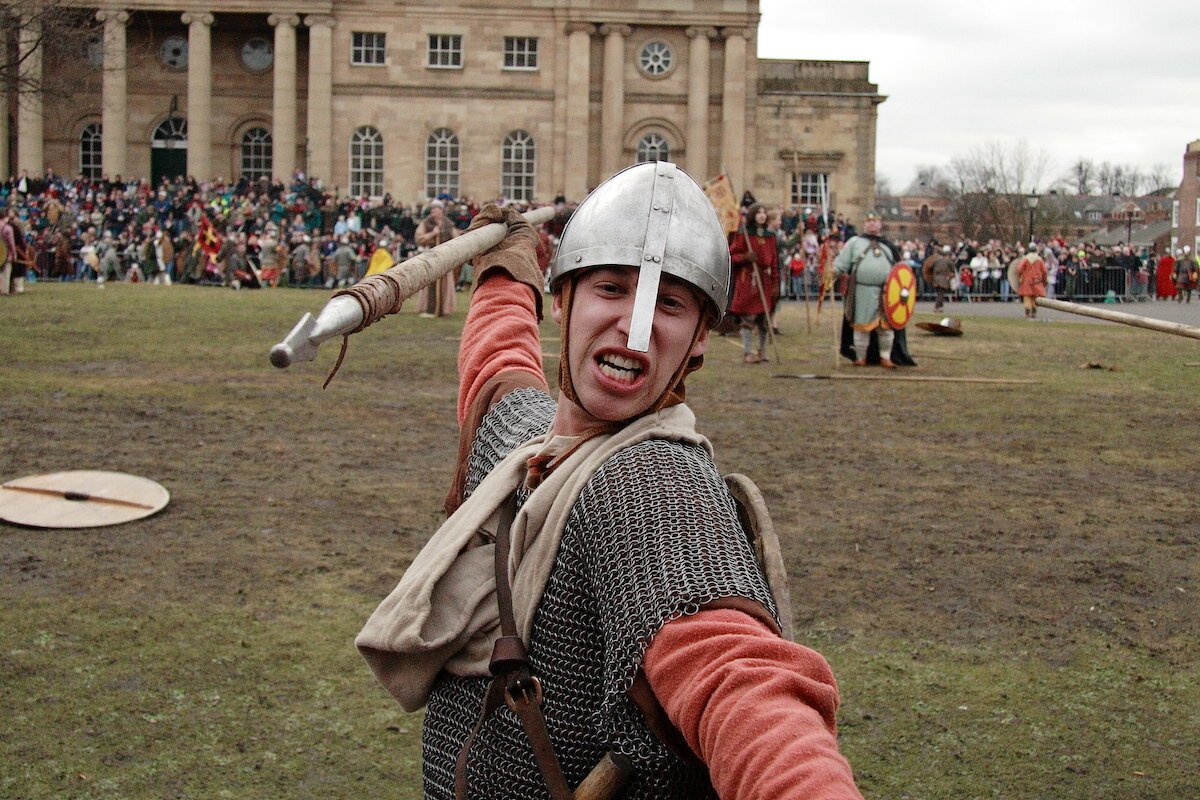 Avaldsnes Viking Festival
For every modern-day Viking, Avaldsnes is a must-visit mecca.
Avaldsnes is among the largest reconstructed Viking villages in the world. In turn, it hosts one of the largest Viking festivals in the world each June.
Located around 150 kilometers south of Bergen and established in 2017, the Avaldsnes Viking Festival has been designated as western Norway's largest.
Feasting, reenactments, and activities
Modern Vikings from all across Europe and the Nordic region flock to the Avaldsnes Viking Festival each year. 
During the festival, epic battles are recreated, Viking food is cooked up, traditional craft stands present precious handmade items,

archery competitions are held, ancient stories are told, and most of all – good times are had!

In 2020, many Viking festivals were canceled to protect the safety of visitors and employees given the COVID-19 pandemic.
In the future, Viking events in Norway and beyond are set to return in full force and brimming with spirit – like the ancient Vikings themselves.
Source: Norway Today