Read on for our comprehensive guide to the sensational Lofoten Islands, Norway.
"Difficult – difficult to paint this! To convey the height, grandeur, and nature's inexorable, merciless tranquility and indifference," Norwegian painter Christian Krohg wrote upon visiting the Lofoten Islands in 1896.
From a wilderness as spotless as it is striking and idyllic fishing villages, to centuries-old artistic traditions, Lofoten is one of the best destinations to visit in Scandinavia.
We're bringing you the full Lofoten lowdown: the islands' history, the best things to do in Lofoten, and how to reach this Arctic Arcadia.
Lofoten, a history
Many millennia ago…
Archeological studies trace the Lofoten archipelago's first known inhabitants back to 4,000 B.C.
These ancient peoples are thought to have lived in tandem with the sea and have used fishing tools made from horn and bone.
One of the oldest archeological finds in Lofoten is a cave painting dated to around 1,000 B.C., found in Revsvika on Moskenesøy Island.
An island-style Viking Age
Like many Nordic regions, Lofoten has a Viking history rife with chiefdoms. For example, on Vestvågøy Island's town of Borg, the remains of the largest (at 83 meters long) Viking banquet hall in the world were found.
Fishing remained integral to life in Lofoten over the years. Given the lack of salt, the traditional way to preserve fish was drying it in the cold Arctic air and wind (especially potent during the Lofoten Islands' winter).
The final product of this was the so-called stockfish, which became known across Europe. In 860 A.D., then-king Alfred of England (c. 847 – c. 899) wrote about stockfish brought by the Viking Ottar from Vágar on Austvågøy Island.
The medieval Lofoten
Around the year 1100, Vágar became the first medieval town in northern Norway (today, it's considered the region's first city).
King Øystein I of Norway (c. 1088 – c. 1123) built a church and numerous rorbu (traditional Norwegian fishing lodges) on Austvågøy Island, the center of the Lofoten Fishery. Since the reign of Øystein I, the Lofoten Islands have been continuously inhabited – and fishing has lived on.
From the 12th century on, as many as 30,000 fishermen traveled from across Norway each winter to Lofoten, staying in rorbu, to catch sprei (cod) during the species' migratory period. 
Stockfish was transported to Norway's southern city of Bergen starting in the 13th century. From Bergen, traders sold it across Europe, and it became a major export.
During the following centuries, Lofoten's fish trade continued to flourish.
The 19th-21st centuries
In 1816, the Norwegian Parliament wrote: "The fisheries are, and will hopefully always remain, Norway's most important gold mine."
In the 19th and 20th centuries, tens of thousands of fishermen continued to travel to the Lofoten Islands. WW2 impacted trade but didn't stop it. The importance of fishing for the islands is clear: it was the predominant (and also quite lucrative) economic activity in Lofoten until the arrival of tourism in the 20th century. 
Lofoten inspired and gave rise to many works of art and literature in the law few centuries, as well.
Written in the mid-1800s, A Descent into the Maelström by U.S. writer Edgar Allan Poe was inspired by a whirlpool off the coast of Lofoten. French writer Jules Vern's 19th-century novel 20,000 Leagues under the Sea was also partly inspired by the islands. Norwegian writer Johan Bojer wrote of the Lofoten Fishery in Last of the Vikings at the end of the 19th century. 
19th-century Norwegian painter Gunnar Berg was born in Svolvær on the island of Austvågøya, where he was inspired by the stunning scenery around him. 
Today, art galleries dot the entirety of the Lofoten Islands, such as that of renowned 20th-century Norwegian artist Kaare Espolin Johnsen.
It's said that Lofoten is currently home to the most artists per capita in the world.
Visiting the lovely Lofoten Islands today 
No matter where you stay and what you decide to see on the dazzling Lofoten Islands, you won't go wrong.
For those lucky enough to visit, we've compiled a comprehensive list of highlights to help plan your trip.
Go museum hopping
Experience living pieces of Lofoten's history in the archipelago's many museums.
The Lofotr Viking Museum, also host to an annual Viking Festival, was built in 1995 near the site of the world's largest Viking banquet hall. The museum features a reconstruction of the original 83-meter-long building, as well as ancient archeological finds and a daily "Viking feast" (think hearty Viking Age specialties paired with an equally hearty live show).
Though Norway's neutrality, of course, applied to the Lofoten Islands, WW2 still had an impact. You can find out more about WWII in Lofoten at the local War Museum, which houses rare objects from 1941 Operation Claymore.
On the southern island of Moskenesøya sit the village of Å and its Norwegian Fishing Village Museum. There, you can really get to know the essence of everyday life on the Lofoten Islands, as you discover a fisherman's cabin, an 1884 stone oven-using bakery (don't leave without chowing down on a cinnamon bun!), and a cod oil factory. 
Be amazed by the archipelago's art scene
There's no shortage of amazing art in Lofoten, including the biennial Lofoten International Art Festival, which showcases contemporary works.
Head to one of Austvågøy Island's galleries, like Gallery Espolin, to see original works by Kaare Espolin Johnsen – some of which are also up for sale. At the island's Gallery Lofoten, explore works by Norway's most famous painters (including Gunnar Berg, Otto Sinding, and Even Ulving). Nearby is the KaviarFactory, a contemporary art gallery featuring works by international artists.
When you decide to head outdoors, look out for works that are part of Artscape Nordland, an open-air art project consisting of over 30 installations by artists from 18 countries.
The project spans 40,000 square kilometers, and Lofoten is home to five of its sculptures. Don't miss Dan Graham's panoramic mirror, where viewers can see themselves encapsulated in a background of Lofoten wilderness. 
The main islands aren't the only art hotspots. For instance, the tiny village of Vikten on Flakstad Island is home to the Glass Hut, where visitors can watch traditional glassblowers at work.
Rest your head in a historic hotel
On this amazing archipelago, even your Lofoten Islands hotel can double as a sightseeing spot.
With a stay at the remote – and romantic – Røst Bryggehotell on the island of Røstlandet, you'll wake up each morning with a view of mountains home to one of Norway's largest seabird populations.
On Austvågøya Island's town of Storvågan, stay in a rorbu-style cabin at Nyvågar Rorbuhotell. Alternatively, channel your inner Viking at the nearby town of Svolvær's Scandic Svolvær hotel, which partially protrudes into the sea like the bow of a longship.
You'll probably fall in love with your Lofoten Islands hotel, whichever accommodation style you choose, but most of your time will likely be spent outside.
Traverse the great Lofoten outdoors
The Lofoten Islands present an array of outdoor activities suitable for adventurers of all levels and all ages.
At Skrova Island, also known as the Arctic Hawaii, you'll have plenty of opportunities to explore by land and by sea.
Try sailing to the island, which is surrounded by bright blue waters and white sand beaches (hence the nickname), with a cruise, discovering Lofoten's rich flora and fauna along the way. You might just be lucky enough to see seals, porpoises, and even whales. Once on the island, rent a kayak and navigate the seas or opt for a guided hike.
541-meter-tall Festvågtind Mountain offers unparalleled sea views and sits next to the town Austvågøy Island's Henningsvaer (which has the motto "In Cod We Trust." – where better to watch the sea?).
Also on the island is the Svolvaergeita pinnacle, nicknamed "The Goat" due to its two horn-like peaks. You can even try your hand at rappelling down Svolvaergeita.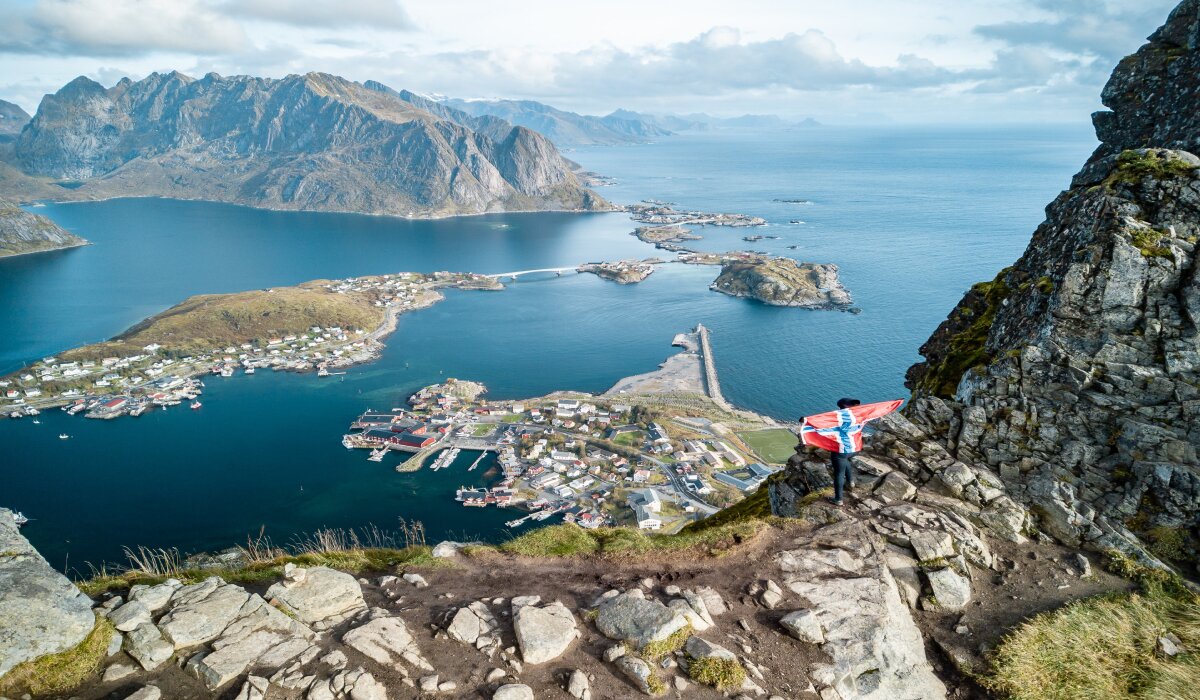 If you prefer skis over hiking boots, the Lofoten Islands are also home to several summit skiing hotspots. Or, for those that prefer hoofs, horseback riding through the pristine landscapes is available too.
Adrenaline junkies can try surfing at Lofoten – one of the world's northernmost surf sites. Unstad Surf Camp on the southern island of Vestvågøy has been hosting surfers since 1963. It offers beginner-level surfing in the summer and expert-level surfing year-round.
At the nearby town of Ballstad, you can dive or snorkel alongside the fantastic flora and fauna of the underwater Arctic.
Dress for the weather
The Gulf Stream's warm currents make the Lofoten Islands' weather milder than areas on the same latitude, like Greenland and Alaska. Remember, though, that the cold still bites here.
Lofoten's July temperatures average between 10 and 15 degrees Celsius, while January temperatures average between -2 and 2 degrees Celsius.
From May to July, the islands are the driest, with most precipitation usually occurring from November to December.
Chase the northern lights and the midnight sun
Your greatest chances of seeing the Lofoten Islands northern lights are between September and April.
The two keys to seeing the northern lights are total darkness (away from both natural and artificial lights) and clear, unclouded skies.
The Lofoten Islands' winter can mean as little as a few hours of daylight, which increases your chances of seeing the aurora.
The midnight sun in Lofoten makes its appearance between May and July.
You won't be seeing the northern lights during these months because they feature 24-hour daylight, but the aptly named midnight sun is an experience in and of itself. It also supplies you with more daylight time for safe exploring outdoors.
Eat your way through Lofoten
Your only excuse for not trying the famous Lofoten cod – bonus points if it's dried – is an allergy. Cod is the seafood staple of the islands, but you can also enjoy freshly caught haddock, halibut, and more.
Other traditional dishes include homemade sheep cheese and lamb stew.
Among many of the islands' amazing restaurants are The Blue Fish on Austvågøya Island, restaurant Karoline on Flakstadøya Island, and Underhuset Restaurant on Moskenesøya Island.
Other fun foodie experiences include making your own organic cheese and trying a Lofotpils brewery tour – at the first and currently the only microbrewery on the islands.
How to reach the Lofoten Islands
You can reach the Lofoten Islands by air, road, and sea.
If you'd like to fly into the islands, you have a few options. While there is no official Lofoten Islands airport, you can fly from Oslo to Bodø and then from Bodø to Leknes (and vice versa).
Oslo also has flights to Evenes, a 2.5-hour drive from the Lofoten Islands, which is a viable option if you plan on renting a car. Evenes is also the place you can arrive by car even if you're not flying in – you can drive here from anywhere in mainland Norway. 
Ferries also connect the Lofoten Islands to Norway's mainland, and you can check their schedule here.
Travel guidelines and availabilities are subject to change, especially during the COVID-19 pandemic, so we encourage you to check directly with airlines, ferry lines, and local roadways.
Where in the world is Lofoten located?
Norway's Lofoten Islands sit over 150 kilometers above the Arctic Circle (on the 67th, 68th, and 69th parallels) and 1,290 kilometers away from capital city Oslo.
The Lofoten archipelago spans 1,226 square kilometers, and it's home to a population of about 24,000. For reference, Norway stretches across more than 385,000 square kilometers and has a total population of around 5.4 million.
Made up of many smaller islands and islets, Lofoten's main islands are Austvågøy, Flakstadøy, Moskenesøy, Vestvågøy, Værøy, and Røst.
One thing is for sure: once you reach the Lofoten Islands, their landscapes, history, and cuisine will have you happily saying, "Oh my God Cod!".
Source: #NorwayTodayTravel