Media reports have recently emerged of the mishandling of several whistleblower cases in the Norwegian Armed Forces. From sexual assault to drunken disorderliness, an opaque culture of cover-ups and abuse has emerged in Norway's Armed Forces. As it faces an aggressive and warring Russia nearby, now is the time to clean house and change this culture quickly.
Whistleblowers alert media to disturbing Armed Forces' culture
In recent weeks, the media has been awash with disturbing cases involving members of the Norwegian Armed Forces. Investigations led by Norwegian Broadcasting (NRK) and other Norwegian media have looked into 70 "warnings" against senior officers in the Norwegian Armed Forces.
17 of these cases are against "flag officers" – amongst the highest echelons of power. Abuse, cover-ups, and mistreatment seem to occur on regular occasions with those that blow the whistle often treated harshly. Moreover, this is not a new topic. Many of the content of these "warnings" go back years, one in particular to 2009. This toxic culture has been allowed to fester and solidify in the Armed Forces for more than a decade.

The Chief of Defense, Eirik Kristoffersen, has been candid in his acknowledgment of the Armed Forces' failing. Kristoffersen, as quoted by NRK, admitted that not only was it a personal crisis but that "…it is a crisis for the Armed Forces. We have to clean up, that's not how we can have it in the Armed Forces."

Two women, in particular, have helped to lift the lid and cast light on this disturbing culture prevalent in the Norwegian Armed Forces. Whilst they are now being lauded as important "whistleblowers," Lieutenant Colonel Line Svingen and Sergeant Major Kristine Solhaug have experienced the wrath and ire of the Norwegian Armed Forces for daring to speak out.
Warned superiors about lack of emergency preparedness two years before July 22, was dismissed without notice
Lieutenant Colonel Line Svingen was, for the majority of her career, the darling of the Norwegian Air Force. A highly skilled pilot, she became the female helicopter pilot with – at the pinnacle of her career – over 60 people (pilots, technicians, etc.) under her personal command. She was, however, dismissed without notice in 2009. Officially, the Air Force notes that she had a "lack of loyalty" and was deemed "unfit to command." Unofficially, Svingen knows she was being made an example of for daring to be critical of Norway's rushed plans to send helicopter pilots as part of its then NATO commitment to Afghanistan.
Talking to NRK, she said that she also alerted superiors to the fact that "we were not able to carry out emergency preparedness on the Norwegian shelf with counter-terrorism at the same time as we were to send the same people on a rollout in Afghanistan." This lack of emergency preparedness was tragically exposed during the July 22 terror attacks when authorities could not reach the island of Utøya quick enough to stop a massacre of innocents.

The lack of helicopter capability was specifically cited in the Gjørv Commission's report on the fallout of July 22. Svingen had warned about this strategic shortcoming some two years before the attacks. Her reward for strategic and critical thinking? To be dismissed without notice.

A then months-long legal case is launched by Svingen which eventually ends with the Armed Forces paying her NOK 6 million and an official apology for her dismissal. Her former boss, who unilaterally fired her, has been promoted twice since then.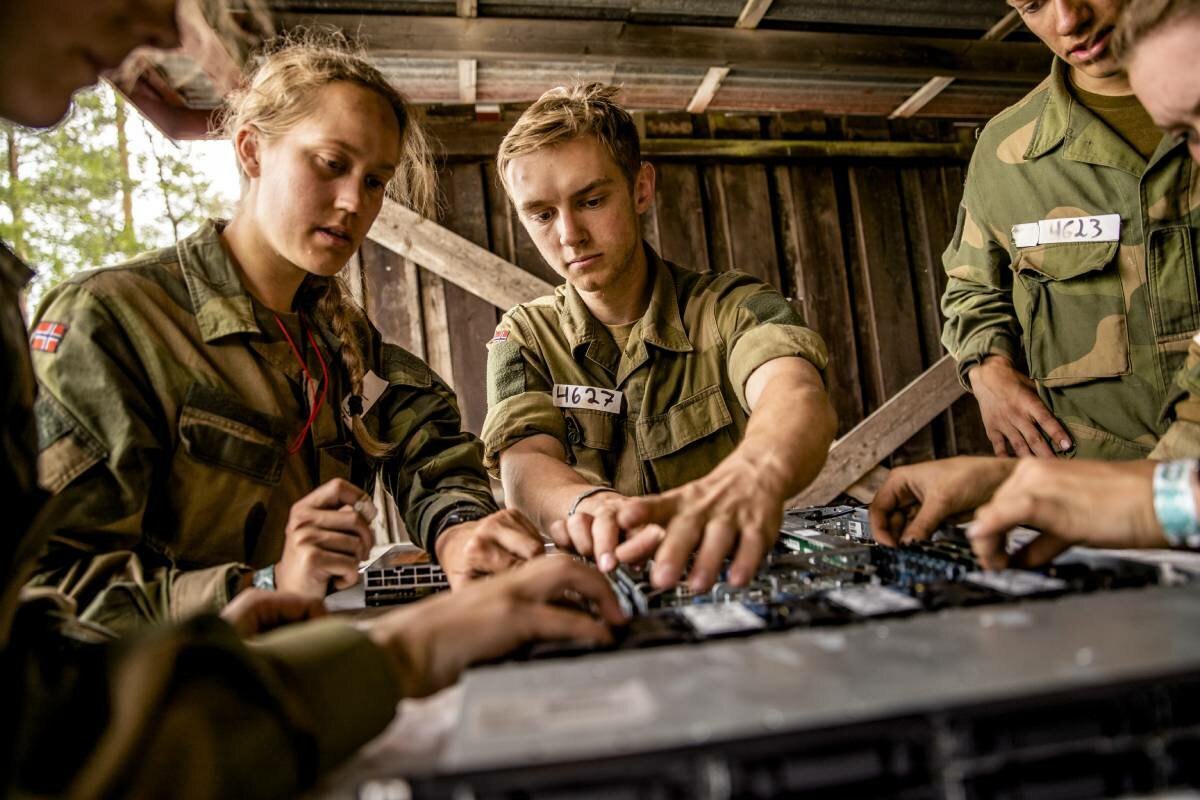 Felt pressured to cover up for drunken behavior of superior
Like Svingen, Sergeant Major Kristine Solhaug, of the Norwegian Army, had enjoyed the majority of her career in the Armed Forces. Being based at Bardufoss, she worked in different roles and was given different areas and levels of responsibility. She even won the Armed Forces' Courage Award, in 2016, for helping save the life of a fellow soldier who fell over. Yet her world would unravel due to the events after a Christmas party was held with her colleagues in 2018.

Solhaug had invited friends and colleagues for a Christmas party in December 2018. Amongst the revelers imbibing was her superior and boss with the rank of Major in the Norwegian Army. Having been seen drinking beer and brandy at the party, he left to go to a local nightclub where bank records show he bought more drinks. Local police were then alerted to a car having crashed into a ditch several hours later belonging to Solhaug's boss. He then proceeds to constantly pressure Solhaug, and other subordinates, to lie to the police and delete social media pictures and events about the party.

For her part, Solhaug did not lie to the police. She was forthright and honest to authorities about seeing her boss drink at the party and the constant pressure from her superior took a toll on her mental health. She reported this to those higher in the chain of command but felt she was not taken seriously.

Eventually, Solhaug transferred to a different department and was eventually listened to. Her boss was, in 2020, convicted of drinking and driving and sentenced to 36 days imprisonment but still holds a security clearance, his rank, and a leadership position to this day.
Kristoffersen admits a huge culture crisis
Aside from the harrowing and much-publicized stories of Svingen and Solhaug, there were, according to Chief of Defense Kristoffersen, more than 241 notifications about misconduct, abuse, or other alarming activities made against members of Norway's Armed Forces. When contacted by NRK for comment he also admitted that, in recent weeks, he had received, "around 8 notifications [of misconduct] a day".

This latest crisis, about a lack of accountability for those in positions of power and the toxic culture of abuse, secrecy, and attempted cover-ups, is another headache for Kristoffersen. It was less than a year ago that a survey revealed that almost half (46%) of the women respondents, who are employed in the Norwegian Armed Forces, had experienced some form of sexual harassment throughout their careers. With more than 10,000 personnel taking part in this survey, it made for chilling findings. In the survey, it was revealed that 160 service personnel had experienced rape / attempted rape in one year alone, 2018.

Armed Forces appear to be still very much "a boy's club"
What is most disturbing about this toxic culture within Norway's Armed Forces is that it is happening in 2022. Despite all the government initiatives which have made the Armed Forces of Norway one of the most gender-balanced, equitable, and integrated in the world, sexism, sexual assault, and sexist attitudes still prevail. Furthermore, when serious complaints emerged, high-ranking personnel have often downplayed, dodged, or downright dismissed such accusations.

If women in the Norwegian Armed Forces cannot be taken or treated with seriousness and respect what sort of message does this send to the broader society? These women are selflessly serving the country and defending it against all threats, foreign and domestic, and yet are being defeated by an enemy within sexism. How can Norway be expected to defeat any enemies on the battleground if it cannot defeat the specter of sexism awash in its ranks?

Svingen, despite all the media attention about the culture in the Armed Forces, feels that ultimately, "The boys' club is (doing) fine. And it is a very clear culture when we see similar cases in 2022. Many chiefs of defense have said that there is zero-tolerance for bullying and harassment. But where is the result? I do not see it."
A precarious time to have internal divisions and a toxic culture
The invasion of Ukraine by Russia has shown how NATO members, especially Norway, cannot be complacent. This is not, as historian Francis Fukuyama had predicted in the early 1990s with the collapse of the Soviet Union, "the end of history" and the rise of a more aggressive Russia and China highlights the importance of Norway's Armed Forces both locally and regionally.

What the Norwegian Armed Forces need now, more than ever, is unity. Part of achieving unity is changing a culture where abuse, recklessness, lies, and cover-ups are prevalent. Treating women, regardless of rank, with respect. Listening to complaints and constructive criticism rather than pressuring or dismissing those coming forward.

There is no doubt that more sordid and sorry stories, like those that Lieutenant Colonel Line Svingen and Sergeant Major Kristine Solhaug have bravely shared, will emerge. This toxic culture is perhaps a greater challenge to the Norwegian Armed Forces than any enemy on a battlefield. With the help of such indomitable whistleblowers, changing this culture is the first step to defeating this enemy within.
The opinions expressed are those of the author and are not held by Norway Today unless specifically stated.
About the author:
Jonathan is a lover of the written word. He believes the best way to combat this polarization of news and politics, in our time, is by having a balanced view. Both sides of the story are equally important. He also enjoys traveling and live music.
Source : #Norway Today / #NorwayTodayNews