The storm in Nordland takes roofs and trees
The police warn about trees and roofs taken by the storm in Nordland . Several airports in the county are now closed and there are difficult driving conditions throughout.
At 8 am, the police reported that a roof that had blown off a house in Sundby in Salten, and according to the fire department, several roofs were about to be blown away in the area. Several trees have also been uprooted by the storm.
– We have been notified of trees that have been uprooted in several places, but they have not blocked any of the main roads, says operation manager Ivar Bo Nilsson to NTB.
Earlier on Thursday afternoon, the police warned people to use their vehicles. Both on Saltfjellet and on the E10 several cars were stuck due to drifting snow.
– Wind combined with drifting snow creates very difficult driving conditions throughout the county. Many accidents involving cars, many are stuck and there are several minor accidents. We urge people to consider before they enter into traffic, the police posted on Twitter around 5 pm.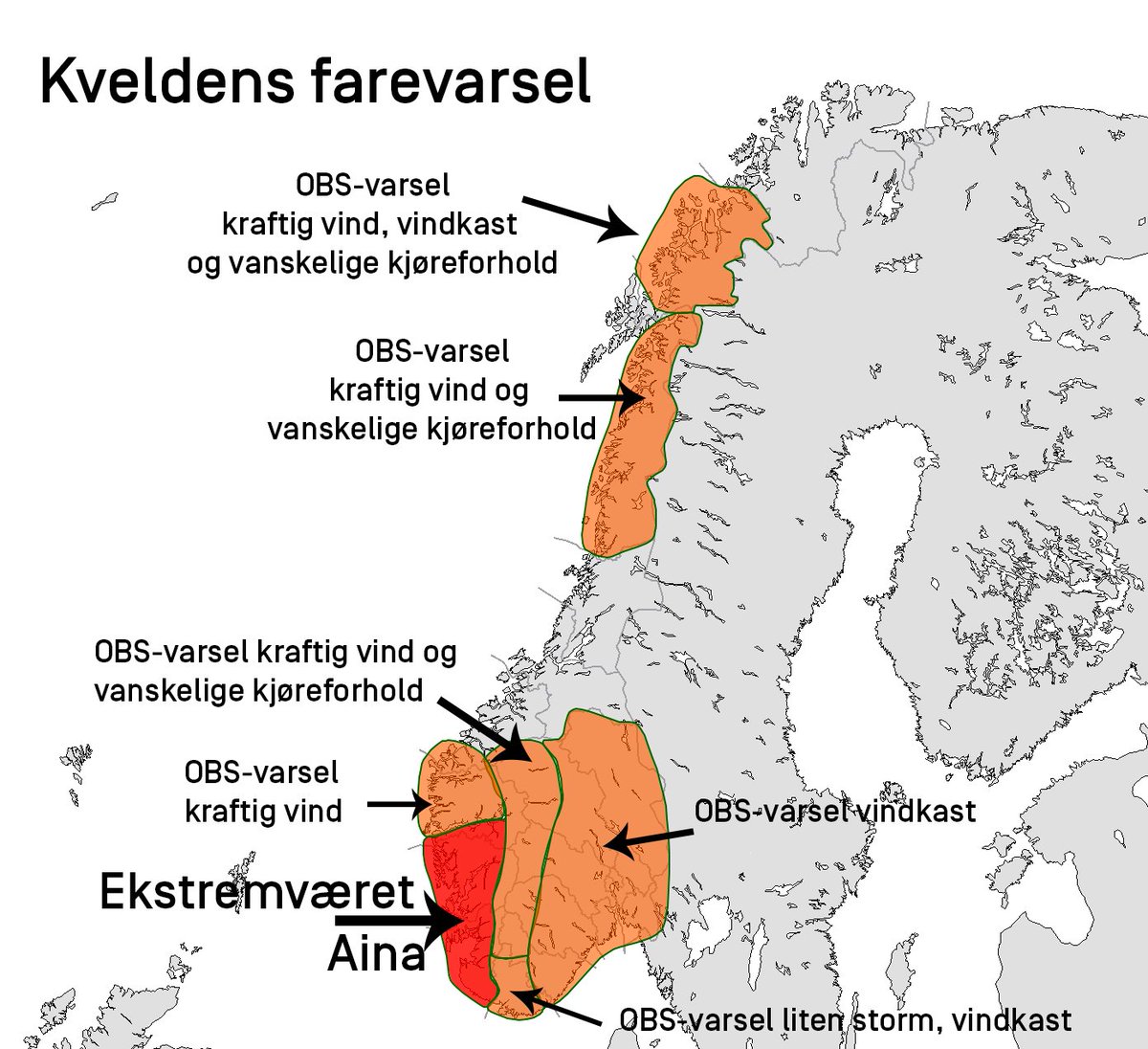 Airports closed
The weather also caused trouble for the airport in Bodø, which had to suspend traffic.
– The reason is strong wind and that it is slippery, says airport manager, Inger-Hilde Tobiassen, to the newspaper Nordland. Passengers have to be prepared to stay over at the airport as the hotels in the city are already fully booked.
– We now prepare camp beds in the terminal for the passengers, says Tobiassen.
In the terminal building there are several hundred passengers and long queues, according to the newspaper.
Moreover, several households in the county have been without electrical supply. At the peak, 612 households in the county were without electricity, according Helgelandskraft. at half 8 pm the power company notified that 260 customers were without power, partly because a spruce tree is laying across a high-voltage line.
South Western Norway
In Rogaland an Hordaland the storm has brought down up to 100 milimeters of rain in a 24 hour period. The Sou' west has also led to major ferry stretches, such as The main route E39 from Mekjarvik – Arsvaagen and Stavanger – Tou is shut down. NRK reports of 13-14 metres high waves . Also in the mountains there are very difficult driving conditions and the main roads between east an west are closed.  In the morning the wind has subsided somewhat, but is expected to pick up again later in the day.
Vindkast opp mot 35-40 m/s på #Vestlandet sør for Sognefjorden ventes under ekstremværet #Aina. pic.twitter.com/jVpXUmGBUw

— Meteorologene (@Meteorologene) December 7, 2017
©  NTB Scanpix /  Yr.no / Norway Today