Norway will head to the polls in the upcoming parliamentary elections next month. What are the parliamentary elections? How often do they occur? Who gets to become the Prime Minister? Which elections can foreigners vote in? All these questions will be answered so read on to get all the information you need to know about elections in Norway.
A history of more than two hundred years of democracy in Norway
Norway is a parliamentary representative democratic constitutional monarchy. It has a long and rich tradition of parliamentary democracy, which can be traced back more than two hundred years. Since 1814, Norway has had a democratic state constitution governed by popular sovereignty.

The democratic process here has such a high level of freedom, fairness, and transparency that it was ranked as "free," with maximum points given to "political rights" and "civil liberties" in a 2020 Freedom House report on "Freedom In The World".
Who can vote in Norway?
For the national parliamentary elections, suffrage is universal for Norwegian citizens over the age of 18 years old. The right to vote is universal in Norway which means that there are no restrictions due to gender, religion, ethnicity, property of ownership, or other divisions that have historically been used.

For the local (kommune) elections, foreigners, aged 18 or over, who have resided in Norway for more than 3 years have the option to vote along with Norwegian citizens over 18.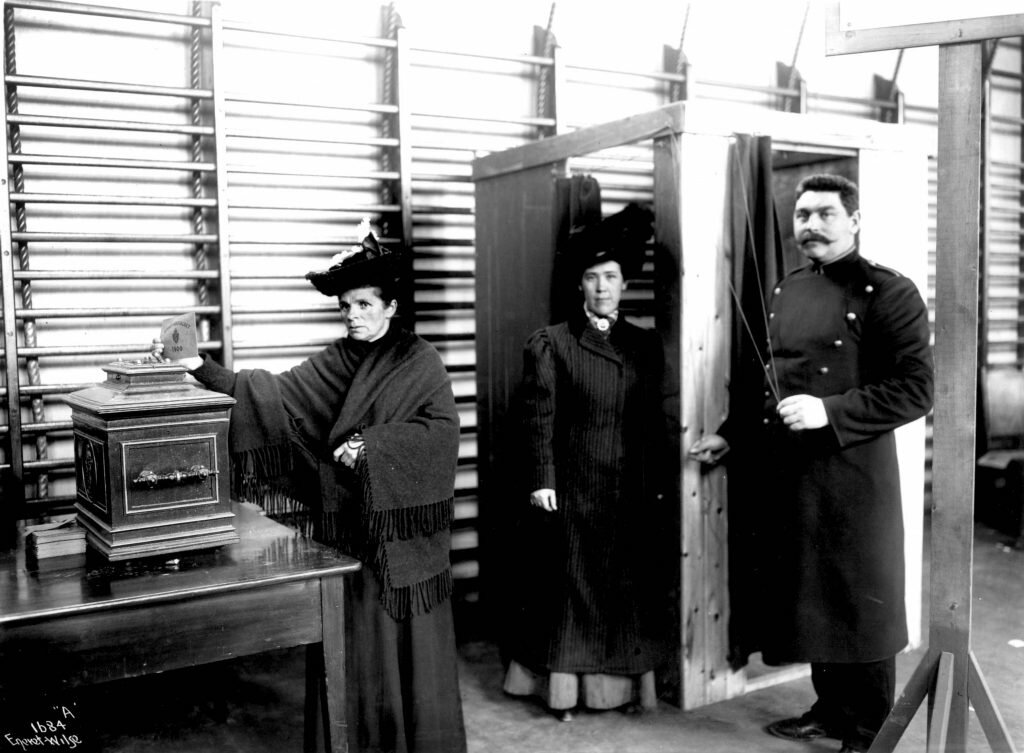 How often are elections held?
On a national level, the parliament (Stortinget), has 169 members elected for a fixed four-year term. These members are elected by proportional representation. There are elections every two years alternating between the national and the local elections, which both occur every 4 years. This year, the Storting and Sámi elections will be held on September 13.

Unlike some European countries (like the United Kingdom) the Stortinget has a fixed 4-year term. This gives a certain amount of political stability to both the government and the Prime Minister as there is no possibility of "snap" elections and helps reduces a certain amount of political machinations.
Stortinget: The nation's voice
The center of Norwegian national politics lies in the mid-19th century built, yellow flensbrug bricked building: Stortinget (The Storting). Literally on the main street of the nation's capital, it was where the Norwegian parliament has been based since it opened in 1866.

After the 2009 election, the Storting was established as a fully unicameral legislature, meaning there is only a single parliamentary chamber. It is the premier location for political debating and decision-making in Norway. Its composition determines the nature of the Norwegian government and it also decides whether to hold a referendum on a particular issue.

It has four main roles :
Pass, amend and repeal legislation
Determine national revenues and expenditures through the adoption of a national fiscal budget
Oversee the government and public administration
Sanction state plans and activities and hold a discourse on matters both domestic and international.
Composition of the Storting
The Storting has 169 seats in its unicameral chamber. These are from 19 constituencies – Østfold, Akershus, Oslo, Hedmark, Oppland, Buskerud, Vestfold, Telemark, Aust-Agder, Vest-Agder, Rogaland, Hordaland, Sogn og Fjordane, Møre og Romsdal, Sør-Trondelag, Nord-Trondelag, Nordland, Troms Romsa, and Finnmark.

These seats are divided between 150 "direct" seats and 19 "equalization" seats. The seats are divided by population so Oslo has the most (20) whilst both Aust-Agder and Sogn of Fjordane (4 each) have the least after recent reforms.

Due to the nature of proportional representation, Norway has had a long tradition of coalition governments. This is due to the fact that it is very hard (especially in the last 50 years) for a single party to get an outright majority. The two largest parties in the Storting are the Arbeiderpartiet (Labour Party) and Høyre (Conservatives).

So how does voting actually work?
The voting for this year's elections takes place on September 13. Voting, if not done in advance, is done physically at polling booths throughout the countries. When voting stops, the county election boards count the votes. They then distribute the 150 district seats by sum up how many votes each party has received from all municipalities in the county. The mandate is given to the first party with the largest quotient.

Generally speaking, the party that wins the most number of seats is often in a prime position to form a government. This is not always the case, as, for example, the last election saw Arbeiderpartiet win the most seats, of any party, but a center-right coalition led by Prime Minister Erna Solberg's Høyre party again secured a governing majority (85 seats are needed for a governing majority) in the Storting and thus was re-elected.
What is the 4% threshold?
The nature of Norwegian politics is one of broad coalitions. It has been 60 years since a political party has secured an absolute majority in parliament. This has, in part, been due to a feature called "leveling seats" otherwise known as the "4% threshold." Here, a party that receives 4% of the vote, but not enough in any one constituency to win a seat, is granted a "leveling seat." This means that smaller parties can secure a seat by gaining 4% of the national vote. This gives smaller parties a chance to enter the Storting and be part of governing coalitions.
More voting options than ever
Due to Norway's geographic nature, voting in advance has been always been a feature of elections. With the Delta variant of COVID-19 running rampant throughout most of Norway, this year's election will see an unprecedented amount of people voting in advance. According to the Valg webpage, as of September 2, some 765.366 voters have voted in advance. This represents almost 20% of the voting population!

This Storting 2021 election has seen the first use of a "digital voting card." The Valg Direktoret (The Directory of Voting) has initiated this process to not only save time and money but also to save paper. The card shows which constituency you belong to and useful information on how and where to vote. Voting itself, however, is still in person. However, novel ways of preserving social distancing, whilst exercising the right to vote, have come to fruition, mainly 'drive-through voting booths'!
The waiting game…
So with an unprecedented amount of Norwegians voting in advance, there really is only one thing to do…wait until election day!
Will Prime Minister Erna Solberg again be re-elected or will there be a change of government? Whatever happens, the elections of 2021 will be an election like no other in Norwegian history.

Source: #Norway Today / #NorwayTodayNews
Do you have a news tip for Norway Today? We want to hear it. Get in touch at info@norwaytoday.no