Sweden and Finland's recent application to join the North Atlantic Treaty Organization (NATO) is seen as the biggest geopolitical paradigm shift in the Nordic region for years. However, both Turkey (a member) and Russia (a strategic adversary) are less than thrilled with the two Nordic countries' desire to join. What could Sweden and Finland's NATO membership mean for their closest neighbor and ally, Norway?
Russian invasion of Ukraine forces Finnish and Swedish hand
When Russian soldiers illegally stormed over the border and invaded eastern Ukraine, back in March, many knew that the geopolitical map of Europe was to change. Few, however, would have predicted that this Russian invasion of Ukraine would end decades of official Swedish and Finnish neutrality. Yet this illegal act of Russian aggression was cited as the main reason for both Sweden and Finland finally casting off their coats of neutrality and slipping into the application process of NATO. Entering this alliance would position both Nordic countries firmly in a military bloc that was first created to counter (Soviet) Russian aggression.

Both Sweden and Finland have been partners of NATO for years now and this close working association will, in theory, make it easier for them to join the military bloc. Sweden's NATO Ambassador Axel Wernhoff and his Finnish colleague Klaus Korhoen delivered the applications, in person, in Brussels to what NATO Secretary-General (Norway's own and former Prime Minister) Jens Stoltenberg said "is a good day at a critical time for our security."
NATO enlargement is Putin's worst nightmare
In what must be Vladimir Putin's worst nightmare, his "special military operation" in Ukraine (an illegal invasion of a sovereign country) has actually worsened his geopolitical position. Putin has been, for years, bemoaning the enlargement of NATO – especially following the collapse of the Soviet Union in the early 1990s. By the middle of that decade, a huge swathe of former Soviet republics joined NATO essentially, in Putin's view, bringing the Western military juggernaut to the borders of Russia. His invasion, sparking Sweden and Finland's NATO application, will now lengthen NATO's northern border with Russia from the 196 kilometers it was with Norway to over 1,300 kilometers. The Baltic Sea will essentially become a NATO pond making it increasingly hard for Russia's prestigious Baltic Fleet to throw around its muscle.

In the "High North" – that is the land beyond the Arctic Circle – full of natural resources and becoming an increasingly important economic and geopolitical theatre – Russia had, until its invasion of Ukraine, only one Western NATO member on its border. It could now have two, along with Sweden nearby. All these 3 countries have a significant military that has the institutional and practical knowledge of operating in one of the coldest parts of the earth. Norway already hosts significant NATO forces in the country and the same will likely apply shortly to its two Nordic neighbors.

The invasion of Ukraine, it can be assumed now with some hindsight, was clearly not the best decision for an increasingly paranoid dictator like Putin. What makes it worse is the fact that two more countries have joined NATO (one with a long border with Russia) as a direct result of the said invasion is a complete catastrophe for Russia's geopolitical position.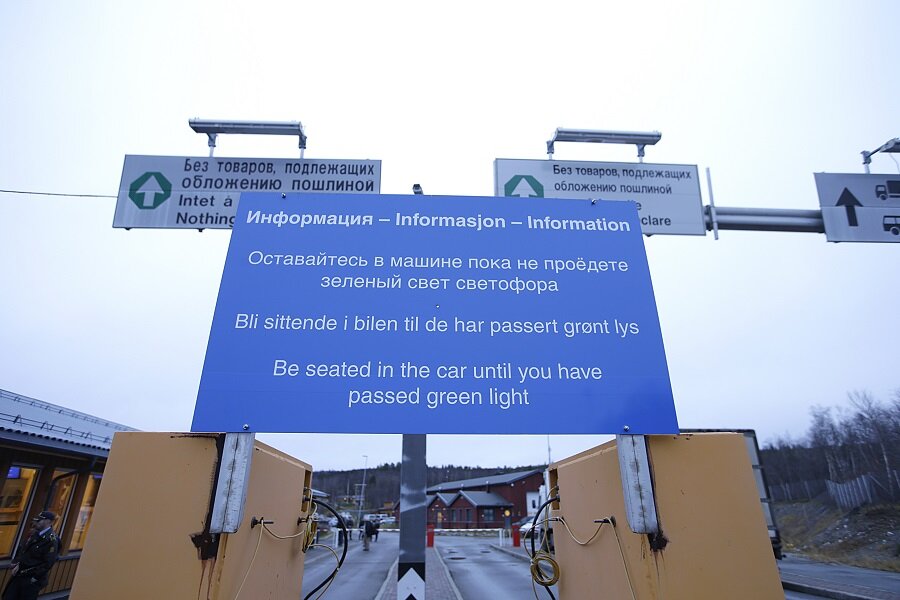 Strong Russian reaction to Nordic neighbors' NATO applications
The reaction to the joint Swedish and Finnish application to join NATO has been met with widespread scorn by Russia. Russia has come out swinging saying that this enlargement will, according to Russian Government spokesperson Dmitry Peskov, "will not contribute to European stability" and that "…the NATO alliance remains a tool for confrontation." Many Western governments have found it somewhat laughable that Russia would lecture others about the current insecure nature of European security and stability having launched an illegal invasion of a sovereign European country.

Russia has warned, both diplomatically and publically, Sweden and Finland of "consequences" if they do indeed join NATO. Just what these consequences are remains to be seen but former Russian President (and Putin ally) Dmitry Medvedev has previously suggested that nuclear weapons may be deployed in the Baltic region should these two Nordic neighbors join NATO. Would Russia be willing to put Europe in the center of a new nuclear weapon crisis unseen since the Cuban Missile Crisis of the early 1960s?
Norway and Russia's relationship could change
Norway's relationship with Russia is one of careful management. Though it is part of NATO, Norway has taken a more pragmatic approach to relations with its larger neighbor. Before the invasion, the economic relationship between the two countries was becoming increasingly important. Norway had a significant trade deficit with Russia and had seen imported goods increase by 58.9% in 2021 to a total of NOK 21.8 billion. However, since the invasion, the economic relationship is almost non-existent due to the economic sanctions placed upon Russia by many major Western and European countries, including Norway. Norway's backing of the Finnish and Swedish NATO applications could see Russia essentially stop what little economic activity is left between the two countries, especially the export of oil and gas.

From a strategic point of view, Norway will look on with both a sense of security and possible fear if Sweden and Finland's application is approved and they start to host major NATO forces. It places Norway in military sync with its two closest neighbors and helps sure up NATO's northern flank – safety in numbers is never a bad idea. However, it could also make the "High North" the next battleground – metaphorically or physically – for further geopolitical competition between NATO and Russia. If there is a military build-up in the area, this would mean Norway would have to increase its national security and defense budgets.

Sweden and Finland's application to join NATO may well have economic and geopolitical consequences for Norway. The longer the Russian invasion of Ukraine drags on – and many experts believe it will not be resolved soon – Norway and Russia may well be forced to change their once pragmatic relationship into something more adversarial. As George W. Bush famously once said "You are either with us or against us." Norway knows it can't perform this delicate diplomatic balancing act for much longer.
President Erdogan throws a spanner in the works
For Sweden and Finland to join NATO all 30 member countries of the alliance must be in agreement. All but 29 are with Turkey the exception. The Turkish administration has presented a list of demands to Sweden and Finland to meet before it can sign off on their NATO membership. These demands involve distancing themselves from what the Turkish Government calls a "terrorist group," the Kurdistan Workers' Party (Partiya Karkerên Kurdistanê, PKK), and being more flexible in the extradition of wanted Turkish nationals opposed to the current Erdogan regime.

It was only in late 2019 that it emerged that a report from an institute with close links to Turkish President Recep Tayyip Erdoğan named more than 120 Norwegians as supporters of PKK and thus liable to imprisonment if they visited Turkey. On this list were several prominent politicians as well as academics and activists. As Norway has so publicly backed Swedish and Finnish NATO membership, could this list be added to by the Erdogan regime as all three Nordic countries have often met with members of the PKK for peace talks?

What lengths will Norway, and other NATO countries, go to ensure that Turkish demands are met? If they are not met and Turkish President Erdogan is not satisfied, will this see a change in Norway's relationship with Turkey? Swedish and Finnish NATO membership offers Norway a sense of further security in the "High North," so will President Erdogan be held personally responsible if the Finnish and Swedish applications are not approved?

If NATO members don't appease Turkish President Erdogan soon, and if Sweden and Finland's NATO bid is thwarted, Norway may well cool in its relationship with Turkey.
NATO bid affects Norway either way
The Swedish and Finnish bid to join NATO is seen as a huge strategic geopolitical move not seen in the Nordic region for years. On the one hand, it will enlarge NATO's land border with Russia much to the chagrin of Russian President Putin. This will sure up NATO's (and Norway's) military presence beyond the Arctic Circle. On the other hand, should the membership be thwarted by Turkish demands, Norway will remain the only Western NATO country with a border to an increasingly aggressive Russia.

The United States has publicly announced that any Turkish obstacles to Sweden and Finland's membership in NATO will be overcome quickly. A NATO summit will be held in Madrid at the end of next month where it is expected that all NATO countries give their full backing to the Nordic countries' application. Should this happen as expected, many in Norway will breathe a sigh of relief and welcome their Nordic neighbors into this important military alliance.
The opinions expressed are those of the author and are not held by Norway Today unless specifically stated.
About the author:
Jonathan is a lover of the written word. He believes the best way to combat this polarization of news and politics, in our time, is by having a balanced view. Both sides of the story are equally important. He also enjoys traveling and live music.
Source : #Norway Today / #NorwayTodayNews
Do you have a news tip for Norway Today? We want to hear it. Get in touch at info@norwaytoday.no