Fjords are one of Norway's most phenomenal natural wonders. Find all your questions, from how are fjords formed to which ones you can't miss visiting, answered here.
Chances are you've heard "fjord" at least once in your life. It's one of the few Norwegian words that's weaved its way right into English (and many other languages) in its original form.
No matter the language, the word "fjord" conjures up striking images of bright blue shades, winding waterways, and mountain-lined shores.
Norway tops the list of places with the most fjords, along with Alaska in the United States, Canada, Chile, and New Zealand. The second and third-longest fjords in the world are both located in Norway, preceded only by Greenland's Scoresby Sund.
For all things fjord, including its basic geography, information on Fjord Norway, and some of the most in-demand Norwegian fjord sightseeing spots, read on.
What is a fjord, and how are fjords formed?
The word fjord comes from the Norse word fjǫrðr, roughly meaning to "go", "pass", or "put over on the other side". The modern word fjord, in its basic meaning, denotes a place through which one passes, with the same stem as the English words "fare" and "ferry". Both the modern and traditional meanings of the word pay tribute to glaciers' key part in shaping the natural marvels.
A fjord is a narrow extension of a body of water, usually surrounded by ridges, mountains, or cliffs on either side. The body of water it stems from is typically either a sea or lake.
Fjords are created by millions of years of glacial movement and erosion. Through a process referred to as glaciation, glaciers shift very slowly over time (typically under 25 cm/day), carving the landscape through their movements. But the trails these icy giants leave behind can measure up to thousands of meters deep.

A fjord's opening towards the sea is referred to as the "mouth", while its deepest inner part is called the "sea bottom". More shallow parts of the fjord are formed by a glacier's deposits of sand and gravel, creating underwater barriers referred to as sea thresholds.
Fjords have many geological features as well that are lesser-known, yet still fascinating and critical to the fjord environment.
If a fjord measures more in width than length, it can be classified as a bay or cove.
Also surprisingly, some of the largest coral reefs on Earth have been discovered at the bottom of fjords in Norway. One such example is the Røst Reef of the Trondheim Fjord. The Røst reef is the world's biggest cold-water coral reef, and it's home to an abundance of fish, plankton, and sea anemones. These tenacious creatures have adapted to living in total darkness and dealing with the severe water pressure at the bottom of a fjord.
Some fjords are also dotted with skerries, small and rocky islands that were created through glaciation. Boaters can struggle to get by skerries – it can feel like a minefield when there's a lot of them. 
Still, fjord waters are usually calm and many are wide and skerry-free, so large cruise ships often frequent them.
What is Fjord Norway?
Fjord Norway is a phrase commonly used to refer to Norway's fjord region, located in Western Norway.
During the early Cenozoic Era (65 million years ago), the earth's crust was lifted asymmetrically, and Norway's first fjords were formed. This allowed for the Atlantic Ocean to seep into certain crevices. The movement of the Cenozoic Era's tectonic plates also resulted glaciers drifting out, as the ocean moved in to Norway's western coast.
For a long time before that, Northern Europe was fully covered by glacial masses of ice (up to three km thick!) over a period of multiple ice ages.
Fjord Norway is thought to be split up into 13 regions: Bergen, Fjordkysten, Geirangerfjord, Nordfjord, Hardanger, Haugesund, the Northwest, Sognefjord, Stavanger & Ryfylke, Sunnfjord, Sunnhordland, Voss, and Ålesund & Sunnmøre.
Each region showcases snow-capped mountain ranges, stretching valleys bisected by flowing rivers, cascading waterfalls, and rugged coastlines. And much of it was curated by ancient glaciers!
Fjord examples in Norway
Sognefjord
Sognefjord is Norway's longest and deepest fjord, and it's the second-longest fjord in the world. Sognefjord stretches 204 kilometers from the Norwegian coast, reaching almost halfway to Sweden. It sits just north of Bergen.
Sognefjord's deepest point is over 1300 meters, while, for reference, some Norwegian mountains tower over 2000 meters. The inner end of the fjord is blanketed by mighty Jostedalsbreen, the biggest glacier in continental Europe.

Sognefjord's most narrow arm, Nærøyfjord, is a mere 250 meters at its thinnest. Its unique character has granted the Nærøyfjord a spot on the coveted UNESCO World Heritage site.
Sognefjord is open year-round, so no matter what month you're around, you're bound to see something spectacular. Hop on a boat to partake in a fjord safari, visit a picturesque fishing village and take an architectural walk, or hike the 972-meter high Raudmelen.
Hardangerfjord
Hardangerfjord might be the second-longest and second-deepest fjord in Norway, but it certainly doesn't come second in terms of beauty.
Referred to as the "Queen of the fjords", Hardangerfjord gracefully stretches for 179 kilometers in Norway's Hordaland county.
Its maximum depth is more than 800 meters, while the fjord's longest arm, Sørfjord, measures 38 kilometers in length. Hardangerfjord's mountains also are honeycombed with hiking trails and sites such as Trolltunga ("Troll's Tongue") and Vøringfossen waterfall – both of which are must-visit destinations.

If you're interested in visiting the fjord from Bergen, local tourist offices (in person or online) can help you customize a tour to fit your needs.
One of the most-recommended routes, however, includes hopping on the Bergen Railway from Bergen. This trip will take you not only to the Fjord Queen, but also to the wonderful Vøringsfossen Waterfall, located in the nearby town of Voss.
Or, try your hand at the royal lifestyle – incorporate a trek across one of Queen Sonja's favorite trails, Hardangerfjord's own Dronningstien. This 16-kilometer long trail begins at Røte in Kinsarvik and ends in Lofthus, where pristine views await.
Be prepared to hike for six to eight hours and bring lots of water. Keep in mind that the hike can get quite steep, too.
Nordfjord
While the name itself is catchy and easy to remember, the experience is impossible to forget.
Nordfjord is the sixth-longest fjord in Norway, measuring almost 105 kilometers. Its deepest point reached 565 meters.
This fantastic fjord is crouched between two others (Storfjord and Sognefjord) – and it's a peaceful escape surrounded by towering mastiffs, navy waters, and seemingly endless woodlands.

Nordfjord begs to be explored – but whether you choose to do so by getting active or by relaxing on a cruise ship if fully up to you. If you choose a more flexible option, be sure to check out Lake Hornindalsvatnet. At 514 meters below sea level, it's thought to be the deepest lake in Europe.
Other gems surrounging Nordfjord include the Briksdalsbreen Glacier, Jostedalsbreen Glacier, and Lake Oldevatnet – plus, its corresponding valley, Oldedalen Valley.
Geirangerfjord
Geirangerfjord is among the shortest fjords included on this list (spanning just 15 kilometers) and it's the only, along with Nærøyfjord, to be UNESCO-protected.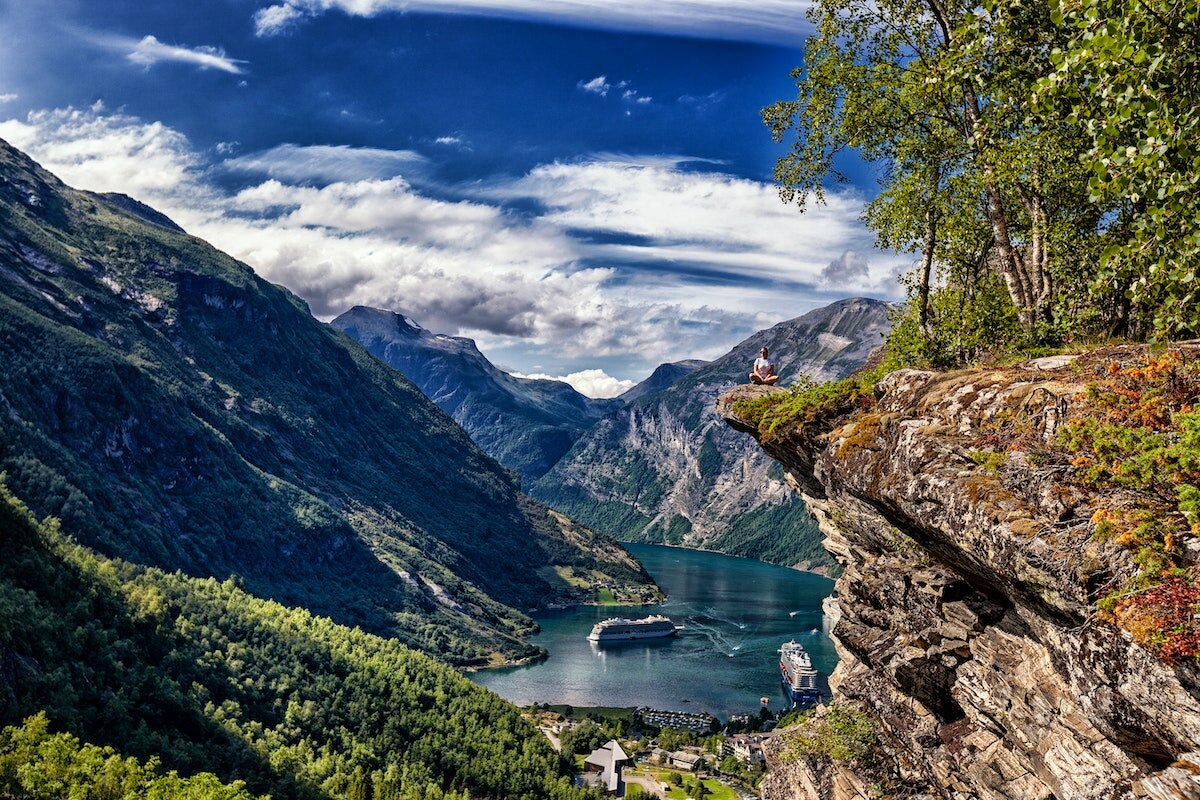 Geirangerfjord is accessibly located in Møre og Romsdal County, 100 km southeast of Ålesund.
With a fully cruisable depth of 260 meters and surrounding mountains swelling up to 1700 meters, Geirangerfjord is overflowing with sights and activities..
If you opt to smooth sail down the fjord, take in two stunning waterfalls, "de Syv Søstre" (the seven sisters) and "Friaren" (the suitor). It's said that Friaren has been trying to woo the seven sisters, which he faces directly across the fjord, for millennia.
If you make your way to the Geiranger Skywalk, you'll have unparalleled, bird's eye views of the entire fjordscape.
If you visit during warmer months, kayaking, canyoning, and rafting on the fjord are fabulous activities through which you can not only behold the fjord – but become one with it.
Source: Norway Today