Introducing terrific Trondheim, Norway. Nestled within the western fjords of central Norway sits the country's third-largest city – and it's abuzz with life, marvelous museums, sea-to-table restaurants, and sightseeing spots to boot.
We're bringing you the best of Trondheim, Norway – read on to find out why the city is a charming holiday hotspot.
Explore two (equally intriguing) sides of Trondheim
The story of Trondheim spans over 1000 years. Its heritage is fused into the very fabric of city life.
In Trondheim, you'll find wide streets from the 17th century overlapping with narrow roads from medieval times; you'll stroll out of a 14th-century cathedral and into a live jazz show at a hip cafe; you'll ogle Viking artifacts and mod contemporary art side by side.
Trendy Trondheim
Two words to sum up Trondheim's modern side are koselig and, simply, cool.
Koselig is Norway's answer to the viral Danish word hygge, which the Oxford Dictionary defines as "a quality of coziness and comfortable conviviality that engenders a feeling of contentment or well-being." Koselig can be found alone, with a book and steaming cup of coffee, or in good company.
Trondheim is crawling with cool-and-cozy cafes that you can master the art of koselig in. For example at Kafé Skuret, located right Trondheim's Nivela River waterfront with the views to prove it, you can munch on seafood with a beer or opt for tea and waffles.
At cafe-slash-library Antikvariatet, you can enjoy Norwegian comfort food while listening to a live gig or poetry reading.
Or, you can simply walk through the Trondheim neighborhood of Bakklandet and pop into any of the cushy hole-in-the-walls burrowing between rows of pretty pastel houses. Pro tip: This is the spot to seek cute apartment accommodation in if you want to skip Trondheim hotels (though those are top-notch, too).
If you're ready to cool off from all the hot coffee and candles, take a dip into the 130-kilometer-long Trondheim Fjord, also known as Trondheimsfjorden (coincidentally, Norway's third-largest city is home to its third-largest fjord!).
This is a feat reserved for the summer months, however: even then, water temperatures rarely reach 18 degrees Celsius. Alternatively, kayak down the Trondheim Fjord or (maybe and, if you can't get enough) the Nivela River.
We'd be remiss if we didn't mention Trondheim's spunky museum scene. This city's got the works: from the open-air Sverresborg Trøndelag Folk Museum and Norway's National Museum for pop and rock music Rockheim, to contemporary art-centered Trondheim Kunstmuseum and ancient arts nook Nordenfjeldske Kunstindustrimuseum.
Timeworn Trondheim
In addition to being a chic university city, Trondheim is an old soul at heart.
In fact, its bustling Bakklandet neighborhood (today home to many of the city's students) was first settled some 1000 years ago. The neighborhood, along with the rest of the city, was founded in 997 AD by the Viking King Olav Tryggvason.
Back then, it was a village known as Kaupangr, renamed Nidaros soon after. Finally (after a few more name changes) the site became the city of Trondheim in the 20th century.
Of many ancient Trondheim attractions, the most-known is the 14-century Nidaros Cathedral: the world's northernmost medieval cathedral.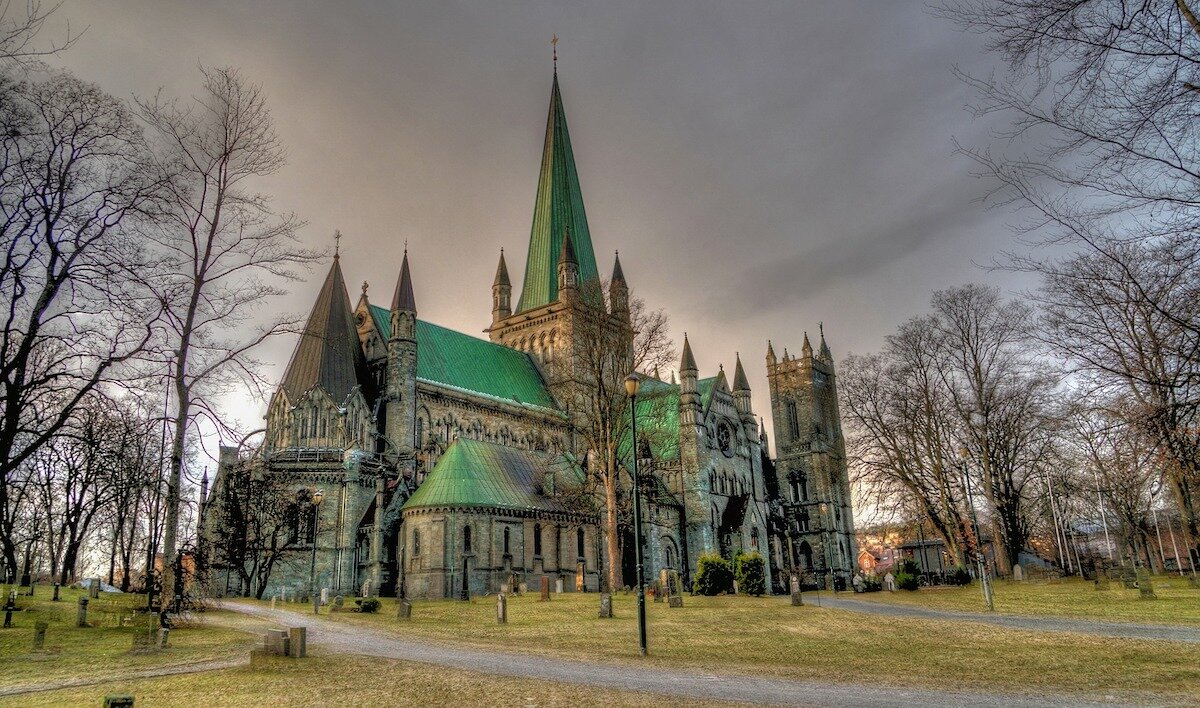 Located in the city center, the Nidaros Cathedral is said to be the current burial site of St. Olaf.
This also makes the cathedral the site of many a religious pilgrimage.
As it has for centuries, it continues to host coronations for Norway's rulers to this day.
From the Trondheim city center, you can hop onto the 1924 tram system, also the world's northernmost tramline.
Ride it up to Lian, a green space featuring sprawling meadows and a lake, find a free spot on the verdant grass, and reflect on how life might have been in the Trondheim of old.
Pinpointing Trondheim, Norway
The Trondheim population is almost 200,000, making it Norway's third-biggest city.
However, Trondheim sits further north than any of the country's top eight cities by size. 
If you're thinking about hitting Trondheim on a road trip through Norway, we've got you covered. The distance from Trondheim to Oslo is 500 kilometers, from Trondheim to Bergen 700 kilometers, from Trondheim to Bodø 700 kilometers, from Trondheim to Kristiansand 840 kilometers, and from Trondheim to Tromsø 1400 kilometers. 
For non-roadway trips, the Trondheim Airport has your back.
It's internationally connected to the following cities: Alicante, Spain; Amsterdam, Netherlands; Copenhagen, Denmark; Dubrovnik, Croatia; Gdansk, Poland; Krakow, Poland; London, United Kingdom; Malaga, Spain; Murcia, Spain; Nice, France; Riga, Latvia; Split, Croatia; and Stockholm, Sweden.
The airport also has domestic flights to and from Bergen, Bodø, Bronnoysund, Harstad/Narvik, Kristiansand, Kristiansund, Mo i Rana, Mosjøen, Namsos, Oslo, Rørvik, Sandefjord, Sandnessjøen, Stavanger, Tromsø, and Ålesund.
Trondheim, Norway is located on the 63rd latitude north. So, the city is too far south to see the aurora borealis and the midnight sun… Usually. The phenomena have been known to occur, albeit rarely, as far south as Trondheim. So, you might just get northern lights lucky.
December is the city's coldest month. At the end of the year, the Trondheim sun sets around 2:30 PM and rises around 10:00 AM, making for about five hours of daylight per day. December temperatures in the city average between -3 and 3 degrees Celsius (the Trondheim winter can get cold – so layer up!).
In July, the sun sets around 11:20 PM and rises around 3:20 AM; that's almost 20 hours of daylight every day. July is Trondheim's warmest month with temperatures averaging between 12 and 20 degrees Celsius.
In short: Trondheim, Norway's weather varies from season to season, and it can change quickly no matter the time of year – so come prepared!
Source: Norway Today