For the second year running, the people of Norway will have to make do and celebrate Norway's favorite day with restrictions, infection control measures, and a sense of cautious joy. This year's celebrations will run the range, depending on where you celebrate, from almost normal to very much a COVID affair. What can the nation expect from a people so eagerly awaiting to celebrate its national day?
Anniversary of Norway's own egalitarian constitution
Perhaps the most important date on the Norwegian calendar falls every year in the middle of spring. May 17 (17 Mai, Syttende Mai) is Norway's proudly patriotic national day. It is the celebration of the anniversary of the signing of Norway's first constitution, in Eidsvoll, in 1814. With Denmark-Norway on the losing side of the Napoleonic Wars, Denmark ceded Norway to Sweden in January 1814 as part of a post-war settlement.

A sense of romantic nationalism was sweeping across Europe and Norwegians were caught up in this longing for independence from foreign rule. A constitution was drawn up, signed, and came into effect on May 17, 1814. This is why 17 May is also commonly called Grunnlovsdagen (Constitution Day).

The constitution itself was seen as revolutionary for the early 19th century. Some 40% of the population became eligible to vote, aristocratic titles were abolished, freedom of speech (especially about the government) was adopted and it also declared rulers were to be elected.

Regardless of the fact that Norway had its own constitution, it entered into a union with Sweden which would last until 1905. This union was officially dissolved on June 7, 1905, after a landmark vote for total independence from Sweden. This saw Norway became an independent state for the first time since 1397.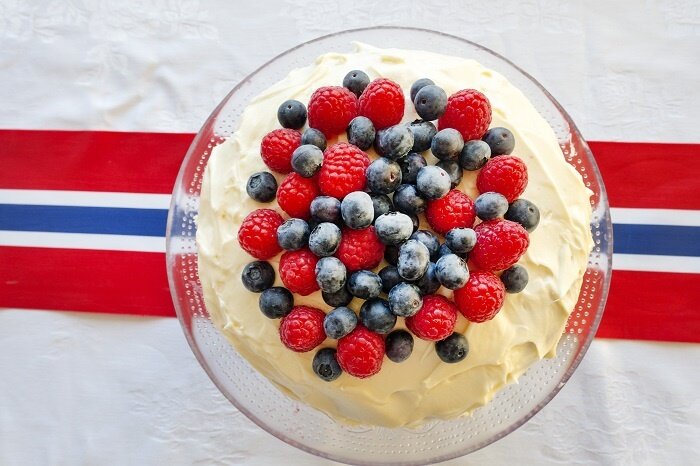 Champagne for breakfast, children's parades, bunads, flags…
Celebrations differ all throughout the country but there are some common features. This is the time of the year where many Norwegians dust off their national dress (bunad). More than just an expensive folk custom, it has a deep tradition and meaning for each person, often showing their familial and historical roots to a particular place in Norway.

Having gotten all dressed up, breakfast is the next item of the day. Often this is a shared breakfast with family, friends, or neighbors. Think lots of scrambled eggs, smoked salmon, and the odd glass of champagne.

Following this, the main focus of the morning is the Barnatorget (Children's Parade). Here, school children march through the main street (in Oslo, up to the Royal Palace for greeting by the King) waving flags and with marching bands.

Most importantly, this day is a day for feasting. Hot dogs, candy, and ice creams are eaten in abundance. The day also coincides with many high school students end of exam celebrations so, often, there is an overindulgence of alcohol too!
National guidelines will make May 17 different… again
Although much of Norway continues to, slowly, reopen, this May 17 will again very much be business not as usual. The government has recently announced national guidelines in place to ensure a safer May 17. The three most important rules are to maintain a safe distance from one another, to constantly wash your hands, and, if you feel sick, to avoid all social contact and get tested.

Travel into the country, for this year's festivities, will be severely restricted. Most international travelers must undergo a mandatory quarantine period at their own expense. This will make this year's celebrations very much a local affair with many friends of Norwegians, and Norwegian living overseas, potentially missing out.

The government has stressed to limit social contact as much as possible by encouraging festivities to take place outdoors. For private gatherings, the government encourages all to receive no more than 5 guests maintaining safe distances from one another. Public outdoor events, with adequate seating, are allowed for up to 200 people. Serving alcohol is only allowed until 10 PM. Throughout the country, the national anthem will be jointly, and proudly, sung at 1 PM.
Most cities will focus on safe and socially distant celebrations
What to expect on your May 17 really depends on where, in Norway, you will be celebrating it. From Tromsø, in the north, to Kristiansand, in the south, much of the country is still under some form of coronavirus infection control measures. The decision for most May 17 activities depends on the kommune (local municipalities) throughout the country.

The majority of coronavirus infections are taking place in the nation's three largest cities, Oslo, Bergen, and Trondheim. This means there will again be muted celebrations there. Bergen kommune has released a tentative plan that will involve a procession, through the center of the city, and a boat parade in the nearby fjord later on. Oslo kommune has, for the second year running, taking the step of canceling the much loved Barnatorget. However, the tradition is not lost as it will now take place virtually, in the video game "Minecraft". Trondheim will see slightly more activity, will individual school districts allowed to decide whether they can have their own, socially distanced, Barnatorget.

The head of the 17 Mai committee, in Stavanger, Ann Sesilie Tekfeldt, wants a day marked with similar festivities as last year, she told VG. She wants corps, neighborhoods, schools and associations to all play their part in socially distanced celebrations. Tromsø will have a focus of music corps, who normally parade throughout the city, playing in nursing homes. Further down south, in Kristiansand, celebrations will literally take to the sea. A boat parade is envisioned as the best way to celebrate May 17 safely there.
A sense of shared responsibility to keep ourselves and society safe
Wherever you are in Norway, it is important to keep a few things in mind (again) this May 17. Firstly, always maintain a safe social distance. Secondly, please practice good hand hygiene. Thirdly, if you feel sick, stay home!
Finally, even though this will be another year's celebration very much affected by the coronavirus pandemic, let us remember exactly why this day is important.
The 1814 Constitution paved the way for Norway to become the open, free, democratic, progressive, and tolerant society that it is today. We must, like those who were in Eidsvoll over two centuries ago, have a sense of shared responsibility for our society in this troubled time.

To check the national guidelines for May 17 celebrations, click here.
For specific municipalities' guidelines, click here.

Source: #Norway Today / #NorwayTodayNews
Do you have a news tip for Norway Today? We want to hear it. Get in touch at info@norwaytoday.no