The Norwegian government is continuing to reopen society and is moving to step 3 of the reopening plan. People can now have more guests at home, more people can attend events, and working from home will be less of a requirement. Children and adolescents will be able to attend inter-regional sports and cultural events without needing to keep one meter of distance from others.
The new recommendations will take immediate effect, but the changes to the Regulations will enter into effect from Sunday, June 20.
"The rate of infection is declining, the number of hospital admissions is dropping, and about half of the population over the age of 18 have received at least one vaccine dose. Norway is on track, and we are ready to move to step 3 of the reopening," Prime Minister Erna Solberg said on Friday.
The decision to move to step 3 is based on the recommendations of the Norwegian Directorate of Health and the Norwegian Institute of Public Health (FHI). It may still be necessary to suppress outbreaks locally by adopting local rules.
"We must continue to take care. The infection situation is still unpredictable in many places around the world, and there is uncertainty associated with the mutations. This is why we need to maintain a high level of preparedness and restrict entry into Norway. The reopening of Norway is contingent upon us being able to hold back on opening our borders," Solberg stated.
Kindergartens and schools
"We have prioritized children and adolescents throughout the pandemic. The measures that apply to children and adolescents will be less strict, compared with adults, also at this step," Minister of Education and Integration Guri Melby noted.
Local authorities will continue to be in charge of decisions regarding the level of measures to apply to kindergartens and schools.
"Kindergartens and schools must plan to open at the green level after the summer holiday, provided that the local infection situation does not indicate otherwise. I have great confidence that most kindergartens and schools will reopen in the autumn at the green level and that circumstances will be more normalized. Universities, university colleges, and vocational schools should also plan to offer physical teaching at the beginning of the autumn semester," Melby added.
"We will be allowing inter-regional participation, including cups and matches that gather children from different parts of the country. Remember that adults, children, and their younger siblings are included in the attendance restrictions that apply to events where the athletes are children and adolescents under the age of 20," the Minister of Education and Integration explained.
Summer camp
Many children and adolescents are beginning their summer holidays.
"I think that both children and adults are wondering whether there will be summer camps this year. I am happy to say that summer camps, activity camps, and other leisure activities may go ahead this year. This means that thousands of children and adolescents will be able to enjoy themselves and create good memories at camp," Minister of Children and Families Kjell Ingolf Ropstad said.
Even though it is possible to travel abroad on holiday, restrictions and complicated rules will remain in place.
"Travelling abroad may be frustrating, and entering the country may involve long waits. The Norwegian government, therefore, recommends that people spend their summer holiday in Norway. This is the safest and most predictable option," Ropstad stated.
Key definitions
Fully vaccinated:
people who have received two doses of the vaccine, effective one week after the final dose
people who have recovered from COVID-19 and received one dose of the vaccine over one week ago – they cannot have the vaccine administered until three weeks after the date of the positive test
people who have received their first vaccine dose and have received a positive test result at least three weeks after vaccination – they will be fully vaccinated once they have come out of isolation
Protected:
people who are fully vaccinated
people who have received one dose, and 3–15 weeks have elapsed since they received their dose.
people who have recovered from COVID-19 in the past six months.
The national measures that apply in step 3
National recommendations
Keep a distance of 1 meter.
Keep your hands clean.
Stay home if you are ill.
Social contact
No more than 20 guests. (new)
Children in kindergarten and primary school may receive visits from other children in their cohort, even if this exceeds the maximum number of guests recommended.
Protected people are not included in the maximum number of guests.
The advice to keep a distance still applies, but protected people may have close social contact (less than 1 meter) with other protected people and unprotected people who do not belong to any risk groups.
People are encouraged to meet others outdoors.
Travel
Domestic travel is permitted.
People who are not protected and who travel to municipalities with measures that are less strict than in their home municipality should follow the recommendations that apply in the municipality they visited before their trip.
People who are unprotected are encouraged to take extra care and plan the trip in such a way as to avoid transmission of COVID-19. This is particularly important for people who travel from areas with a high rate of infection, i.e., municipalities with strict local measures regulated by chapters 5A to 5C of the COVID-19 Regulations or equivalent local regulations.
Kindergartens and schools
Kindergartens and schools follow the traffic light model with green, yellow, or red level measures in accordance with local assessments made by each municipality, and are ready to change the level of measures in accordance with changes in the infection situation.
Higher education
More physical teaching and consider regular testing.
Register the names of people present and what seat they are in to make contact tracing easier.
Working life
Increased presence at the workplace. (new)
Combination of working from home and/or flexible working hours.
Employers will have greater freedom to determine whether it is necessary for people to work from home in light of the local risk of infection. (new)
General infection control measures.
People must be able to keep a distance of 1 meter from other people.
Protected people do not need to keep a distance from other people at the workplace, but should take special consideration of unprotected people who belong to risk groups. (new)
Public and private events
Events should be organized outdoors rather than indoors.
People who are not protected and come from areas with a high rate of infection should not attend events in other municipalities. A high rate of infection means that the municipality has strict local measures which are regulated in accordance with chapters 5A to 5C of the COVID-19 Regulations or equivalent local regulations.
Sports, culture, and leisure activities
Outdoor activities are recommended rather than indoor activities.
Participants are exempt from the recommendation of a 1-meter distance indoors and outdoors, when necessary, in order to participate in the activity. This means that contact sports for adults are now permitted. (new)
The recommended group size for adults is up to 30 people indoors and up to 40 people outdoors. (new)
Summer and activity camps (new)
It is recommended that the number of participants at summer camps, activity camps, and other leisure activities that gather many people and last for several days be limited to up to 300 people, and it is recommended that participants be divided into groups of about 40 people.
People are not required to keep a distance of 1 meter, but the general recommendations regarding distance and good hand hygiene will also apply at camp for both adults and children.
When activities at camp are not possible without getting closer than 1 meter, the recommendation to keep a distance will not apply.
Elite sports
Elite sports may go ahead as normal. This means that series matches may go ahead outdoors and indoors. (new)
National rules
Shops
Shops may open and must comply with the infection control rules under the COVID-19 Regulations to ensure safe operations and must implement measures to ensure that a distance of least 1 meter is kept, as well as having procedures for good hand hygiene.
Infection control measures in accordance with the relevant industry standard.
Trade fairs and temporary markets are now regulated in the same way as shops.
Sports, culture, and leisure activities
Children and adolescents under the age of 20 may participate as athletes at sports events or inter-regional competitions (at the national level) both outdoors and indoors, without needing to keep a distance of 1 meter. (new)
In recreational sports, adults are exempt from the 1-meter rule when they participate in sports events, such as matches, within their region. This applies both outdoors and indoors. (new)
Amateur adult dancers, musicians, and dramatic artists are exempt from the 1-meter rule at both outdoor and indoor cultural events if they otherwise train or practice together. (new)
Events
Private events
Up to 100 people at a public venue or in a rented/borrowed venue indoors or outdoors. (new)
Public events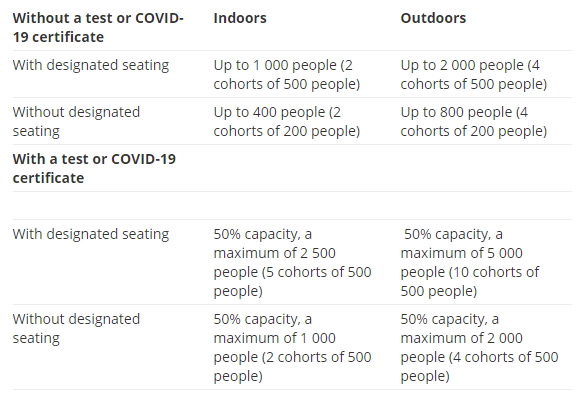 Nightlife, venues that serve food or alcohol, and events that have a license to serve alcohol
The ban on serving alcohol after midnight is lifted. (new)
The ban on admission after midnight remains in place.
A requirement to register guests, only serve alcohol at tables, a reduced number of guests, seats for all guests, and a distance requirement.
Source: Norwegian government / #Norway Today / #NorwayTodayNews
Do you have a news tip for Norway Today? We want to hear it. Get in touch at info@norwaytoday.no