The fjord-enveloped city of Alesund, Norway is known for awe-inspiring Art Nouveau architecture, panoramic views courtesy of its marvelous Mount Aksla, and outdoor activities aplenty.
Nestled between the infinite inlets of western Norway – the country with the most fjords in the world – and alpine mountains sprawling with coniferous and deciduous woodlands, Alesund is one of the best cities to visit in Norway. 
Get to know the gem of Norway's western fjord region, and the main city of the Sunnmøre district, with our A-Z guide to Alesund.
Things to do in Alesund – and around it
Enjoy Jugendstil architecture
One of the best free things to do in Alesund, Norway, is simply walking around town!
Alesund is famous for its Art Nouveau architecture, which became the main building style in the city after a massive fire on January 23, 1904. Most of the city's buildings, which were, like those of many Scandinavian cities at the time, wooden, got destroyed.
This included 850 houses and resulted in 10,000 people being left homeless. However, renovation efforts were quick, and the city was fully back on its feet by 1907 with a completely new Art Nouveau (Jugendstil – German-flavored Art Nouveau – to be precise) face. 
Today, Alesund is a member of the Rèseau Art Nouveau Network along with other European cities built in the style, including Barcelona, Brussels, Glasgow, and Vienna. 
Meander down the streets of Alesund and ogle the unique architecture from below. Almost every building in the city is built in the style – so you'll see ornately decorated post offices, colorful houses, turreted restaurants, business buildings with towers, and more.
One of the best places to take in the buildings is the bustling Alesund harbor, dotted by a rainbow of former fishermen's abodes on one side and fjord landscapes on the other.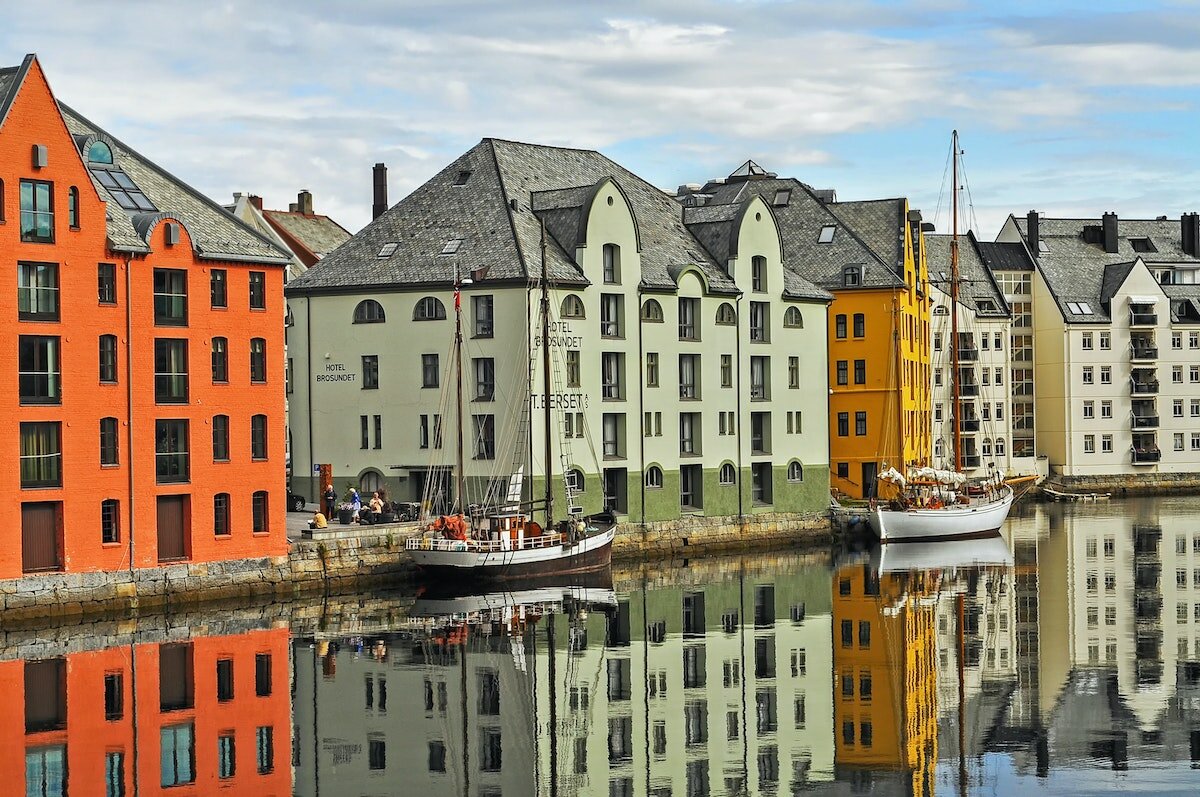 On your way through town, pop into the Alesund Cathedral for a small fee; about a handful of kroner. Inside, enjoy stunning stained-glass windows and frescoes by Norwegian artist Enevold Thømt (1878-1958).
One of the best ways to see Alesund's Jugendstil architecture is from above, which you can experience by traversing 418 steps up the city's Mount Aksla.
Before you make the climb, take in the statues scattered across Alesund's 1885 Town Park, which sits at the bottom of the hill.
One statue honors the Viking Rollo (Vikings fans – yes, it is that Rollo), who was originally from the Alesund area where he lived in his youth – before he moved to France and established Normandy, that is.
Chow down like a local
Alesund, Norway is home to one of the world's biggest export harbors for klippfisk – dried cod.
At the city's harbor, known as Brosundet, you can buy the salty treat as a snack. Or, you can take it a step further and purchase freshly caught fish and other seafood to cook for yourself if you're staying in a lodging with a kitchen. 
Alesund is full of varied restaurants for dining out. You'll find the works here, from traditional Norwegian food spots (don't miss out on a bowl of fish stew, especially if it's cold out!) and bakeries serving up local sweet treats to international joints where you'll find everything from pizza to burgers.
Inside Alesund hotels, you'll find some of the city's best fine dining spots. Hotel Brosundetsits in a renovated Art Nouveau warehouse and has a world-class restaurant which, as an added bonus, features views of the surrounding islets. 
Marvel at the city's museums
Next to the city's harbor sits the Fishery Museum, situated in a renovated warehouse from 1861. This museum is all about fishing in Alesund – from reeling to exporting.
Onsite, you can sample locally made cod liver oil.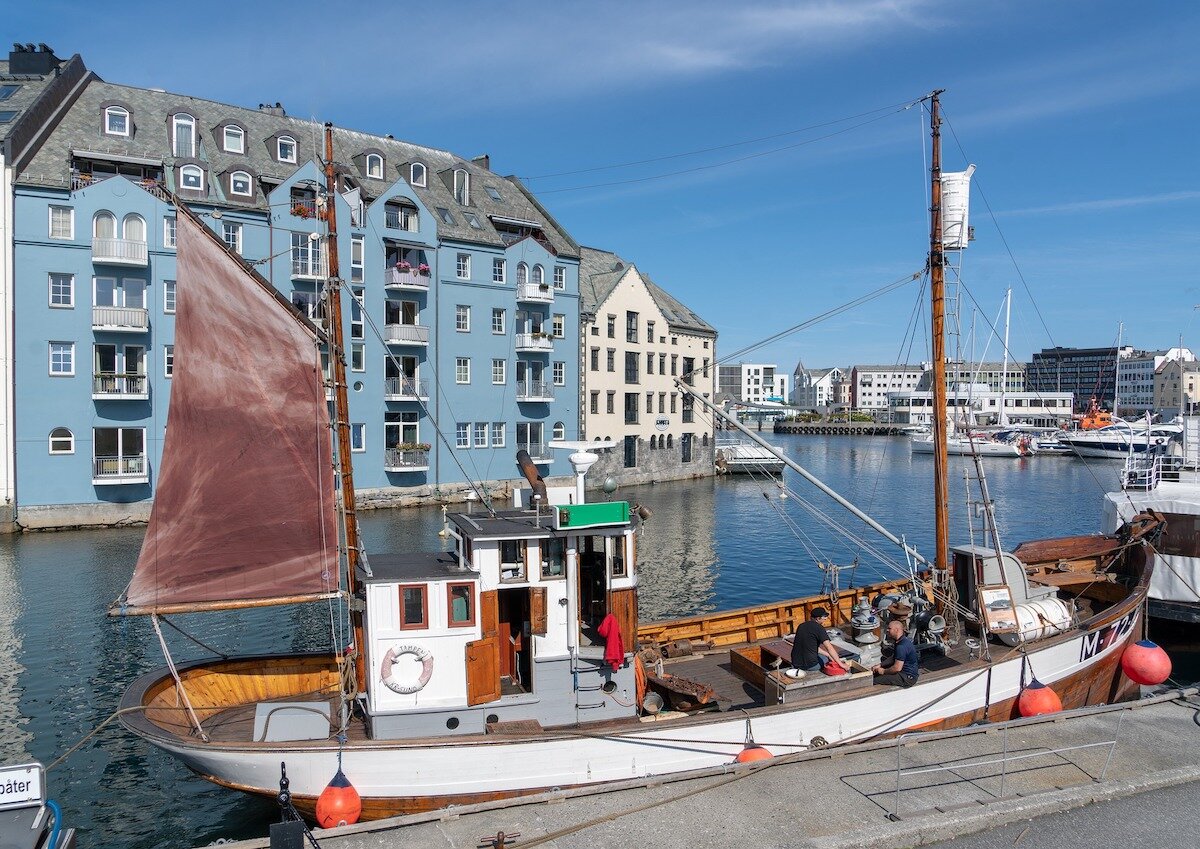 At Aalesunds Museum (featuring the city's former official name), explore artifacts, paintings, and photographs from Alesund's rich history.
You'll learn about the booming fishing industry, the 1904 fire, and city life before the fire – including a model of Alesund from 1898.
Alesund weather: During spring, summer, fall, and winter
Alesund weather largely depends on the season.
January is usually the city's coldest month, with temperatures averaging between 1 and 5 degrees Celsius. July, on the other hand, when temperatures typically range from 12 to 17 degrees Celsius, is the warmest. 
Alesund winter and summer are opposites when it comes to the weather. Though a fair amount north of Oslo, Alesund is still a southern city, and chances are you won't be able to experience the northern lights there during the winter. The midnight sun doesn't quite shine all night long during the summer, but the city does experience a huge increase in daylight hours.
In December, the month in Alesund with the least amount of daylight, the sun sets around 3:06 PM and rises around 10:06 AM, totaling about five hours of daylight per day. Conversely, in June, the month with the most daylight, the sun sets at about 11:37 PM and rises around 3:37 AM, totaling 20 hours of daylight.  
Getting to Alesund: Via planes, boats, and automobiles
The Alesund Airport is international with direct commercial flights to and from Alicante, Amsterdam, Copenhagen, Gdansk, and Kaunas.
You can easily reach the Alesund Airport with a connecting flight, too, as it has direct domestic flights to and from Bergen, Kristiansund, Oslo, and Trondheim.
Just a few steps away from the harbor sits the Alesund cruise port and – it's always buzzing. In fact, a great way to visit the city is via cruise, as most boating trips through the west fjords stop in Alesund.
The city's location is the perfect base to float around Hjørundfjord, the UNESCO-protected Grigenfjord, and scale Trollstigen mountain, and the Sunnmøre Alps. Ski-and-sail fjord trip, anyone?
You can also reach Alesund by car if you decide on a road trip. Alesund is around 300 kilometers southwest of Trondheim, 500 kilometers north of Bergen, and 530 kilometers northwest of Oslo.
Alesund population: From prehistory to the present-day
The regions encompassed by modern-day Norway are thought to have become habitable around 10,000 years ago, following the end of the last global glacial period. 
Archaeologists have found artifacts in the area of present-day Alesund, specifically, that point to continuous human inhabitance for the past 9000 years.
The populations of Alesund and Norway in general were, back then, undoubtedly tiny compared to today. 
The population gradually increased over the years, especially around Norway's more fertile and coastal areas – including the region of the western fjords. 
By the Viking Age, Norway's total population is thought to have reached somewhere between 150,000 and 200,000. 
During the Viking Age, Norway's inhabitants lived in longhouses, some of which were part of multi-family village complexes, while others stood individually and kilometers away from the next. 
Villages were small-scale back then (usually numbering up to a couple hundred members, if that), mostly existing in southern Norway and near trading centers. The west fjord region, which includes Alesund, was likely home to at least a few longhouses, if not a smaller village.
Alesund first entered history by name in Snorri Sturluson's (1179-1241) Icelandic sagas. 
During the 12th century, Borgund (330 kilometers southeast of Alesund) was the first town-like trade settlement in the district of Sunnmøre. The people of Alesund likely relied on Borgund as the nearest large marketplace to sell their goods, such as fish and fur.
Between Bergen and Nidaros, today known as Trondheim, Borgund was also the largest religious center and is still home to the famous Borgund Stave Church. 
By the 14th century, all of Norway was home to around 500,000 inhabitants. However, this number likely diminished by half during the mid-14th-century Black Death plague, after which trade in the region of Sunnmøre became controlled by Bergen rather than Borgund. Soon after, Alesund began to take over as the main city of Sunnmøre.
Around 1800, Norway's number of inhabitants reached 883,000. The 1904 fire of Alesund killed one person and left many without a home.
Nonetheless, the city was quick to be reborn, and its population didn't significantly change during this time. Norway's total population numbered two million by the early 1900s.
Today, Norway is home to around 5.4 million people and about 46,000 of them live in the modern-day city of Alesund.
After visiting the city, though – you just might decide to permanently increase its population! 
Source: Norway Today
Do you have a news tip for Norway Today? We want to hear it. Get in touch at info@norwaytoday.no