Hardangervidda (Hardanger Plateau) is so much more than just a scenic mountain plateau. Running through huge swathes of central southern Norway, the plateau is home to scenic waterfalls, pristine national parks, and roaming wild reindeer. With Northern Europe's largest glacier situated here, it's also a slice of Arctic life just a few hours drive from Norway's two major cities. This is a must-visit destination for all those that live in, or travel to, Norway.
A scenic mountain plateau and huge national park
Hardangervidda is a vast and scenic mountain plateau situated in southern central Norway. Sprawling over the counties of Vestland, Vestfold og Telemark and Viken, it lies 186 kilometers west of Oslo and 121 kilometers east of Bergen. It is Europe's largest mountain plateau and covers some 3422 kilometers in surface area.
As it is over 1000 meters above sea level (and thus above the 'tree line'), it has a cold and stark alpine climate. This cold climate is perfectly suited for Norway's largest glacier, Hardangerjøkulen, to be situated there.
Within the plateau lies Norway's largest national park. Established in 1981, the park serves to protect and preserve the varied flora and fauna that live there. It houses one of the largest wild reindeer populations in Norway, as well as much arctic fauna.
One of Norway's 18 'National Scenic Routes'
The scenic nature of this mountain plateau ensured that it earned a place among the Nasjonale Turistveger (National Scenic Routes). With vast arrays of mountains, valleys, lakes, rivers, waterfalls, and streams, it surely is a must-see location.
Vøringsfossen is situated in the park and is worth a visit in itself just to see why it is one of the best known, and most loved, waterfalls in Norway. The ultimate tourist photo, of course, is to be found perched on the edge of a cliff, Trolltunga, which overlooks the Hardangerfjord.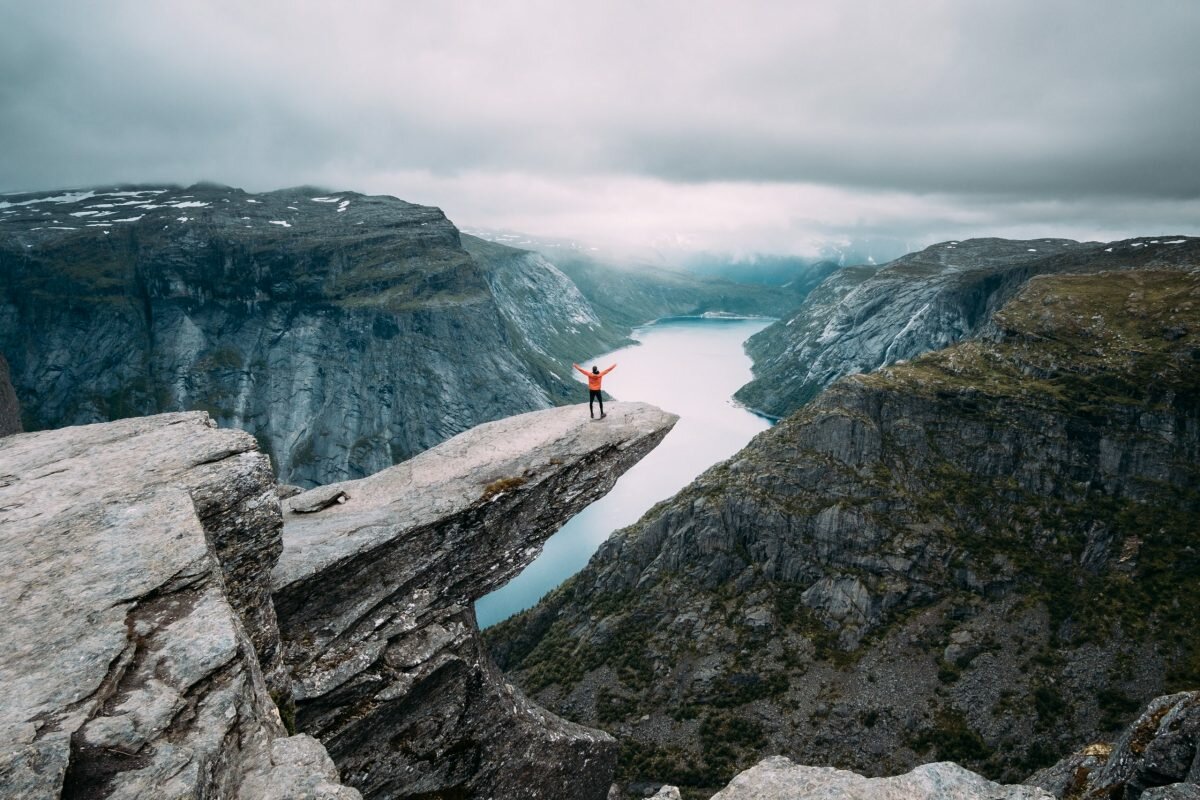 The summer months make the best time to visit Hardangervidda as roads and paths can become, literally, swamped by meters of snow in the wintertime. The National Scenic Route, approximately 158 kilometers long, starts in Granvin and ends in Låtefoss. It includes a ferry trip between Tørvikbygd and Kvandal.
Due to the high alpine climate, and mountains, the weather can change rapidly. So, be sure to plan and prep properly when you visit the area.
As a convenient trip, many pass through the area when traveling between the two largest cities in Norway: Oslo and Bergen.
Outdoor possibilities are endless
The alpine climate, with its fjords, valleys, mountain, and numerous trails, makes it a perfect place to hike or simply stroll through pristine nature. The Norwegian Mountain Touring Association has established a network of huts, trails, and paths throughout the area.

The warmer months, from June to early October, are the best for a number of outdoor activities available. Hiking, walking, and climbing the plateau are popular, while canoeing and fishing for trout in the many crystal clear rivers are also possible. There are ample opportunities to either view, or hunt (with permission and a license), the wildlife, and cycling is also becoming more common throughout the plateau. For those who need more of an adrenaline rush, there is an annual marathon that takes place in the park with the next scheduled one [at the time of writing] to be September 10, 2022.

The National Park has two visitor centers, the Hardangervidda Natursenter (Nature Center) in Eidfjord and the Hardangervidda Nasjonalparksenter (National Park Center) situated in Tinn.

A vast array of Arctic wildlife… In the south!
There is a vast and special array of arctic flora and fauna which can be viewed year-round. One of the first reasons for human activity in this area was the presence of reindeer. It is a vital habitat for Europe's largest population of wild reindeer. The plateau is also the southernmost habitat for animals that are normally at home in the Arctic, such as mountain foxes and snow owls.

As mentioned, the presence of pristine lakes and rivers has made fishing a popular pastime. Here, especially in the summer, fishers can try to lure one of the many trout and other varieties of fish that live in the numerous lakes, streams, and rivers.

How best to get there?
The best and easiest way to get there is to drive. A major highway, Highway 7, runs through Hardangervidda connecting Bergen with Oslo.
However, if you do not have access to a car, there are public transport possibilities. For example, the Bergensbanen (The Bergen Line) crosses much of the plateau connecting Norway's two largest cities by rails. A recent article by Lonely Planet has stated that this train ride is possibly the best in Europe, and given the landscape it passes through, who wouldn't agree?

So, now that you know why you should visit, the only thing left is to pack your bag and head to Hardangervidda – the scenic mountain plateau that is one of Norway's natural treasures.
Source: #NorwayTodayTravel
Do you have a news tip for Norway Today? We want to hear it. Get in touch at info@norwaytoday.no