It is now a decade since the horrific terrorist attacks of July 22, 2011. A single culprit murdered 77 people (mostly teenagers) by methodically setting off a bomb in the government quarters of Oslo and then conducting a massacre on the island of Utøya. The needless massacre and slaughter of innocence by a crazed far-right terrorist shocked the country and the world. Was this massacre caused by an extremist isolated by a changing Norway? Or did this tragic event only strengthen the foundations of the social-democratic society that Norway is built upon?
Norway's darkest day
July 22, 2011.

This was the day that 77 people arose in the morning and would unknowingly never see their family, friends, or loved ones again.

The tragically devastating events of that day are seared into the national consciousness. The cold-blooded planning and preparation of this event since 2009. The establishment of an agricultural business to inconspicuously purchase fertilizer. The use of a car bomb to distract emergency services attention. The policeman disguise used to reassure worried and anxious camp attendees on Utøya. The sadistic and savage shooting spree of the innocent flower of a generation. The horror, grief, devastation, and loss fell by families, communities, and the country itself, realizing their loved ones would never come home.

77 deaths. 77 families shattered into 1,000 pieces never to be made whole again.
Remembering the victims
The victims lost on that tragic day came from a broad range of life, ages, occupations, and backgrounds. They were a microcosm of our society. Among them were Ida Marie Hill, 34, a political adviser, and Hanna Erkrell Loevlie, 51, a consultant. Ismail Haji Ahmed, 19, was a dance instructor whilst Johannes Boe was "an independent boy with a good sense of humor," his parents remarked to Norwegian Broadcasting (NRK). He was just 14.
The car bomb was placed next to a building, in the government quarters of Oslo, housing the office of the then Prime Minister Jens Stoltenberg. The explosion killed 8 people with another 209 injured. The victims here were between 26 and 61 and many worked in various government departments or agencies and were just simply going about a normal workday.
On Utøya itself, the annual summer camp of the Worker's Youth League (Arbeidernes ungdomsfylking, AUF) was taking place with over 600 attendees, mostly teenagers. Here, the culprit methodically and ruthlessly murdered 69 people with another 110 injured. The average age was just 20 years old but 55 victims were under the age of 19.

Teenagers and young adults cut down as they experiencing their political awakening. It was noted that many of them had an interest in multiculturalism and integration issues. A mass shooting left many survivors scrambling to literally swim for their lives in the rocky waters around the island.

There are countless more stories to be told of the suffering, pain, anguish, and loss felt by each victim's family, friends, and cherished ones in the decade of darkness since that black day.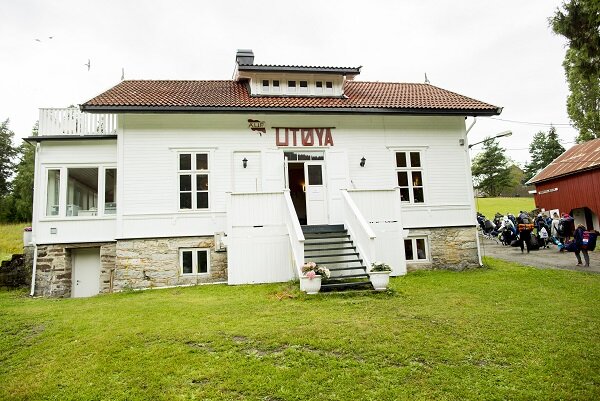 Silencing the culprit
On the tenth anniversary of that horrendous day, I believe it is important to focus on the victims, not the culprit. For a decade, millions of words, have been written about the culprit – newspaper articles, reports, books, and even psychiatric reports. Add to this the thousands of hours of radio, television, and even films. Yet this anniversary should be a time to remember and honor the innocent victims and simply not waste any more time on the guilty.
Naming someone gives them a voice, a sense of identity, a label and collective meaning, and a permanent place in time and space. All of these were violently robbed from the victims on July 22. So, I will refer to the cowardly convicted murderer behind this awful day only as "the culprit." Silencing the culprit and remembering the victims is just a small, simple way of poignant remembrance.
Garbled manifesto of hatred, intolerance, and bigotry
To not name is not the same as forgetting. Knowledge of the reasons behind this attack, this dark day, must be gained in order to make sure an event like this never happens in this country again. So what was the reason for this sheer cruelty? Why did the culprit unleash this level of barbarity and violence unseen since the darkest days of Nazi occupation?

At approximately 2:09 PM on July 22, a garbled and incomprehensible 1,158-page "manifesto" was sent to 1,002 email addresses including prominent Norwegian politicians and journalists. In it, the culprit outlines a militant extremist ideology coupled with an Islamophobic and xenophobic outlook that saw the upcoming explosion of violence and hatred of July 22 as being part of a deluded crusade to stem Muslim immigration into Europe.

Most of the writing, however, is heavily plagiarised from a plethora of European and American far-right and anti-Islamist writers, bloggers, and commentators. It is a diverse range of quotes from Enlightenment thinkers Thomas Jefferson and Edmund Burke, to the manifesto of the so-called "Unabomber" and even from a weekly column of British motor enthusiast Jeremy Clarkson.

It also rails against European social democratic parties (of which the Worker's Youth League is the junior member of one, the Norwegian Labour Party) for allowing multiculturalism and diverse immigration. Islam and "cultural marxism" are seen as the enemy to the preservation of a "Christian Europe." Feminism is also derided whilst a call to restore "the patriarchy" is made.

To dismiss this as the lunatic ramblings of a madman would be too simplistic. The psychiatric examination has since shown him as sane and lucid in thought. Essentially, what the culprit was rallying against, was so embittered by, was the social democratic, pluralistic, free, open, diverse, and multicultural society that has been at the heart of the success of Norwegian society since the end of the Second World War.
A stronger, more diverse, and more equitable society has emerged
A decade on, Norway still has strong democratic foundations. There have always been safe transitions of power, open and free elections, freedom of expression (more about that later), and freedom of religion. Feminism, and gender politics, have taken great strides in the decade since, as Norway has its second female Prime Minister and women are in positions of power. It truly is becoming an ever more equitable society.

Multicultural immigration is still occurring and has, in my opinion, greatly enriched the cultural life of the nation. What is most striking is that a center-right government has considered an "action plan" against Islamophobia and intolerance. In this country, even a conservative government is concerned about the welfare of all its citizens, regardless of ethnic, religious, or cultural background.

In essence, the culprit lost. The society that was so violently attacked on that dark day has not only survived the carnage but thrived. One only had to see the images of the tens of thousands of people united in the "Rose march," a few days later, to see the strength, unity, and compassion of the society that was attacked.
Extreme right, identity politics, and intolerance rising
It should be noted, however, that Norway is still dealing with some of the aftershocks of the events of July 22 a decade on. Norway has experienced, like most European nations, a recent rise in both extreme right politics and Islamophobia. The rise and popularity of "Stop Islamisation of Norway" (Stopp islamiseringen av Norge, SIAN) from a fringe group to holding protests throughout the country, in both large cities and smaller towns, is a worrying trend. A recent murder of one of their members will not help to soothe communal tensions and only highlight their cause.

Intolerance and Islamophobia have also crept into the political sphere as there are ongoing social debates as some politicians have questioned Islam as not being compatible with the fundamental tenets of Norwegian society.

Whilst Islamist terrorism has been a threat, in Norway, for the best part of 2 decades, the rise of extremist right-wing terrorism has grown in the decade since 2011. The Norwegian Police Security Service has warned of an expected increase in right-wing extremism in this country.

Outside the country, the impact of the attacks has inspired further bloodshed and intolerance. The culprit behind the 2019 Christchurch mosque attacks stated that the July 22, 2011 attacks were an inspiration.
A year of tragic anniversaries
This year also marks another tragic anniversary of intolerance and violence in Norway. On January 26, 2001, Benjamin Hermansen was violently stabbed by a group of young Neo-Nazis. His death was racially motivated and shocked Norwegian society which was seen, by both the outside world and those living here, as suffering little from racial violence.

Unfortunately, his was not the first death, in Norway, by extremist Neo-Nazis. That his memorial has been vandalized in the lead-up to the July 22 anniversary simply shows cowardice knows no limits. We should also remember Benjamin as an innocent victim whose life was ended up intolerance, bigotry, and hatred. Spare a thought for his family, friends, and loved ones this day too.
The best revenge is to strengthen what was attacked
I don't think anyone can ever make sense of those tragic events of July 22, 2011. It was the darkest day that this country has experienced in the post-war period. What was most disturbing, in a way, was that the culprit was very much a product of the open, democratic and free society that was then so violently attacked a decade ago. A lesson, I suppose, is not that the culprit is some sort of a monster but to remember that intolerance, hatred, and bigotry can grow within any of us.

As a society, all of us must ensure that something like this never happens again by practicing more tolerance and more compassion. Furthermore, a strengthening of the social-democratic foundations by involving every single person in the democratic process and by the continuation of open and free discussion is needed. We cannot let intolerance, bigotry, xenophobia, or ignorance manifest itself again like it did in the events of July 22, 2011. Our society is better than that.

Dedicated to the victims of July 22, 2011. May they be reunited with their family, friend, and loved ones one day.
Monica Iselin Didriksen
Diderik Aamodt Olsen
Gizem Dogan
Henrik Pedersen
Andreas Edvardsen
Rolf Christopher Johansen Perreau
Tore Eikeland
Karar Mustafa Qasim
Bendik Rosnaes Ellingsen
Bano Abobakar Rashid
Aleksander Aas Eriksen
Henrik Rasmussen
Andrine Bakkene Espeland
Synne Roeyneland
Hanne Balch Fjalestad
Ida Beathe Rogne
Silje Merete Fjellbu
Simon Saebo
Hanne Kristine Fridtun
Marianne Sandvik
Andreas Dalby Groennesby
Fredrik Lund Schjetne
Snorre Haller
Lejla Selaci
Rune Havdal
Birgitte Smetbak
Mona Abdinur
Maria Maageroe Johannesen
Ismail Haji Ahmed
Ronja Soettar Johansen
Thomas Margido Antonsen
Sondre Kjoeren
Porntip Ardam
Margrethe Boeyum Kloeven
Modupe Ellen Awoyemi
Syvert Knudsen
Lene Maria Bergum
Anders Kristiansen
Kevin Daae Berland
Elisabeth Troennes Lie
Trond Berntsen
Gunnar Linaker
Sverre Flate Bjoerkavag
Tamta Lipartelliani
Torjus Jakobsen Blattmann
Eva Kathinka Lutken
Monica Boesei
Even Flugstad Malmedal
Carina Borgund
Tarald Kuven Mjelde
Johannes Buoe
Ruth Benedicte Vatndal Nilsen
Asta Sofie Helland Dahl
Hakon Oedegaard
Sondre Furseth Dale
Emil Okkenhaug
Guro Vartdal Havoll
Isabel Victoria Green Sogn
Ingrid Berg Heggelund
Silje Stamneshagen
Karin Elena Holst
Victoria Stenberg
Eivind Hovden
Tina Sukuvara
Jamil Rafal Mohamad Jamil
Sharidyn Svebakk-Boehn
Steinar Jessen
Havard Vederhus
Espen Joergensen
Hanna Endresen
Tove Ashill Knutsen
Kai Hauge
Jon Vegard Lervag
Ida Marie Hill
Hanne Ekroll Loevlie
Anne Lise Holter
Kjersti Berg Sand

Source: #Norway Today / #NorwayTodayNews
Do you have a news tip for Norway Today? We want to hear it. Get in touch at info@norwaytoday.no