Norway, for many amazing reasons, is a highly coveted tourist destination. Here's a rundown on tourism in Norway.
Read on for our guide to Norway's tourism statistics, tourism trends, and more. Plus, a full guide to planning your trip when it's safe!
Plan your bucket-list trip to Norway
Norway's tourist attractions are endless. At every turn, a new cultural or natural delight awaits. Non-scenic drives don't exist in this country.
You'll likely find attractions at every turn in Norway, but we're here to help you discover some of the most popular – and most amazing – destinations.
Can't-miss tourist attractions in Norway
We're bringing you a list of phenomenal cities, sights, and more for your potential future trip to Norway.
Munch Museum, Oslo
Among Oslo's most popular museums, the Munch Museum is dedicated to the works of Norwegian artist Edvard Munch. His most famous work of art, The Scream, is permanently displayed onsite.
Arctic Cathedral, Tromsø
Since its completion in 1965, the Arctic Cathedral has maintained its popularity as a Tromsø landmark. Among the church's notable architecture are rows of oak pews, a glass mosaic, and a 32-foot tall organ.
Bryggen, Bergen
Bryggen is one of Bergen's most visited tourist attractions. Despite Bergen's destructive fire in 1702, the city's remaining foundations have existed in Bryggen since the 12th century. This UNESCO World Heritage-designated site and its surrounding area are home to multiple cafes, restaurants, small stores, craft shops, galleries, and artist studios.
Longyearbyen, Svalbard
Longyearbyen, thought to be the northernmost town in the world, is located on Spitsbergen island, on the archipelago of Svalbard. Despite its isolated location, Longyearbyen is full of activities including snowmobiling, hunting for northern lights, visiting ice caves, skiing, and dogsledding.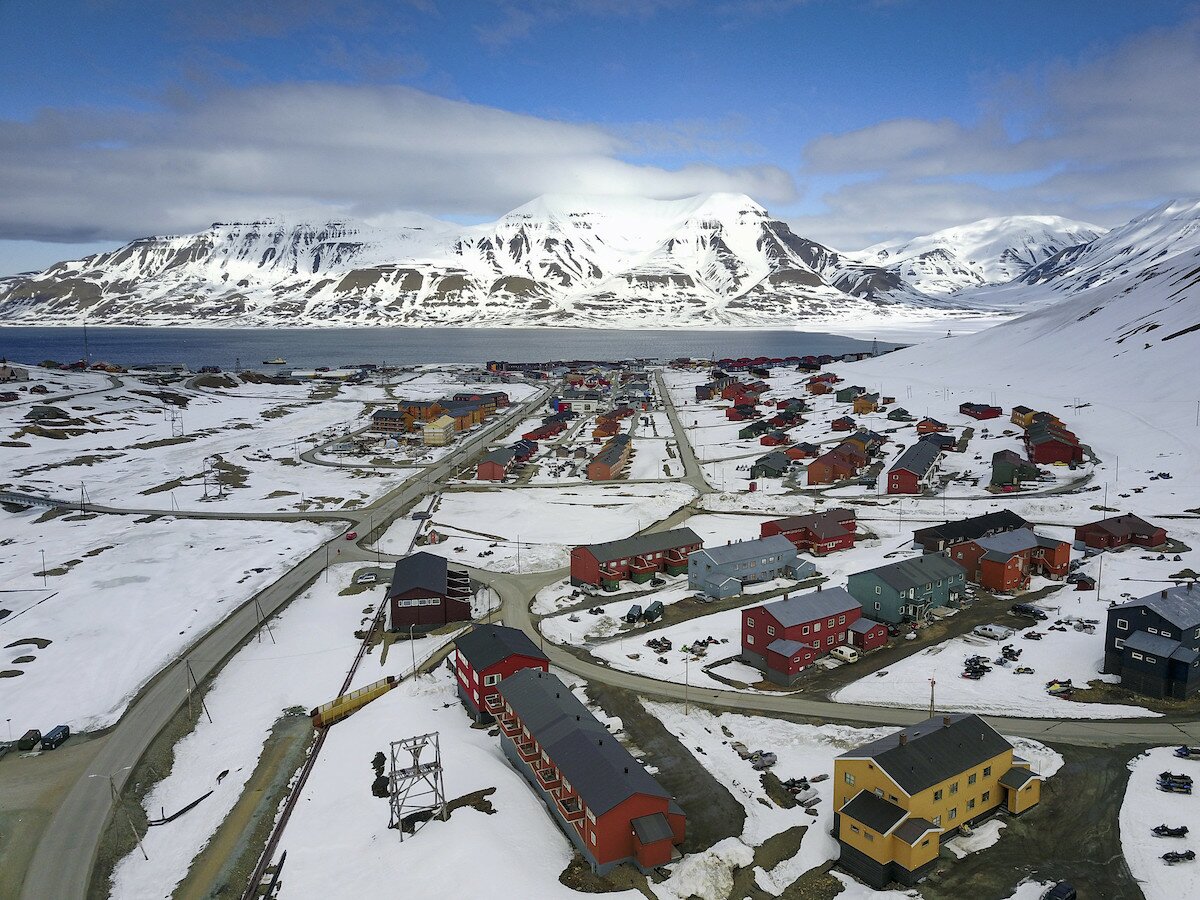 Rock Art of Alta
The outdoor portion of the Alta Museum includes around 6,000 rock carvings and 50 rock paintings, which consist of animal and human drawings, religious art, and various unclassified shapes. The engravings are estimated to be 4,000-6,000 years old, making them one of the most prominent features of the Stone Age in Northern Europe.
Røros Mining Town
In Norway's central Trøndelag County lies Røros, a historical town with over 330 years of mining history. You can observe the continuous impact of mining by visiting Slegghaugan, a mountainous collection of slag, which is a by-product of copper smelting.
Bodø
This northern town is slated to be the European Capital of Culture in 2024. Bodø's year-round climate conditions fuel the intensity of the northern lights during the winter season, and the midnight sun during the summer season. Save yourself a spot on one of the countless rooftop bars, or take an organized bus tour to a more secluded area for maximum effect.
Skrova Island, Lofoten
Skrova Island, also known as Lofoten's little Hawaii, features up-close ocean views, Norwegian beaches, and hiking trails. While most of the residents live in the fishing village by the same name, it's more than worth it to explore the rest of the island by a bike ride, boat cruise, and hiking trips.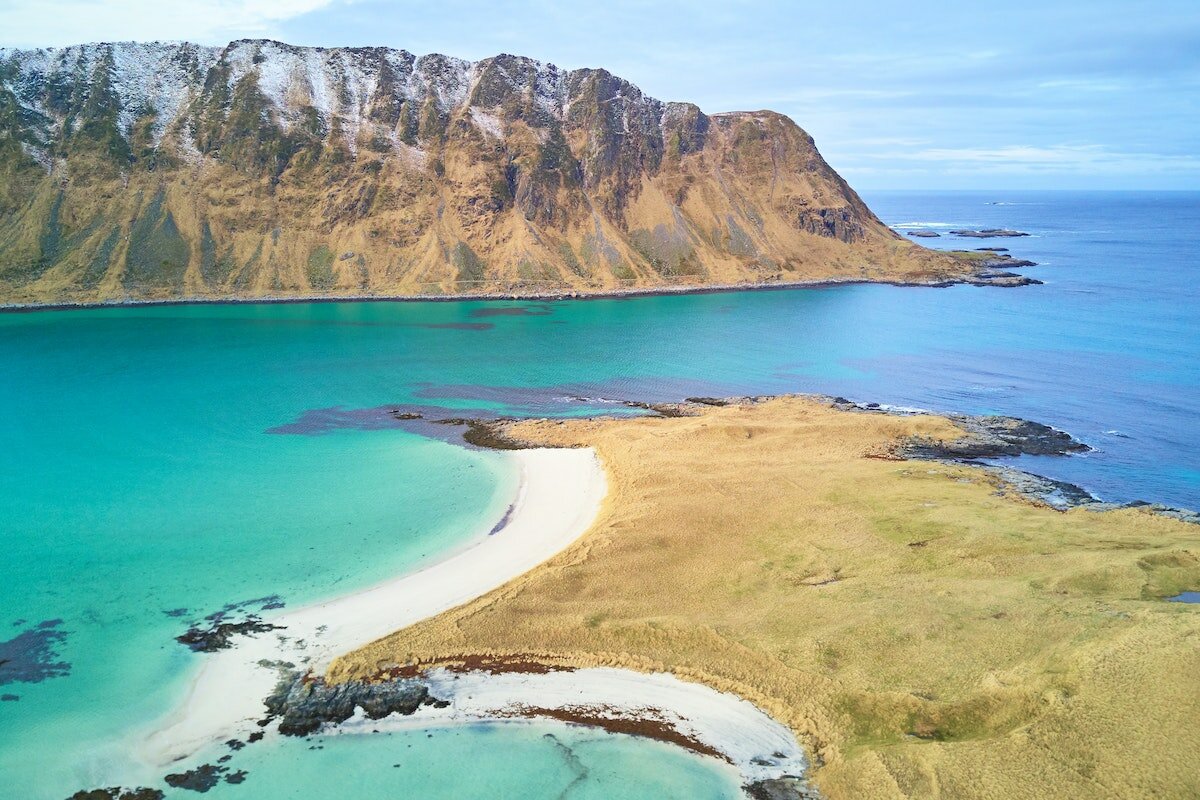 Nærøyfjord
UNESCO-protected Nærøyfjord, located in Vestland County, is one of the narrowest fjords in the world. Due to the vertical and narrow rise of the fjord's mountains, waterfalls seep from the towering rock formations and splash into the fjord below, creating an unbelievable view. To experience the fjord in its entirety, try boat and ferry fjord tours, boat safaris, and kayaking down it.
Stavanger and the Pulpit Rock
Stavanger is a southwestern Norwegian city bursting with natural sights, museums, and cathedrals. The city's Pulpit Rock, also known as Preikestolen, is one of the most-visited natural attractions in Norway. For an underrated and more demanding hike, a guide can lead you through crisscrossed forest trails and stunning lakes before you finally reach Pulpit Rock.

Geiranger fjord and Trollstigen
UNESCO-protected Geirangerfjord features turquoise waters, foaming waterfalls, mountain peaks, and endless greenery. For an adrenaline rush, choose to bike or bus the Trollstigen mountain road in order to explore the Geirangerfjorden area. Visit the gorgeous and nearby town of Alesund during your trip!
Nidaros Cathedral, Trondheim
Nidaros Cathedral is the world's northernmost medieval cathedral. The establishment welcomes all visitors to participate in a variety of religious and non-religious services, lectures, exhibitions, and concerts.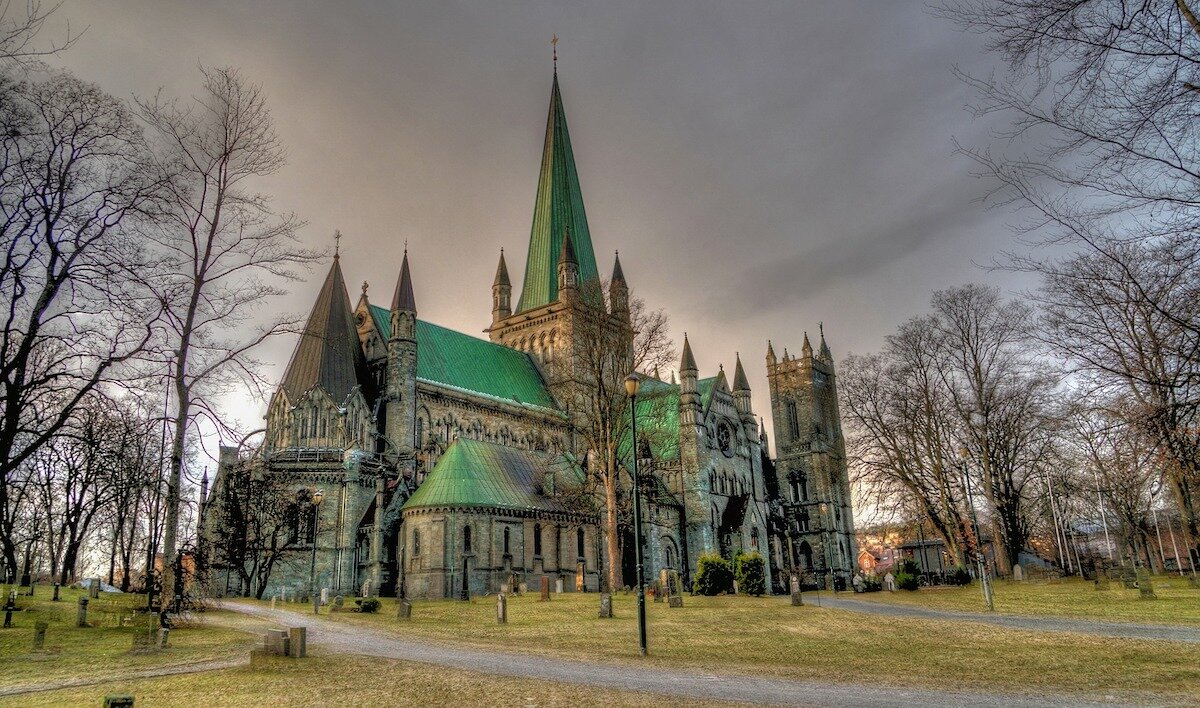 Lillehammer
Lillehammer has everything from Olympic-famed ski resorts, to Maihaugen, a popular open-air museum. If you wish to dive into Olympic history, head on over to the Norwegian Olympic Museum, which contains exhibitions on the 1994 Winter Olympics, hosted in Lillehammer, and the 1952 Winter Olympics, hosted in Oslo.
Trolltunga
Trolltunga, translated to Troll's Tongue, is 1097 meters high with incredible views of Lake Ringedalsvatnet, 701 meters below. Despite the demanding hike to the top, you'll be rewarded with a view of the dazzling lake below, and, in the distance, Folgefonna Glacier.
Flam Railway
No trip to Flåm is complete without a journey on the Flåm railway, one of the world's most beautiful – and steepest – train journeys. During the 60-minute trip, you'll go from sea-level Flåm to the almost 900-meter-tall Myrdal mountain station on Hardangervidda.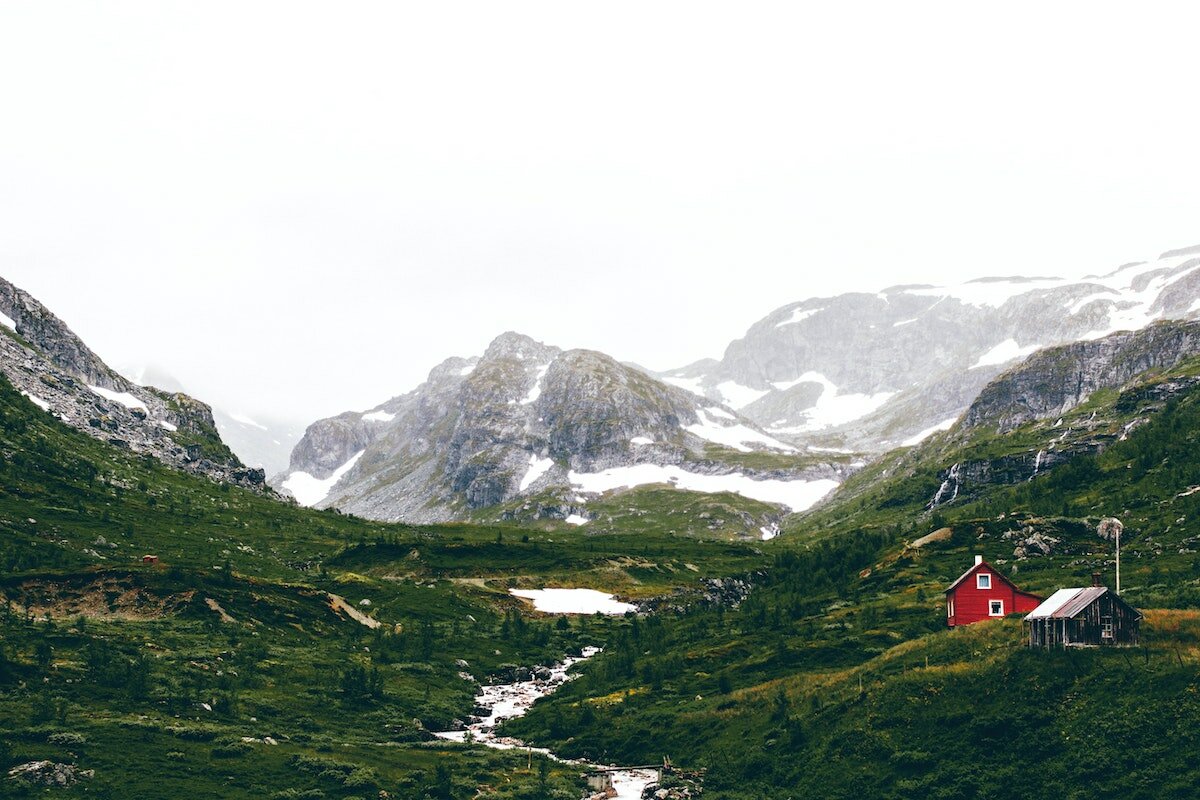 North Cape
Start your frosty getaway at Nordkapphallen, the North Cape's visitor's center, which sits on the edge of a 307-meter cliff. The center will inspire you to visit Gjesværstappan, an island that is home to hundreds of thousands of Arctic bird species. Other fun day trips include North Cape hikes and some of the municipality's fishing villages.
Atlantic Road
Norway's Atlantic Road has been referred to as the world's most beautiful drive, and for good reason. First opened in 1989, the road connects the island of Averøy to the northwestern mainland. With a length of 8,274 meters, featuring eight bridges and viewing points, the Atlantic Road is a must-have experience.

Lofotr Viking Museum in Borg
The Lofotr Viking Museum hosts a reconstruction of the largest-ever-found Viking hall, along with a traditional-style forge and a number of interactive exhibitions.
The ultimate tourist map of Norway
Here's a map of all the attractions outlined above.

Norway tourism statistics
Read on for a lowdown on tourism data for Norway.
The data in this article applies to Norway tourism statistics from 2019 to 2020. Data for this article is sourced from the Norwegian Statistics Bureau, Statistics Norway (SSB).
Before COVID-19, tourism in beautiful Norway experienced almost a decade of consecutive growth. We're breaking down tourism statistics, and how they've changed, by category. 
How have travel habits of Norwegian citizens changed?
Outgoing tourist travel has seen a steep decline; while domestic travel is on the rise. 
The number of holiday trips taken by Norwegians abroad fell sharply in the second quarter of 2020. Nine out of ten trips Norwegians made during the second quarter of 2020 were domestic holiday trips; which saw a 39% increase compared to the same period last year.
Domestic business travel in the second quarter of 2020, on the other hand, fell by 65% compared with the same period last year. Foreign business travel has decreased by as much as 94%.
2020 has had the lowest number of trips ever registered in the second quarter, since SSB began its travel survey in 2002.
While less money has been spent by Norwegians on travel overall (due to sharp spending decreases for cross-border travel), money spent on domestic holiday trips has increased by 8% in the second quarter of 2020 in comparison to the second quarter of 2019.
These were the top destinations of outbound Norwegian travelers in the second quarter of 2020 (1,000):
Denmark – 26 total (23 holiday, 3 business)
Sweden – 18 total (14 holiday, 4 business)
UK – 5 total (all holiday)
Spain 4 total (all holiday)
There were the top modes of transport of domestic and outbound Norwegian travelers in the second quarter of 2020 (million):
Car, motorcycle, camper, etc – 3.05 (3.00 domestic, .05 outbound)
Plane – .25 total (.23 domestic, .02 outbound)
Boat, ferries, cruise, leisure boat – .23 (.22 domestic, .01 outbound)
On foot, on skies, bicycle, etc – .04 (all domestic)
Railway – .02 (all domestic)
Coach and scheduled bus – .01 (all domestic)
How has inbound tourism in Norway changed?
There was a 36.8% decrease in the number of tourists from the second quarter of 2019 to the second quarter of 2020.
Tourist expenditure, for the same time periods, saw a decrease of 78.1%.
There has been a 97.6% decrease in total passengers on board international flights at departure and arrival in Norway, from 2019's second quarter to 2020's. This number includes all commercial flights.
A Norwegian airlines flight. Source: John Cameron / Unsplash.
To compare, you can find more information on Norway's travel rankings in 2019 here. 
We hope that soon, Norway and the rest of the world recover from COVID-19 – in every way.
Once it's safe, we also have our fingers crossed that you're able to visit Norway for a truly once-in-a-lifetime trip! Unless you fall in love with the country and decide to move to Norway after visiting, of course. 
Source: Norway Today