Have questions about Norway? Museums around the country stand at the ready to provide answers. Read on for a comprehensive list of museums in Norway, from the traditional to the offbeat, and everything in between. With over 200 museums, you're bound to find something you like.
Though they can be a way to learn and preserve, museums (some much more than others) have become the topic of heated debates as of late. Therefore, before visiting a museum, we recommend researching.
We're here to bring you a guide to all of the museums in Norway through which you can discover the country's cultures and nature, across past and present. That way, you can see various choices in one place and decide which you'd like to see for yourself.
This comprehensive list of Norway's museums (there are over 200!) is ordered by location, from south to north.
A tip: Simply search the page if you're looking for museums in a specific location, for a particular artist, or for a certain theme.
SOUTHERN NORWAY MUSEUMS
Lindesnes Lighthouse Museum in Lindesnes Municipality
Dating back to 1656, Lindesnes Lighthouse is the oldest in Norway. It sits on the southernmost tip of the Norwegian mainland (over 2500 km from the North Cape).
Today, the Lindesnes Lighthouse is a national lighthouse museum with a cinema and various exhibitions about lighthouses and maritime culture.
Vest-Agder Museum Union in Agder County
The Vest-Agder Museum Union is comprised of museums from across Norway's southern Adger County, including those in Kristiansand.
Mandal Town Museum and Vigeland House in Mandal
Mandal Town Museum sits in Andorsengården, which was historically Mandal's most prominent trade center. The building was constructed from 1801 to 1805.
The museum has a maritime section and an arts section – fitting, given that Mandal has been called "the small town with great artists." You'll find works here by Adolph Tidemand, Amaldus Nielsen, and Gustav Vigeland, among others.
At the Vigeland House, children's art workshops are offered.
Sjølingstad Woolen Mill Museum in Mandal
From 1894, the Sjølingstad Woolen Mill has produced yarn and fabric.
In 1986, it became a working museum. To this day, materials are crafted in the mill, using historic machinery such as a water turbine from 1913.
On a guided tour through the factory, you can explore the mill's history, see wool production from start to finish, and kids can take part in a wool workshop.
Lista Museum in Vanse
Opened in 1921, Lista Museum houses everything from archeological exhibits across the most extensive collection of the sculptures by Mathias Skeibrok (1851-1896) to the only intact 19th-century lifeboat station in Norway.
Setesdalsbanen in Vennesla municipality
Setesdalsbanen is a narrow-gauge museum railway in the south of Norway. It runs on an eight-km-long track through a wild and scenic stretch of Vest-Agder County between Grovane and Røyknes station.
The railway was opened in 1896 to connect Kristiansand and Byglandsfjord and closed in 1962.
Two years later, it became Norway's first museum railway opened. Today, you can visit the living museum, which houses steam locomotives over 100 years old and old-school wooden carriages.
Sørlandets Kunstmuseum in Kristiansand
Established in 1995, Sørlandets Kunstmuseum in Kristiansand is Southern Norway's largest art museum.
The museum covers art from the 19th century and on, including a range of contemporary works. It has Agder-focused exhibits, national exhibits, and international exhibits.
Natural History Museum and Botanical Garden in Kristiansand
Kristiansand's Natural History Museum and Botanical Garden sits around 20 minutes by foot from the city center. 
Visit the museum to learn about Norway's natural history, from the most recent ice age to the present. The surrounding botanical garden has a rose garden in tow from 1850. Here, you can also see the most extensive cactus collection, plus flora from all over the world.
Gimle Gård Museum and Manor House in Kristiansand
Gimle Gård is a manor house and former farm estate dated to around 1800 and sits about 20 minutes by foot from the city center.
Inside, you will explore period furniture and silverware, as well as collections of paintings.
Kristiansand Museum
Kristiansand Museum is an open-air complex made up of around 40 historic houses and buildings – some dating as far back as the 16th century.
At the museum, you can roam around discovering the region's history, learn from storytelling guides, and feed the horses and sheep that live onsite.
Cannon Museum in Kristiansand
The Cannon Museum is centered around a 1941 WWII cannon that stands just outside of Kristiansand. 
At almost 18 meters in length and 110 tons in weight, the cannon is the second-largest installed on land globally.
Odderøya Museum Harbor in Kristiansand
Exploring Kristiansand's maritime past, Odderoya Museum Harbor especially delves into the region's ties with fiberglass boats.
Onsite, you can explore the fiberglass craft, and kids can try rowing and whittling boats out of wood, along with many other activities.
Flekkefjord Museum in Flekkefjord
This experience is made up of a guided tour through Flekkefjord and its historic buildings.
Establishments waiting to be explored include 18th-century family houses, a restored country store (selling delicious coffee and ice cream), and wharfside warehouses.
Jærmuseet Museum in Jæren District
Jærmuseet Museum in Rogaland County is actually a complex of 12 establishments located across the Jæren District.
Awarded Norway's 2009 Museum of the Year, Jærmuseet offers insights into the region's modern science initiatives, agricultural traditions, industrial history, maritime past, and much more.
Town and Maritime Museum in Lillesand
Lillesand's Town and Shipping Museum is centered around the main building, which dates back to 1827.
Here, you can discover what life was like in the area in times bygone through old tools, furniture, and kitchen utensils.
Borgarsyssel Museum in Sarpsborg
Opened in 1921, Borgarsyssel Museum sits by the ruins of a church from 1115.
The museum is home to various artifacts from medieval to modern times.
Stavanger Fine Art Museum in Stavanger
Stavanger Fine Art Museum sits three km from the Stavanger city center.
Here, you'll find Norwegian art from the 1800s through the present, including works by Lars Hertervig (1830-1902) and the Hafsten Collection of art by mid-twentieth century painters from Norway.
Stavanger Museum in Stavanger
The historic Stavanger Museum dates back to 1877. 
Its vast offerings include cultural history and natural history exhibitions, the Norwegian Children's Museum, Norway's Bird Ringing Center, and other establishments across the city.
Museum of Archeology in Stavanger 
The University of Stavanger's Museum of Archeology contains archeological and natural history exhibits from around Rogaland.
A highlight of the museum is the open-air Iron Age Farm at Ullandhaug. The farm is built on remains of an original that has been dated back to around 350-550 AD. Today, it's an interactive space where you can experience what life in the region was like before the Viking Age.

Maritime Museum in Stavanger
Old Stavanger is currently a residential area dotted with groovy galleries, artisan boutiques, and museums.
One of them is the Stavanger Maritime Museum, which is located in 200-year-old buildings on the city's waterfront and explores its fishing industry past.
Norwegian Canning Museum in Stavanger
The Norwegian Canning Museum also sits in Old Stavanger, within a former canning factory and an adjacent worker's cottage dating back to the 19th century.
Here, you can still see how brisling is canned, and fish calls are produced – and sometimes taste them, too!
Norwegian Petroleum Museum in Stavanger
At the Norwegian Petroleum museum, you can learn how oil and gas are discovered and how they're used.
There's also a 3D cinema in-house that airs fun, kid-friendly, and educational movies.
Utstein Monastery in Rennesøy Municipality
Norway's only preserved medieval monastery is Utstein Monastery. It's thought to have once housed a farm owned by King Harald Fairhair, functioned as a monastery in the Middle Ages, and again become a farm in the 18th century.
It became a museum in the 1930s, and today, you can visit it for an interactive experience led by guides in medieval costumes.
Rygnestadtunet Museum in the Setesdal Region
Rygnestadtunet Museum sits on farmland about nine km from Valle. It's thought to have once been home to the mythical Viking Åsmund Torlievson Rygnestad, also known as Evil Åsmund.
The onsite storehouse, the only historic building, left, dates back to around 1590. Here, visitors can see rare painted cloth and learn about the area's history.
Ryvarden Lighthouse Museum in Sveio
Built in 1849, Ryvarden Lighthouse turned automatic in 1984, and soon after, it became a museum.
Onsite, there are a gallery, cafe, and an exhibition area.
Telemark Museum in Skien
The Telemark Museum encompasses a grand manor house at Søndre Brekke.
Former Norwegian minister of trade Niels Aall, who once lived in the house, is the subject of an exhibition here. Surrounding the museum is a tulip park.
Preus Museum in Horten 
Preus Museum sits in a former navy building from the 1860s, which was adapted in 2001 by architect Sverre Fehn to become a museum.
Today, Preus Museum covers the history of photography right up to the present day, both within and outside of Norway. 
Royal Norwegian Navy Museum in Horten
Founded in 1853, the Royal Norwegian Navy Museum sits on the site of a former naval base.
Today, it's a museum dealing with the history of the Royal Norwegian Navy.
Heddal Museum in Heddal
Heddal is an open-air museum complex.
It's made up of buildings from the medieval farms that were once prevalent in the region and has exhibits relating to the pre-industrial local way of life.
Haugar Vestfold Art Museum in Tønsberg
Haugar Vestfold Art Museum houses permanent art collections and various temporary art exhibitions throughout the years.
While there, don't miss Andy Warhol's tribute to Edvard Munch.
Sandefjord Museum in Sandefjord
Sandefjord is dedicated to the controversial whaling industry in Norway.
The Aluminium Museum in Holmestrand
"Did you know that the rim of your new car may have been your grandmother's coffee pot? If you visit the Aluminum Museum you will know why." reads a description for the Aluminum Museum.
Here, you can learn about the aluminum industry in general, as well as its importance to the region and Norway as a whole.
Drammen Museum in Drammen
Drammen Museum's beginnings date back to the late 19th century.
Today, it's a multi-establishment complex stretching across the town which includes the Austad farm, the Holmsbu Art Gallery, the historic Marienlyst estate, the Gulskogen Farm and Park, and the Open-Air Museum on Bragernesåsen.
Norwegian Industrial Workers Museum in Rjukan
The Norwegian Industrial Workers Museum was established in 1988.
It sits within a Nork Hydro power station and focuses on the industry in the area.
Norwegian Maritime Museum in Oslo
The Norwegian Maritime Museum exhibits Norway's maritime history.
Here, you can see pieces like the 200 BC Stokkebåten – Norway's oldest boat and nautical paintings by the likes of Hans Gude, Christian Krohg, and Axel Revold​​​​​.
Armed Forces Museum in Oslo
The Armed Forces Museum is fully free.
Its exhibits deal with Norwegian military history all the way from the Viking Age to today.
Fram Museum in Oslo
The Fram Museum is fittingly also known as the Polar Exploration Museum. 
Here, you can hop right aboard the historic Fram – a wooden ship that holds records for sailing farthest north and farthest south.
While on the ship, you'll learn how the courageous crews and their brave dogs survived such dangerous expeditions and all about their journeys.
Kon-Tiki Museum in Oslo
The Kon-Tiki Museum, obviously, explores the famous expedition of the same name.
Thor Heyerdahl (1914-2002) crossed the Pacific Ocean on a raft (named Kon-Tiki) made from balsa wood in 1947. The museum houses the raft itself, along with objects from and information about Heyerdahl's other expeditions, too.
The museum screens the 1950 Oscar-winning Kon-Tiki documentary daily.
Norwegian Folk Museum / Norwegian Museum of Cultural History in Oslo
This museum is one of the world's oldest and largest open-air museums.
Its vast grounds are home to around 160 buildings, including the Gol Stave Church.
In this historic town-like museum, you'll be accompanied by staff in traditional folk costumes, and you'll be able to try activities like baking lefse, hearing fairy tales, and petting farm animals.
Viking Ship Museum in Oslo
Oslo's Viking Ship Museum is headlined by three well-preserved Viking ships from the 9th century. The ships were carried to shore so that they could be used in burial rituals for their affluent Viking owners. 
The museum sits on the western Bygdøy peninsula.

Astrup Fearnley Museum in Oslo
The Astrup Fearnley Museum is located in Oslo's southwestern Aker Brygge area.
It's comprised of contemporary art by some of the world's most renowned modern artists. The collection is housed in three pavilions under a glass, sail-shaped rooftop designed by Italian architect Renzo Piano. Don't miss the Tjuvholmen Sculpture Park, also designed by Piano, which surrounds the museum.
National Museum in Oslo
The National Museum is home to Norway's largest collection of art.
Here, you'll see household-name works like Norwegian painter Edvard Munch's The Scream and a self-portrait by Vincent Van Gogh.
Natural History Museum in Oslo
The University of Oslo's Natural History Museum is comprised of multiple buildings, including a Geological Museum.
Its Zoological Museum has wildlife exhibits from Norway and beyond. Its Botanical Garden, dating back to 1814, has over 35,000 plants and 7,500 species spread across 150-acre grounds.
Norwegian Museum of Science and Technology in Oslo
The interactive Museum of Science and Technology focuses on technology, science, and medicine in Norway.
It includes the Oslo Science Center, which has activities like 3D printing, as well as the National Museum of Medicine.
Norway's Resistance Museum in Oslo
Norway's Resistance Museum is also known as the Norwegian Home Front Museum. It sits within the Akershus Fortress.
The museum's theme is Norwegian resistance during the Nazi occupation of Norway from 1940 to 1945. Exhibits include photos, equipment, and documents from WWII.
Nobel Peace Center in Oslo
The Nobel Peace Center is focused on the prize, laureates, process, and Alfred Nobel himself.
This is an interactive museum and includes a family activity – going on a search for the missing will of Nobel.
The Viking Planet in Oslo
The Viking Planet is the world's first digital Viking museum.
Here, you'll be transported back to the Viking Age through VR, holograms, and 270-degrees films.
Vigeland Museum and Park in Oslo
The Vigeland Museum sits in the former atelier-slash-home of sculptor Gustav Vigeland (1869-1943).
Inside, you'll find his early works, plus plaster models for sculptors adorning Vigeland Sculpture Park, an open-air exhibition with some of the sculptor's most-known works. The park features over 200 sculptures and Vigeland also designed its layout.
Oslo Museum in Oslo
Oslo Museum deals with the city itself and how life in it changed throughout the years.
Also part of the Oslo Museum are the Intercultural Museum, Labor Museum, and Theater Museum.
Tramway Museum in Oslo
The Tramway Museum is home to Norway's largest collection of vintage buses, trolleys, and trams. 
It's located at Majorstuen in Oslo.
Jewish Museum in Oslo
The Jewish Museum is focused on the Jewish minority's national heritage. It sits in a neighborhood settled by Jewish immigrants in the mid 19th century, within a former synagogue.
Here, you'll find photos, artifacts, and documents spanning 160 years of Norwegian Jewish history and culture.
Munch Museum in Oslo
If you're on a Norwegian art kick, four kilometers west from the National Museum you'll find the Munch Museum.
The museum presents the world's largest collection of Munch paintings. 
Holmenkollem Ski Museum in Oslo
Oslo's Holmenkollen Ski Museum sits right at the base of Holmenkollen Ski Jump.
The museum itself opened in 1923 at the initiative of architect Hjalmar Welhaven. It's the world's oldest ski museum. 
Norwegian Armed Forces Aircraft Collection at Gardermoen
This museum houses around 40 historic aircraft from the beginning of the 20th century.
For a unique experience, try sitting in a cockpit of a former jet fighter craft.
Henie-Onstad Art Center in Bærum
The Henie-Onstad Art Center is situated 15 minutes from Oslo by car.
The contemporary art museum opened in 1968 and includes Norwegian and international works, and occasionally hosts music and theater performances.
Oscarsborg Fortress Museum in Frogn
Oscarsborg Fortress Museum sits in an area used for military purposes since the 17th century: the Kaholmen Islands, where the Oslofjord is at its most narrow.
The museum presents the history of the fortress.
Eidsvoll Manor House in Viken County
Norway fought for its own sovereignty for years. The country created its own constitution and signed it into effect on May 17, 1814, by a Constituent Assembly of 112 delegates.
The constitution was signed at Eidsvoll Manor House, then a private home belonging to Carsten Anker (the owner of company Eidsvoll Ironworks).
Today, the historic house has been transformed into a museum.
Norwegian Museum of Hydropower and Industry in Tyssedal
The Norwegian Museum of Hydropower and Industry focuses on the themes from its name.
Here, you can visit a power station right on a fjord and children can build their own mini power station.
Norwegian Nature Center in Hardanger
At the Norwegian Nature Center, you'll learn all about Norway's climate, nature, and environment.
Exhibitions here focus on everything from warmer Southern Norway, across the western fjords, to the Arctic north.
Maritime Museum in Hardanger
This maritime museum is fully family-friendly and totally interactive.
You can try ropemaking, wooden figure making, and riding in a wooden rowboat.
Hardanger Folk Museum in Hardanger
This museum is a regional museum for all Hardanger.
Inside, you'll be able to take in traditional costumes, embroidery, and Norway's biggest collection of Hardanger fiddles.
Kabuso Art Center in Øystese
Kabuso Art Center presents temporary art exhibitions along with a range of concerts.
Surrounded by views of Hardangerfjord and the Folgefonna Glacier, the museum hosts a chamber music hall, exhibition spaces, and a cafe.
Hallingdal Folk Museum in Nesbyen
Opened in 1899, Hallingdal Folk Museum is one of the oldest open-air museums in Norway.
Here, you can explore 29 buildings and around 11,000 objects spanning from the Middle Ages to the 1900s. One of the oldest buildings dates back to the 1930s.
The museum has multiple subsidiary museums, too.
Agatunet Village Museum in Aga
Agatunet Village doubles as an open-air museum.
It presents unique examples of traditional western Norwegian buildings. There are thirty buildings, including one built by knight Sigurd Brynjulvson Aga in the 13th century.
KODE Art Museum and Composer Home Complex in Bergen
Bergen's KODE Art Museums and Composer Homes is one of the largest museum complexes in the Nordic world.
KODE includes the following establishments: Edvard Grieg Museum Troldhaugen, Harald Sæverud Museum Siljustøl, Ole Bull Museum Lysøen, the Bergen Art Museum (which includes Lyserket, Stenersen, and the Rasmus Meyer Collection), Permanenten – West Norway Museum of Decorative Art, and composers' homes.
The Bergen City Museum complex operates several museum and culture establishments throughout the city, including the following:
Leprosy Museum in Bergen
The Leprosy Museum sits in St. George's Hospital which cared for people with leprosy until the mid-18th century.
St. George's is the oldest leprosy hospital in the city and serves not only as a museum but to those who lost their lives and were affected by the illness.
Leprosy is sometimes called Hansen's Disease, for Norwegian physician Gerhard Armauer Hansen identified the causative Mycobacterium leprae in Bergen in 1873.
Bryggens Museum
The Bryggens Museum contains archaeological excavations of historic Bryggen as well as the foundations of Bergen's oldest buildings.
The city's oldest wooden buildings and the historic underground layers beneath them are part of the UNESCO World Heritage List.
The Old Bergen Museum
The Old Bergen Museum draws inspiration from the fact that Bergen was Europe's largest wooden-architecture city during the 19th century.
So, the modern museum encompasses a reconstructed miniature town made of 55 wooden houses from the 18th, 19th, and 20th centuries.
In order to make the experience as authentic as possible, museum-goers are encouraged to peek into windows, open doors, and walk straight into exhibitions – and in doing so, the past.
In addition to the beautiful buildings, the museum hosts plays, which take place in the square four times a day, as well as role-players acting out the part of the 1800s townspeople.
A peaceful walk across the museum's surrounding park can be done without a ticket.
Buekorps Museum in Bergen
Established in 1977, the Buekorps Museum is a private establishment.
Its focus is the traditional neighborhood youth marching organization called Buekorps.
Bergenhus Fortress Museum in Bergen
This museum opened in 2006 after the Norwegian Armed Forces agreed to allow the establishment to be opened on fortress grounds.
Museum Vest in Bergen
Museum Vest is another museum confederation. Among others, its properties include:
Hanseatic Museum and Schøtstuene in Bergen
The Hanseatic Museum and Schøtstuene offers insights into the historic merchants' everyday lives as they worked and lived in Bergen.
Coastal Museum in Øygarden
This museum explores how Norwegians historically lived off of the coast. Here, you can learn about fishing, see old boat engines, and even catch a concert.
Fjell Fortress in Øygarden
Fjell Fortress was built by Nazi forces during the WWII occupation of Norway, with the purpose of controlling Bergen's port.
Norwegian Armed Forces took over the fort after the war.
Dagali Museum in Dagali
Nestled in a mountain village, the Dagali Museum is comprised of nine farmstead buildings dating to the 18th and 19th centuries.
Here, you can roam the properties, explore historic artifacts, and visit an old schoolhouse.
Hadeland Folk Museum in Gran
The Hadeland Folk Museum is an open-air museum with over 30 buildings.
Its properties are dated from the 17th to 20th centuries; so, you're sure to get a good feel for historic everyday life in the region here.
This is a museum complex comprised of multiple museums and establishments, including:
The Norwegian Knitting Industry Museum in Bergen
This museum sits in an old knitwear factory which was in function from 1858 to 1989.
Western Norway Emigration Center in Sletta
The open-air Western Norway Emigration Center is a museum located in Sletta village.
The rural museum has historic buildings and a small church.
Voss Folk Museum
Take a break from the amped-up adrenaline that's prevalent across Voss by visiting the village's peaceful and informative folk museum.
The museum was first established in 1917 to protect the farmstead at Mølster known as Mølstertunet. Mølstertunet is a collection of old-school wooden buildings ranging in establishment date from the 1500s to the 1880s.
The oldest building, in fact, is a log house featuring an open fireplace thought to be from the 16th century. 
Randsfjord Museum Complex in Randsfjord
Randsfjord Museum is made up of multiple buildings and establishments, including:
Lands Museum in Dokka
Founded in 1927, Lands Museum is a regional museum for Norway's municipalities of Nordre and Søndre Land.
The museum is located at the northern end of scenic Randsfjorden. 
Flam Railway Museum in Flam
Located in the old train station, the Flåm Railway Museum tells the iconic line's history.
Exhibitions include photos, original objects, and videos.
Don't miss a chance to take a 60-minute ride on the railway yourself!
Valdres Folk Museum in Fagernes
Valdres Folk Museum opened in 1901. It's one of Norway's biggest open-air museums and sits next to a scenic lake.
It's home to over 100 historic buildings and around 20,000 individual exhibits.
Borgund Stave Church in Borgund
The Borgund Stave Church (also known as the Borgund stavkirke) was first built around 1180 and dedicated to Andrew the Apostle. Today, it houses a museum, too.
It sits in the village of Borgund, Norway, 56 km from Flåm.
Find our full guide to Borgund Stave Church here.
Norwegian Forest Museum 
One of Norway's most visited museums sits in Elverum. The Norwegian Forest Museum's exhibitions include the history of forestry, fishing and hunting in Norway.
Maihaugen in Lillehammer
Maihaugen is an open-air museum and establishment complex in Lillehammer. Its 200 buildings include:
Garmo Stave Church in Lillehammer
Spotting this ancient building from afar is no problem, thanks to its pointed tower and distinct dragon heads on the ridges of the roof.
The church is thought to have been built sometime during the 1200s and has gone through multiple constructions since then; the most famous being in 1921.
Norwegian Olympic Museum in Lillehammer
At the Norwegian Olympic Museum, you'll be able to step back into ancient Olympic history and learn about the manifestation all the way to the modernization of the Olympics.
The museum's exhibitions are, naturally, heavily influenced by the Lillehammer, Norway Olympics of 1995, and the Oslo Olympics of 1952.
At this interactive museum, you'll be able to try out a biathlon simulator, watch Olympic movies, and ogle authentic medals and other historical objects. Along with these permanent exhibitions, the museum also regularly hosts temporary exhibits.
Lillehammer Art Museum in Lillehammer
The Lillehammer Art Museum was founded in 1921.
The art gallery was a gift to the city from merchant Einar Lunde. He donated one of the museum's major collections; over 100 paintings belonging to the Matisse school.
Bjerkebaek Sigrid Undset's Home in Lillehammer
Nobel laureate Sigrid Undset (1882-1949) lived on this site, today a museum, with her three children.
She was awarded the Nobel Prize in Literature in 1928 for the novels she wrote here.
You'll find exhibits on her life and works, along with her former home and garden at Bjerkebaek today.
Heiberg Collections/Sogn Folk Museum in Kaupanger
This museum is named after Gert Falch Heiberg (1871-1944), its founder.
Explore the open-air museum, which includes a farm and live animals, to discover everyday life along the Sognefjord as it has been throughout history.
Norwegian Museum of Travel and Tourism in Balestrand
"At the Norwegian Museum of Travel and Tourism, we explore and convey the fascinating story from wilderness to World Heritage", reads a statement from this unique museum.
This modern museum uses multimedia exhibitions to explore the entire history of travel and tourism in Norway.
Norwegian Glacier Museum in Fjærland
The Norwegian Glacier Museum's goal is to raise awareness about glaciers and the climate.
Since 1991, the museum has expanded its exhibitions to include walk-through galleries, hands-on experiments, and hominid histories.
Sunnfjord Museum in Sunnfjord
It houses 25 buildings from the 1800s that were moved to the site from around the Sunnfjord area.
Astruptunet Museum in Vassenden
Astruptunet Museum is the former home of artist Nikolai Astrup (1880 – 1928).
Here, behold Astrup's work, including illustrations, graphics, and sketches.
Bjørnstjerne Bjørnson's Home and Museum in Gausdal
Nobel laureate Bjørnstjerne Bjørnson (1832-1910) moved to this site with his family in 1875.
It includes his former home and farm, as well as exhibitions about his life and literary works.
Nordfjord Folk Museum in Sandane
This open-air museum is made up of 44 historic buildings.
Here, take in the history of the region by walking around it!
Anders Svor Museum in Grodås
Anders Svor Museum opened in 1953.
The art museum honors dedicated sculptor Anders Svor, who was from Grodås. It houses 450 of his works.
CENTRAL NORWAY MUSEUMS
Museum Jugendstilsenteret, also known as the Art Nouveau Center, sits in the 1907 Swan Pharmacy. It's a testament to the city's rebuilding in the Art Nouveau style after a fire in 1904.
Art museum KUBE is situated in a former Norges Bank building dating to 1906 in central Ålesund. It focused on artists from the region, as well as applied art, architecture, and design.
Aalesunds Museum in Alesund
At Aalesunds Museum (featuring the city's former official name), explore artifacts, paintings, and photographs from Alesund's rich history.
You'll learn about the booming fishing industry, the 1904 fire, and city life before the fire – including a model of Alesund from 1898.
Fisheries Museum in Alesund
Next to the city's harbor sits the Fisheries Museum, situated in a renovated warehouse from 1861. This museum is all about fishing in Alesund – from reeling to exporting.
Onsite, you can sample locally made cod liver oil.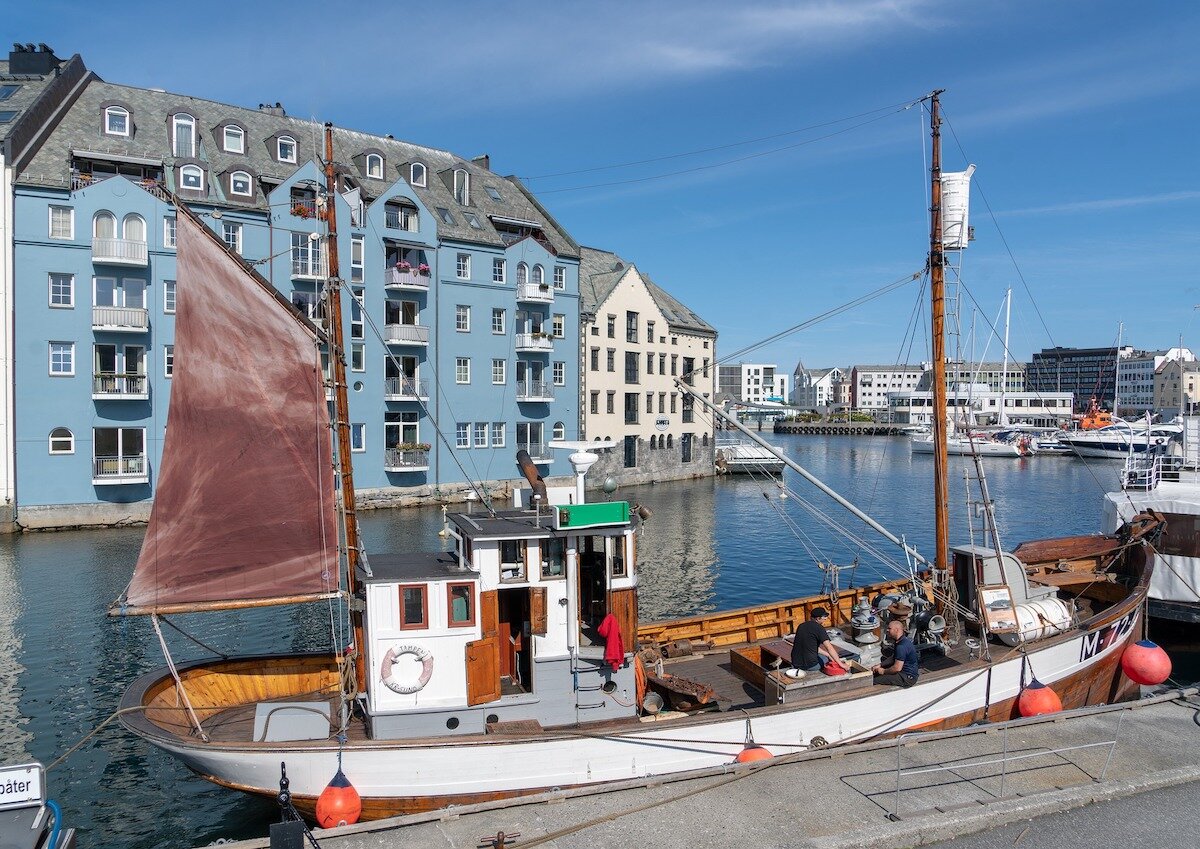 Roros Museum in Roros
Roros Museum is dedicated to the UNESCO-protected site's history.
Its exhibition Bååstede (meaning return in Norwegian) is a testament to Sami items that have been returned to museums administered by the Sami government. Bååstede features the pictures of the 2,000 objects being returned to the Sami government.
Romsdal Museum in Molde
The Romsdal Museum opened in 1912 to eventually become one of Norway's largest folk museums. 
A must-see exhibition is here "Bygata" which features buildings and townhouses from the pre-war period.
Nordmøre Museum in Kristiansund
Nordmøre Museum is a regional museum delving into history for the Nordmøre District within Møre og Romsdal County.
The museum is located in Kristiansund.
Museet Kystens Arv – Coastal Heritage Museum in Stadsbygd
Situated on Norway's western coast, this museum focuses on the importance of boats for transportation, fishing, exploration, rescue, and military purposes.
Exhibitions at the Coastal Heritage Museum include replicas of traditional wooden boats and an entire boatyard.
Sverresborg Trøndelag Folk Museum in Trondheim
The open-air Sverresborg Trøndelag Folk Museum has around 80 historic buildings, including some which once stood in central Trondheim.
The museum includes a Sámi collection, castle ruins, the Haltdalen Stave Church, and an old school.
The Norwegian National Museum of Justice
The Norwegian National Museum of Justice focuses on penal justice and law enforcement.
It sits in a prison building from the 1830s, formerly in use.
Ringve Museum in Trondheim
Ringve Museum is Norway's national museum for music and features over 2,000 instruments on display.
Year-round exhibitions include international instrument collections and sound demonstrations.
Nidaros Cathedral in Trondheim
Nidaros Cathedral is the world's northernmost medieval cathedral and one of the most important in Norway.
Each day, a variety of religious and non-religious services, lectures, exhibitions, and concerts are hosted here.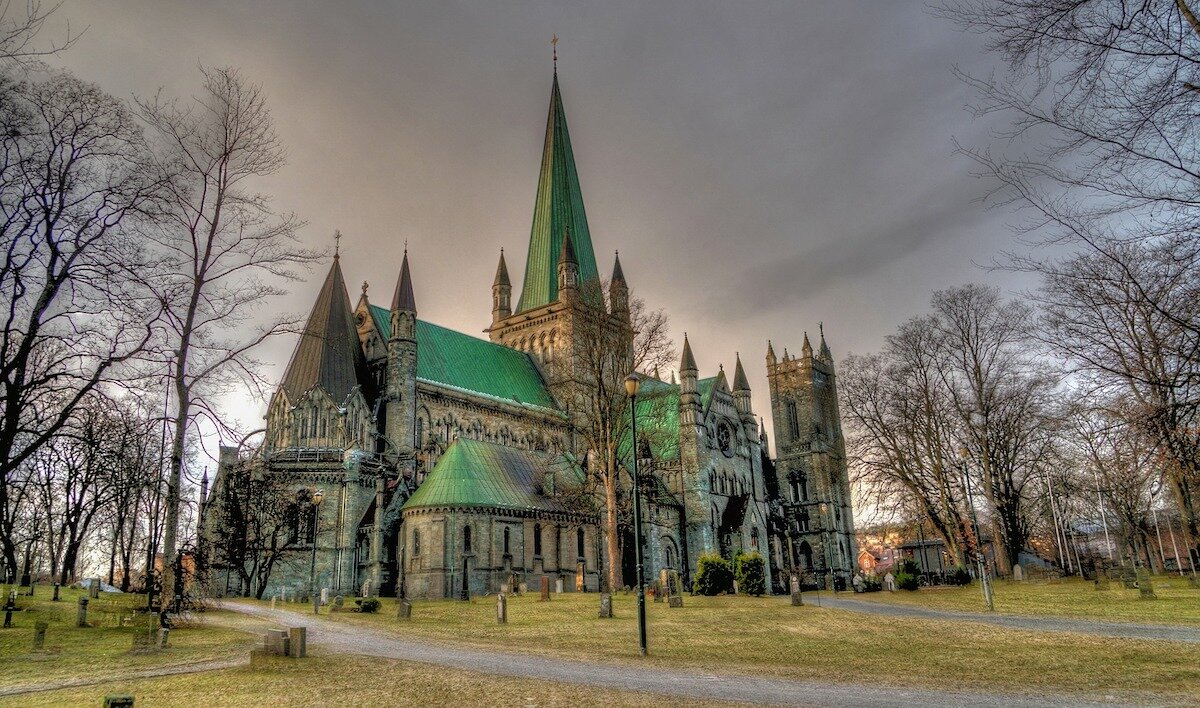 Trondheim Science Museum
The Trondheim Science Museum offers exhibitions, hands-on activities, experiments, and more, all of which aim to spread knowledge about science.
The museum features a planetarium, a 360 cinema, and exhibitions – which can present anything from general anatomy to microchips.
Trondheim Tramway Museum
The Trondheim Tramway Museum presents the history of the town's two tramway companies, both created in the first half of the 20th century.
At and around the museum, you'll be able to view parts of vintage trams, behold old photographs, and visit the gift shop.
Døvemuseum in Trondheim
Døvemuseum, otherwise known as the Norwegian Museum of Deaf History and Culture, delves into the topics of sign language, communication, and deafness. 
Collections, year-round exhibitions, stories, and guided tours with a guide communicating through Norwegian Sign Language are all offered at the Døvemuseum.
NTNU University Museum in Trondheim
One of seven university museums, the NTNU (Norwegian University of Science and Technology) Museum features exhibitions specializing in archaeology and cultural history as well as natural history.
Exhibitions are mainly comprised of artifacts, ranging from zoological collections to geological collections.
Stiklestad Cultural Center in Trondheim
The famous 11th-century Battle of Stiklestad is the focus of the Stiklestad Cultural Center.
The museum has numerous activities and attractions, including a medieval market, folk exhibitions, and a gift shop.
National Museum of Decorative Arts in Trondheim
The Nordenfjeldske Kunstindustrimuseum features decorative and industrial art.
Its exhibits range in origin from Norway to across the world.
Nidar Chocolate Museum in Trondheim
Trondheim's Nidar Chocolate Museum has free entry and its own chocolate store – arguably a dangerous combination.
Inside this small museum, you'll be able to see the machines that are used to make Nidar chocolates.
Rockheim in Trondheim
Norway's National Museum for Pop and Rock Music is Rockheim, which opened in 2010. It's located in Trondheim's harbor.
The onsite Rockheim Hall of Fame honors people who have worked to promote Norwegian pop and rock music.
NORTHERN NORWAY MUSEUMS
Saemien Sijte – South Sami Museum in Snåsa
Saemien Sijte allows you interactively learn about South Sami culture.
Guides will show you traditional mud huts and help you practice hunting skills, among other things.
Hegra Fortress in Stjørdal
The Hegra Fortress has been around since the early 20th century. It was initially built to fend off Swedish forces. 
In WWII, the fortress was attacked by Nazi forces.
After WWII, Hegra Fortress was turned into a museum showcasing its history.
Norwegian Sawmill Museum in Spillum
The Norwegian Sawmill Museum presents the country's only major steam sawmill, which is a cultural monument of national importance.
The museum still includes the authentic saw and planing mill from the 1800s. Feel free to go on a walk-through solo, or join a guided tour.
National Norwegian Aviation Museum in Bodo
This is the largest military aviation exhibition in Europe and it's located less than two km from Bodo's center.
Inside, you'll find 46 historic aircraft and learn all about aviation in Norway.
Nordland Museum Complex in Bodo
Located in Bodo's city center is the Nordland Museum.
The Nordland Museum Complex houses multiple museums and establishments, artifacts and exhibitions about Sámi culture, Viking Age objects, and much more.
They include:
Fauske Fold Museum in Fauske
The Fauske Folk Museum was opened to educate about Fauske's history, art, and culture.
Inside, there are exhibitions showcasing textiles, telecommunications equipment, and the everyday lives of Fauske citizens throughout history.
Sámi National Museum in Karasjok
In 1972, the Sami National Museum in Karasjok became the first Sami cultural institution in the history of Norway.
The Sami National Museum presents traditional Sami clothing, tools, and art by contemporary Sami artists. It has over 5,000 exhibits.
Outside of the museum's interior, discover traditional Sami constructions, and learn about hunting techniques.
Norwegian Fishing Village Museum in Lofoten
On the southern island of Moskenesøya sit the village of Å and its Norwegian Fishing Village Museum.
Here, you can really get to know the essence of everyday life on the Lofoten Islands, as you discover a fisherman's cabin, an 1884 stone oven bakery (don't leave without chowing down on a cinnamon bun!) and a cod oil factory. 
Knut Hamsun Center in Hamarøy
The Knut Hamsun Center is dedicated to the life of Nobel Prize-winning Norwegian novelist Knut Hamsun.
Each of the museum's four floors represents different time periods in the author's life; the first floor exploring his childhood, with the fourth floor depicting his final years.
War Museum in Lofoten
Though Norway's neutrality, of course, applied to the Lofoten Islands, WW2 still had an impact.
You can find out more about WWII in Lofoten at the local War Museum, which houses rare objects from 1941 Operation Claymore.
Lofoten Stockfish Museum
The Lofoten Stockfish Museum displays exhibitions dedicated to the production of stockfish, one of Norway's most prominent exports.
The museum shows the entire stockfish process, from when the fish is freshly brought to the packaging center, to when it's ready to be sent abroad.
Lofotr Museum in Lofoten
The largest Viking hall ever found, measuring 83 meters long, once stood in Borg on the Lofoten Islands.
Today, you can visit its reconstruction, along with a traditional-style forge and the interactive Lofotr Museum (don't miss their traditional Viking feasts!) – all located right next to the original spot.
The Lofotr Viking Museum was built in 1995. 
Polaria Aquarium in Tromsø
Polaria Aquarium was created in part by the Norwegian Polar Institute to provide an informative experience on climate research and environmental issues that surround the Arctic.
Once inside, you'll have the option to observe seals and other marine animals, as well as visit the panoramic movie theater and gift shop.
This is the world's most northern aquarium.
Polar Museum in Tromsø
The Polar Museum was established in the mid-19th century to help preserve stories, artifacts, and more from Tromsø.
The museum especially documents the city's close relationship to the Arctic. Permanent exhibitions include the stories of explorers such as Fridtjof Nansen and Roald Amundsen.
Tromsø University Museum
The Tromsø University Museum was established in 1872. It's Northern Norway's oldest scientific institution. 
The museum focuses on Sámi culture, the northern lights, northern wildlife, and Viking culture, all in one museum.
Arctic-Alpine Botanical Garden in Tromso
The Arctic-Alpine Botanical Garden is the world's northernmost botanical garden. It houses plants from all northern continents.
Stroll through the open-air museum's 25 collections free of charge.
Northern Norway Art Museum in Tromso
Located in Tromso, this visual arts museum has art from the northernmost regions of Norway.
Inside, you can participate in a guided tour.
Tirpitz Museum in Alta
The Tirpitz Museum focuses on Alta and WWII.
It includes exhibits featuring Soviet and Nazi forces, along with battles.
Alta Museum in Alta
If viewing UNESCO-worthy human history up close and personal intrigues you, head to the Alta Museum. 
The outdoor portion of the museum, surrounded by the show-stopping Altafjord, includes around 6,000 rock carvings and 50 rock paintings, which consist of animal and human drawings, religious art, and various unclassified shapes.
The engravings are estimated to be 4,000-6,000 years old, making them one of the most prominent features of the Stone Age in Northern Europe.
Northern Lights Cathedral and exhibit in Alta
Learn all about the northern lights in a cathedral named after them, right in the heart of Alta's center.
But not before you admire the church's architecture, that is.
The exterior is a magnificent spiral of concrete and titanium sheets, all bathed in a glistening silver color.
Just a staircase below lies the cathedral's museum, referred to as the Borealis Alta. It not only offers resources such as expert-led tours, guidebooks, and pamphlets, but also an interactive exhibition to make learning all the more fun: wave or sing to the museum's tech-take on the northern lights, and they'll respond with a flash of green, flowy illuminations that mimic the real deal.
Royal and Ancient Polar Bear Society in Hammerfest
Hammerfest's Royal and Ancient Polar Bear Society doubles as a museum demonstrating the town's Arctic fishing and hunting conditions.
Become a member of the Polar Bear Society when you visit the museum in person for a one-time fee; you'll not only support the exhibitions but be a member for life.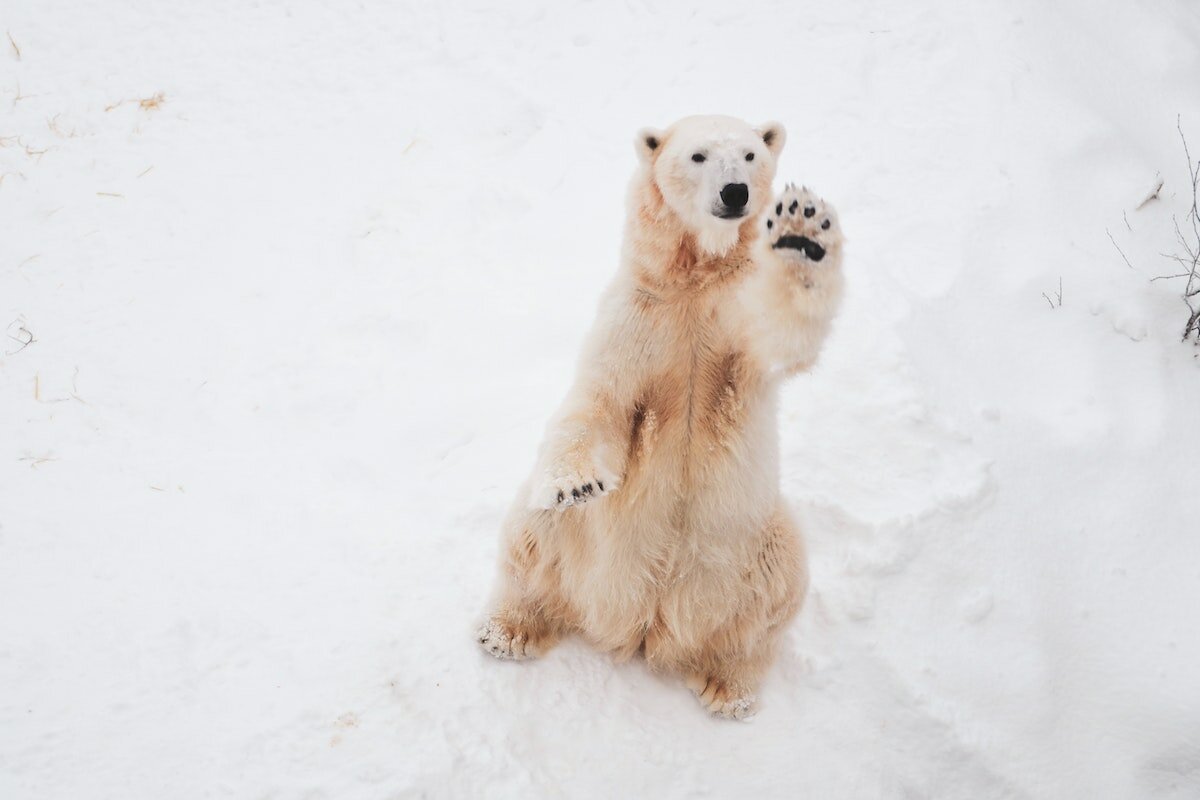 Museum of Reconstruction in Hammerfest
The Museum of Reconstruction was established in 1998 to commemorate strength and loss following Nazi forces attacking Hammerfest.
Inside the museum are photos and artifacts from the time.
Varanger Sámi Museum in Varangerbotn
Since 1983, the Varanger Sami Museum has provided an insightful look into Sámi history and culture.
Here, you can stroll around exhibitions depicting important Sámi culture components and visit the gift shop which sells items such as hand-crafted scarves and mittens.
The North Cape Museum in Honningsvåg
This is a small museum located in the center of Honningsvåg. It was opened in 1982.
It deals with the fishing lifestyle of Northern Norway and the history of the North Cape.
SVALBARD MUSEUMS
Barentsburg Pomor Museum in Svalbard
The Barentsburg Pomor Museum first opened in 1995 to highlight the aspects of this small mining town on Svalbard.
The museum features over 300 rocks and minerals from across the Svalbard archipelago.
Svalbard Museum in Svalbard
The Svalbard Museum is located in central Longyearbyen.
Here, you can learn all about the island; from its nature to its history.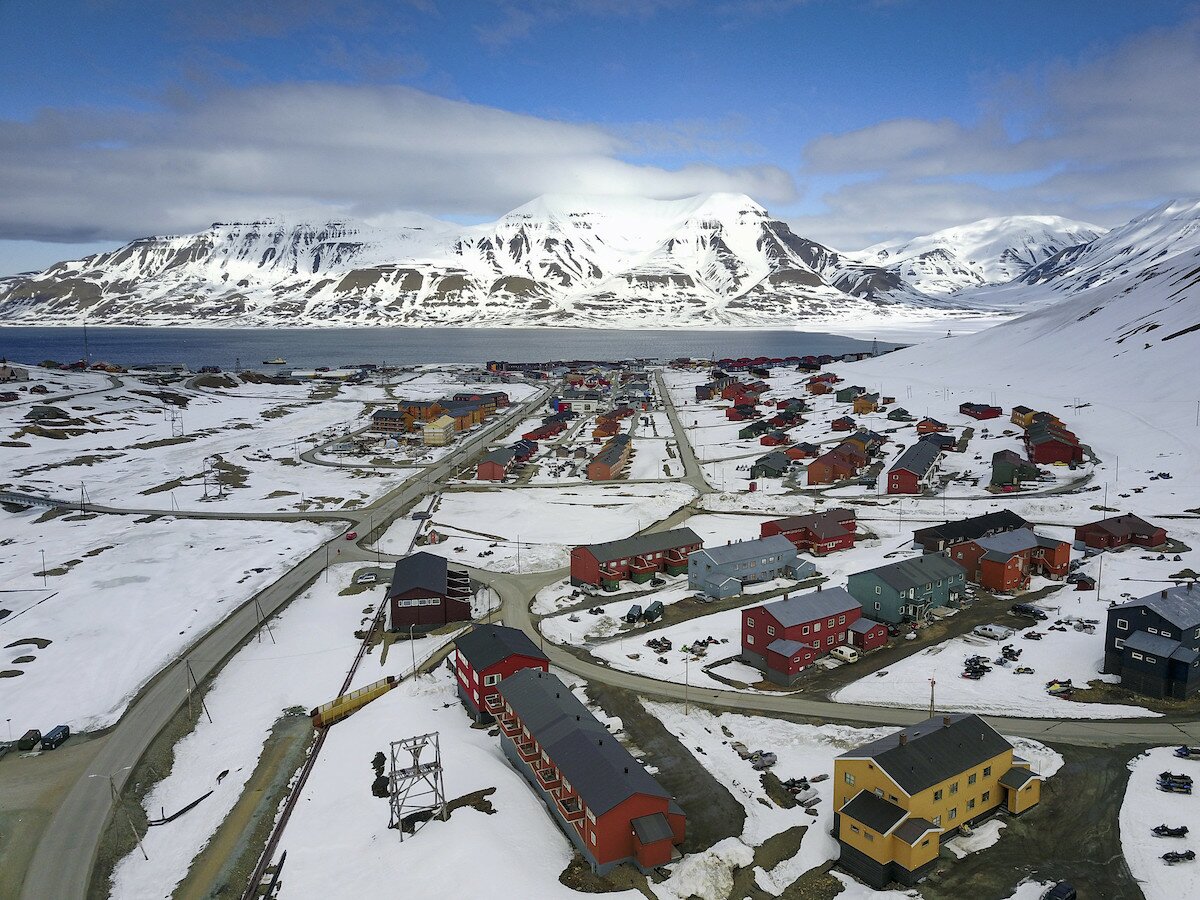 Pyramiden Museum in Svalbard
The Pyramiden Museum includes exhibits on polar wildlife, geology, the coal mining industry, and Russian history on the now-Norwegian territory.
The museum was established in 2007 to draw more attention to the almost-abandoned town of Pyramiden.
Spitsbergen Airship Museum in Svalbard
Now known as the North Pole Expedition Museum, this museum showcases Arctic expeditions via airships, skis, dogs, and boats.
The museum's gift shop features locally made souvenirs. At the museum's cafe, you can wind down with hot chocolate by the fireplace.
Is there a museum in Norway we missed on this list?
Write to us and let us know!
Source: #NorwayTodayTravel
Do you have a news tip for Norway Today? We want to hear it. Get in touch at info@norwaytoday.no