Though starkly different, neither the Adriatic Sea and the Norwegian Sea should be forgone by lovers of sailing. The Mediterranean country of Croatia and far-north Norway without a doubt boast some of the world's most wonderful waterways.
Sail the Croatian coast
When it comes to Croatia, you've got to check out this seven-days-in-heaven itinerary by Time Out Croatia here.

One of the most fantastic sailing routes in Croatia will take you from the cobblestoned medieval town of Trogir, across some of Croatia's famously stunning islands, and back.
Be sure to soak in that Adriatic sun while you can if your next sailing stop is Norway!
Discover the fjords of Norway by boat
With over 1000, Norway holds the title of the country with the most fjords on Earth. It makes sense, then, that you experience Norwegian sailing by weaving in and out of these ancient, glacier-carved waterways.
We're bringing you a list of fabulous destinations to help plan your tour de fjord.
Altafjord
Begin your 38-kilometer-long cruise down Altafjord from its main city of Alta. If you're in town during the colder months, you'll be treated to views of the aurora borealis to boot.
The fjord continues on across the Stjernøya and Seiland islands, before ending in two straits that flow into the Norwegian Sea.
Don't miss Seiland National Park, located right on the island of the same name, dotted with striking glaciers and green forests. Don't be surprised if you run into a few locals, as well.

Fjords around Voss
Start off with a train journey from Voss, across the Myrdal train station, and then ride one of the world's most iconic railways to Flam.
From Flåm, hit the water and wind your way through UNESCO World Heritage-designated fjords, as you take in sights such as wild eagles and cascading waterfalls.
Sognefjord
Known as the king of the fjords, 200-kilometer-long Sognefjord is the longest fjord in Norway and the second-longest in the world. It stretches almost halfway to Sweden!
You can embark on a Sognefjord tour from delightful Bergen, Norway's second-largest city, and end in Flam.
Bring your cameras, because there will be photo opportunities around every curve and corner on Sognefjord.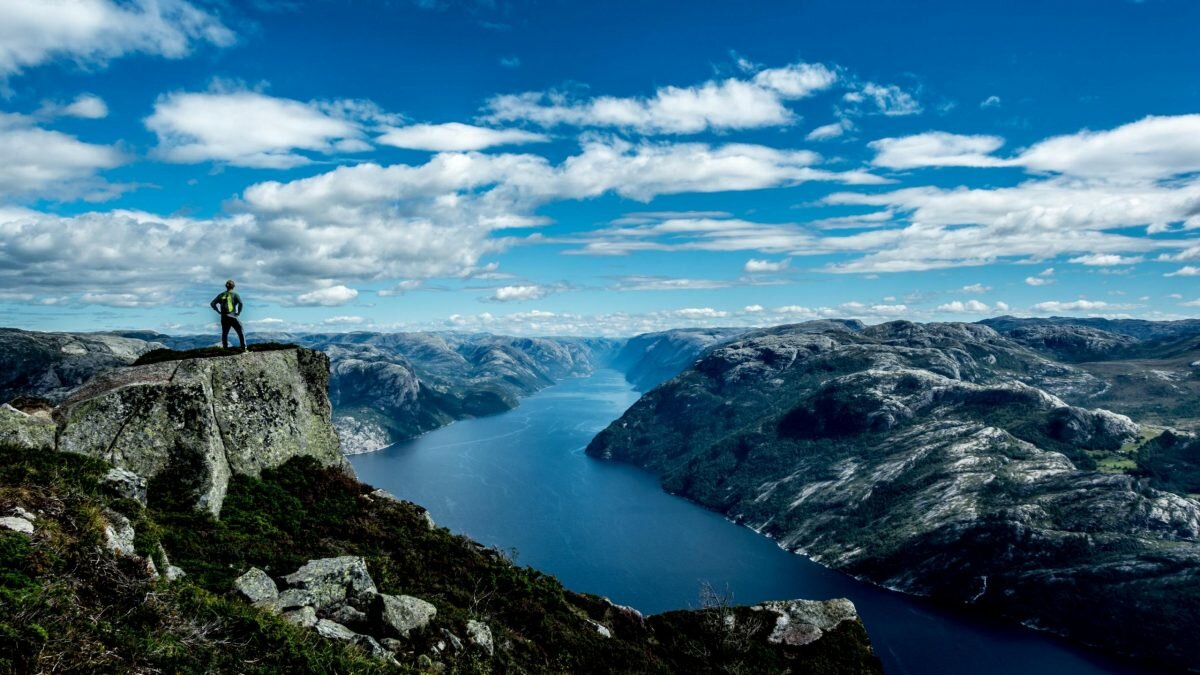 Lysefjord
Lysefjord adorns Rogaland County, which is located south of Bergen.
One of its most popular sights – one of Norway's most popular, in fact – is the Pulpit Rock, also known as Preikestolen.
Find our full guide to the breathtaking Pulpit Rock here.
Hardangerfjord
180-kilometer-long Hardangerfjord, the second-longest fjord in Norway, is sometimes referred to as the queen of the fjords.
While here, try your hand at kayaking or hiking. These are two of the best ways of experiencing Norway's fjord flora and fauna up close and personal.

Nordfjord
Nordfjord graces central Norway. This fjord is surrounded by glaciers, lakes, and mountains, many of which can be trekked and all of which offer amazing views – from the ground or above.
Ski lovers can also rejoice at Nordfjord – the area is one of Norway's favorite for skiing.
Source: Norway Today / Time Out Croatia