July 29th is St. Olaf's Day, which has been marked in Norway for almost a millennium.
St. Olaf's Day, aka St. Olav's Day or Olosk, is a religious holiday commemorating the Norwegian King-Saint who, per legend, perished in the battle of Stiklestad on the date in 1030 AD.
The story of St. Olaf
Brought up in the Viking religion, Olaf II Haraldsson (c. 995 AD, Ringerike – c. 1030 AD, Stiklestad) was a Viking warrior as a young man. Later in life, he converted to Christianity, which he encountered during his travels through Europe. He was baptized in 1013 in Rouen, France.
Olaf returned to the land of his birth in 1015, conquered its territories, and became king of all Norway in 1016. Upon his ascension to the throne, the newly minted king attempted to establish the Catholic church in Norway, using violent methods. Nonetheless, Olaf eventually gained some support, especially among wealthier citizens. Then, he enacted a religious code with his adviser, English-born Bishop Grimketel (unknown – c. 1047) in 1024. 
Olaf lost power when then-king Canute I of England and Denmark (990-1035) resolved to conquer Norway. This forced Olaf to flee to Russia in 1028. In 1030, he returned to Norway in an attempt to re-establish his rule. During the same year, he is said to have died.
Heimskringla, written 200 years after Olaf's death by Snorri Sturluson (1179-1241), tells the tale of a legendary battle. In the Icelandic saga, Olaf, backed by King Anund Jakob of Sweden (1008-1050), dies a heroic death fighting a peasant army at the Battle of Stiklestad (located about 100 kilometers northeast of modern-day Trondheim). The modern-day church of Norway supports this account.
Olaf's death is thought to have been accompanied by miracles, and in 1031, he was canonized locally. In 1164, the pope confirmed Olaf's local canonization – and so, Olaf II Haraldsson officially became St. Olaf. 
In the years following Olaf's death, Christianity increasingly spread throughout the Nordic countries. The first Scandinavian archbishopric was established in Lund, Sweden in 1103. The archbishopric of Nidaros (modern-day Trondheim) was established in 1153, and included Norway, areas of Sweden, Iceland, Greenland, the Faroe Islands, the Shetland Islands, and more.
Viking and Christian rituals and beliefs were practiced side by side for decades. Some continued to practice only the Viking religion in secret. Still, many Nordic citizens had become fully converted to Christianity and were, in turn, baptized and buried as Christians. By the end of the 12th century, Christianity had become the most prevalent religion in the Nordic countries. 
This is the legacy left by King-Saint Olaf. As such, leaving such a memorable path, he is still celebrated today – and will likely continue to be for years to come.
The Nidaros Cathedral
St. Olaf is believed to be buried underneath the Nidaros Cathedral. Completed in the 14th century, Nidaros Cathedral is located in Trondheim. It's the northernmost medieval cathedral in Norway. Due to its association with Olaf, the Cathedral is a destination of religious pilgrimages, too.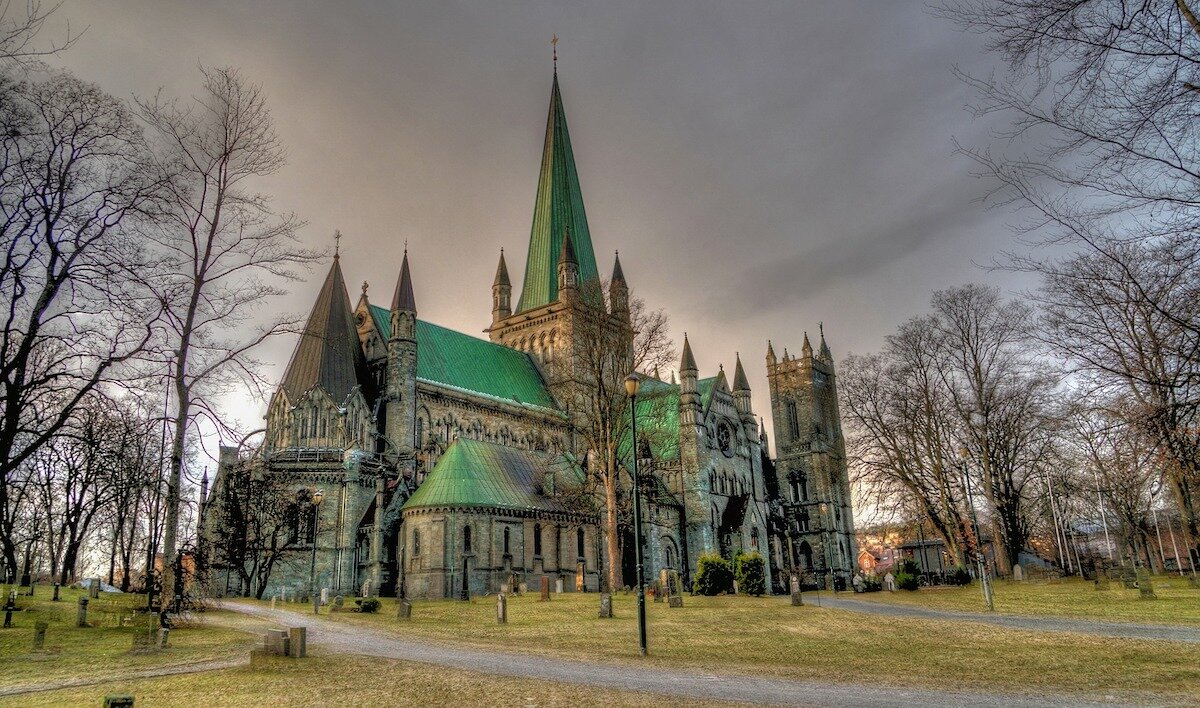 On St. Olaf's Day annually, the Nidaros Cathedral hosts scores of tourists and locals alike. The Cathedral is a large part of his festival – which includes concerts, food stands, and a medieval market – in Trondheim.
Trondheim's International Olavsfest
Trondheim's International Olavsfest is an annual week-long event full of festivities and folklife held from late July to early August.
The fest includes everything from concerts and historical markets, across worship services, to cultural activities and good food. Notably, Olavsfest is a gathering that aims to "embrace, rather than exclude." On its website, the festival notes that, "in a multi-religious society, Trondheim International Olavsfest shall offer artistic and cultural activities that acknowledge the significance of faith and doubt for all peoples of all ages."
International and domestic festival-goers, young and old, of all walks of life, enjoy the event each year.
Source: #NorwayTodayTravel
Do you have a news tip for Norway Today? We want to hear it. Get in touch at info@norwaytoday.no