With the parliamentary elections now just a week away, on September 13, there is much political scheming, maneuvering, and campaigning. Will Prime Minister Erna Solberg secure another term for her center-right coalition government? Or will Labor Party (AP) leader Jonas Gahr Støre sweep into power with a "green-left" government? Who are the major political parties and what coalitions could we see govern Norway next?
The big two: Høyre & AP
Norwegian politics has been dominated by the presence of a center-left and center-right party since the 1880s. In recent years, two parties have taken turns in being the senior party in a governing coalition.

The party of the current Prime Minister, Erna Solberg, is Høyre (the Conservative Party). Founded in 1884, it is a center-right mainstream party, seen as the party for "traditional elites" in the political and business classes. A pragmatic party, it has shifted from its once socially conservative stance to embrace more socially liberal thus widening its support base. With the slogan Vi tror på Norge ("We believe in Norway"), it has been the senior partner in the government since 2013. Securing over 25% of the vote in the 2017 election, it has 45 seats in the Storting.

The Arbeiderpartiet (Norwegian Labour Party, AP) is a social-democratic mainstream left-wing party. Founded in 1887, it has strong traditional roots to the labor movement reflected in its slogan (in use since the 1930s)
Alle skal med ("Everyone will be included"). Dominating the post-war political landscape up until the 1960s, it gradually then lost votes to right-wing parties from the 1970s. However, it still managed to form governments in the 80s, 90s, and 00s. The current leader is Jonas Gahr Støre has widely been cited as the possible next Prime Minister. It has 49 seats in the Storting and received 800.949 votes in the 2017 election.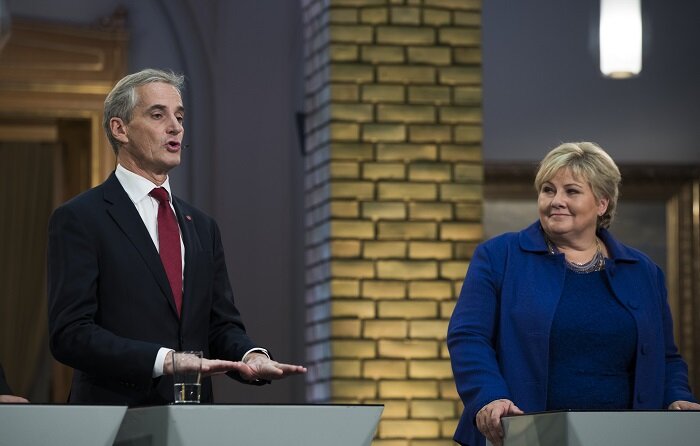 Smaller parties with a big influence
There has not been a political party that has won an absolute majority, in parliament, since 1961. There has been a steady diversification of political parties, on both the left and right, since the 1980s. Like most Western countries, Norway has seen the AP party lose lower and middle-class votes to the right and far-right whilst the younger generation is flocking to more parties with a greater environmental and social consciousness.

Fremskrittspartiet (Progress Party, FrP) is the further right-wing mainstream party in Norway. A populist party, founded in 1973, it is (depending on the poll you look at) Norway's third-largest party and entering government, for the first time, in 2013. It has gained momentum over the past two decades or so due to a combination of Euroscepticism, economic liberalization, and strict immigration policies. It was in government until January 2020 when it withdrew from the governing coalition over the issue of repatriation of a Norwegian citizen who has joined the Islamic State. It is led by Sylvi Listhaug and now has 29 seats.

One of the more pragmatic parties in the Storting is the Senterpartiet (Centre Party, Sp). It has its roots in the old Farmer's Party but has been in governing coalitions on both the left and right. It focuses mainly on the issues of protectionism and decentralization. Led by Trygve Slagsvold Vedum, its influence cannot be overstated as it could be the party on whose support any governing coalition will depend. It currently has 19 seats.
To the left of the AP, is the Sosialistisk Venstreparti (Socialist Left, SV). Formed out of a coalition of smaller socialist and independent parties, it focuses on more government involvement in the economy, a stronger public sector, and strongly advocates feminism and environmentalism. It has been led, since 2012, by Audun Lysbakken. It has been in government once, in 2005, where it was part of a coalition with the AP.
Venstre (Left, V) is perhaps the most middle of the road political party in Norway. It takes a centrist stance on most issues but pushes for closer European cooperation and a less rigid immigration policy. It is led by Guri Melby and currently has 8 seats.
The Kristelig Folkeparti (Christian Democrats, KrF) is a socially conservative party with left-leaning economic policies. Along with Venstre, it has, at times, – both officially and unofficially – supported Prime Minister Solberg's government since 2013. It also has 8 seats and is led by Kjell Ingolf Ropstad.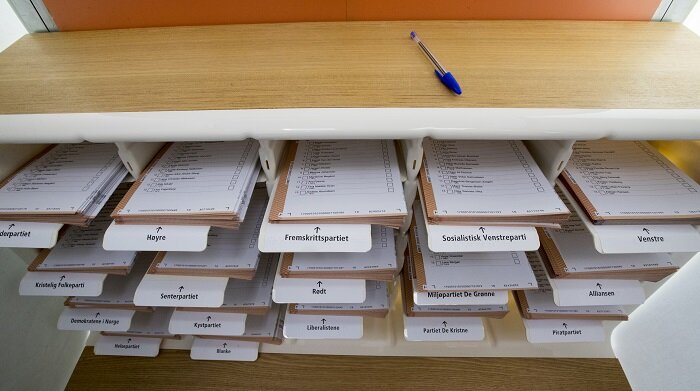 The new political "cool kids"
The recent decade has seen Norway, like the world, see a growth in support, amongst younger people, of far-left and environmental parties.

The Miljøpartiet De Grønne (Green Party, MDG) advocates almost entirely on socially and environmentally progressive issues. The MDG expects strong "millennial" support, tapping into the fact that young people are expected to be more environmentally conscious than their elders. However, a recent resignation of one of its representatives on the Oslo City Council could possibly be in the back of voter's minds come election day.

On the extreme left, is Rødt (Red Party, R) It wants to totally abolish Norway's capitalist society and replace it with socialism. Along with the MDG, it has a single seat in the Storting but its leader, Bjørnar Moxnes, is seen as an effective communicator to younger voters.

Perhaps the most interesting micro-party is the single issue Folkeaksjonen nei til mer bompenger (People's Action No to More Road Tolls, FNB) which runs entirely on the fact that all road tolls (which have increased in price and quantity in recent years) should be abolished. They have no seats and are not expected to win any but have tapped into a nagging public sentiment over the cost of living and driving in Norway.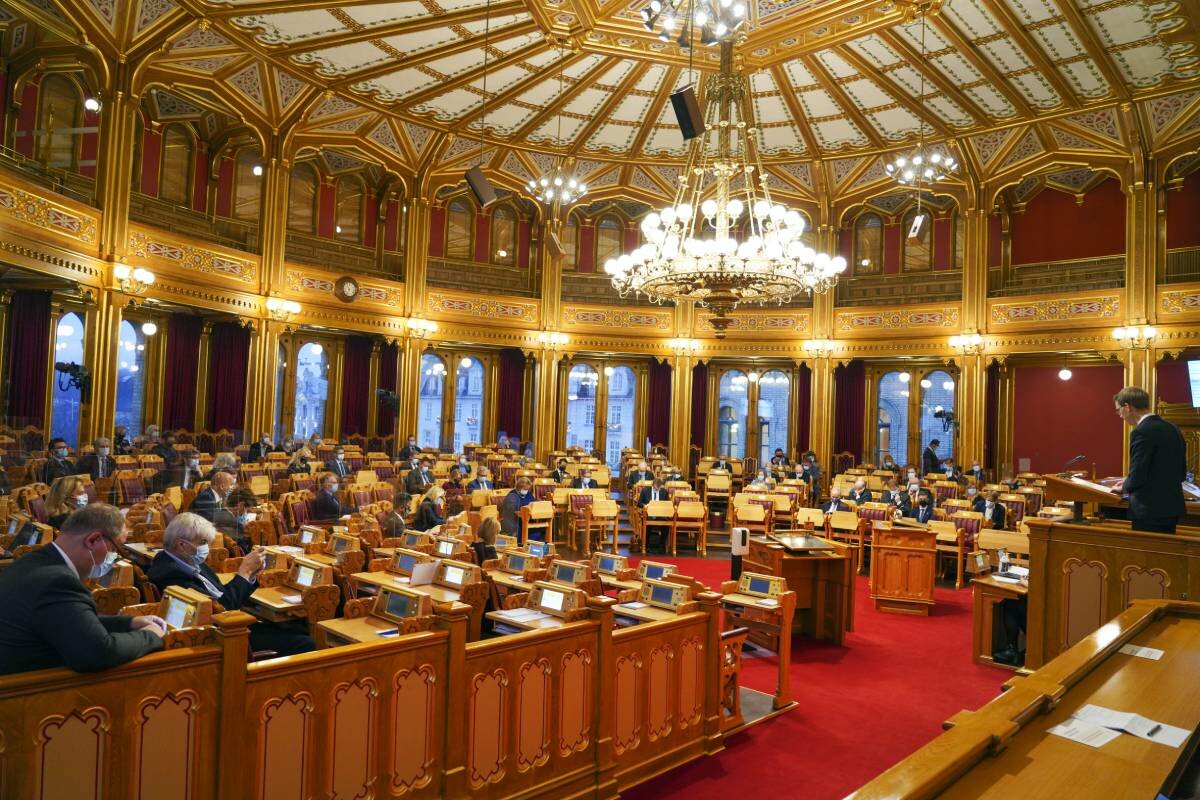 Possible governing coalitions
With the election now a week away, there is already backroom wheeling and dealing, political maneuvering, and scheming to see who may form a governing coalition if the votes add up. When the fallout from the election occurs, there are two likely arrangements for a governing coalition. These are:

1) A "red-green" coalition: meaning a change of government. the most likely left coalition to win government would be a combination of the AP, SP, and SV. This would make Jonas Gahr Større Norway's next Prime Minister and see the AP return to power after 8 years in opposition.

According to opinion polls gathered (up to and including August 30, 2021) by Estimite, an AP-SP-SV coalition has a 63.3% probability of securing a governing coalition this election. Polling on the current government sees a less than 1% chance of a governing coalition being able to be secured by a combination of H-KrF-V-KrF.

However, should a red-green coalition occur, this would depend on the support of SP which, as explained, has switched between left and right coalitions throughout its history. This would make Trygve Slagsvold Vedum a "kingmaker" and his party would exert considerable influence in a red-green coalition government.

2) A center-right coalition: meaning Prime Minister Erna Solberg remains in power. This would be her 3rd term in office, her second re-election victory, and, at the end of the term in 2025, would make her the second-longest-serving Prime Minister in modern Norwegian history.

Estimite puts the probability of the conservative block winning a majority at less than 1%. With a Conservative-led government in power for 8 years, many voters may think it is time for a change. Though it won praise for its initial handling of the COVID-19 pandemic, the recent spike in infections, due to the Delta variant, and the sluggish pace of vaccinations (compared to the US or the UK) have taken their toll on the government's popularity. With the KrF dropping out of the governing coalition last year, a once-solid coalition seems to be weakening in the face of the upcoming elections. However, Prime Minister Solberg is still a formidable political operator.
The winner takes it all…
Whatever the experts and opinions polls say, we will simply just have to wait until the polling booths closed on September 13. In recent years, political experts and analysts have had a rather horrid time as the public mood was completely misjudged. Given that ABBA is back in the news, and on the charts, one thing is certain about this election…the winner takes it all!
The opinions expressed are those of the author and are not held by Norway Today unless specifically stated.
About the author:
Jonathan is a lover of the written word. He believes the best way to combat this polarization of news and politics, in our time, is by having a balanced view. Both sides of the story are equally important. He also enjoys traveling and live music.

Source: #Norway Today / #NorwayTodayNews
Do you have a news tip for Norway Today? We want to hear it. Get in touch at info@norwaytoday.no