Who's up for some swimming?
Norway's beach zone (strandsonen) refers to the area reaching 100 meters inland from the coast (as measured horizontally during high tide).
Currently, 68% of Norway's beach zone is accessible to the public, while 32% is inaccessible, according to Statistics Norway (SSB).
Want to visit the beach in Norway?
Norway's coastline is super-long – at 100,915 km in length, it's second in size only to Canada's – so there are safe, open beach areas all around the country.
Still, amounts of available beach zone vary from region to region. Oslo, Viken, and Vestfold og Telemark have the smallest beach zone area available, while Troms og Finnmark has the largest. In the Oslofjord, around 60% of the beach zone is inaccessible to the public. In Troms og Finnmark, on the other hand, just around 20% is out of reach.
Parts of Norway's beach zone can't be reached because they're home to various buildings, agricultural land, roads, and/or railways. Other parts, around 20% to be precise, are simply considered too steep for safe access.
So, when you're planning a trip with beaches as a highlight – make sure to research your destination area first.
One of Norway's most popular spots for a beach-oriented vacation is the lovely Lofoten – sometimes referred to as "the Hawaii of the North."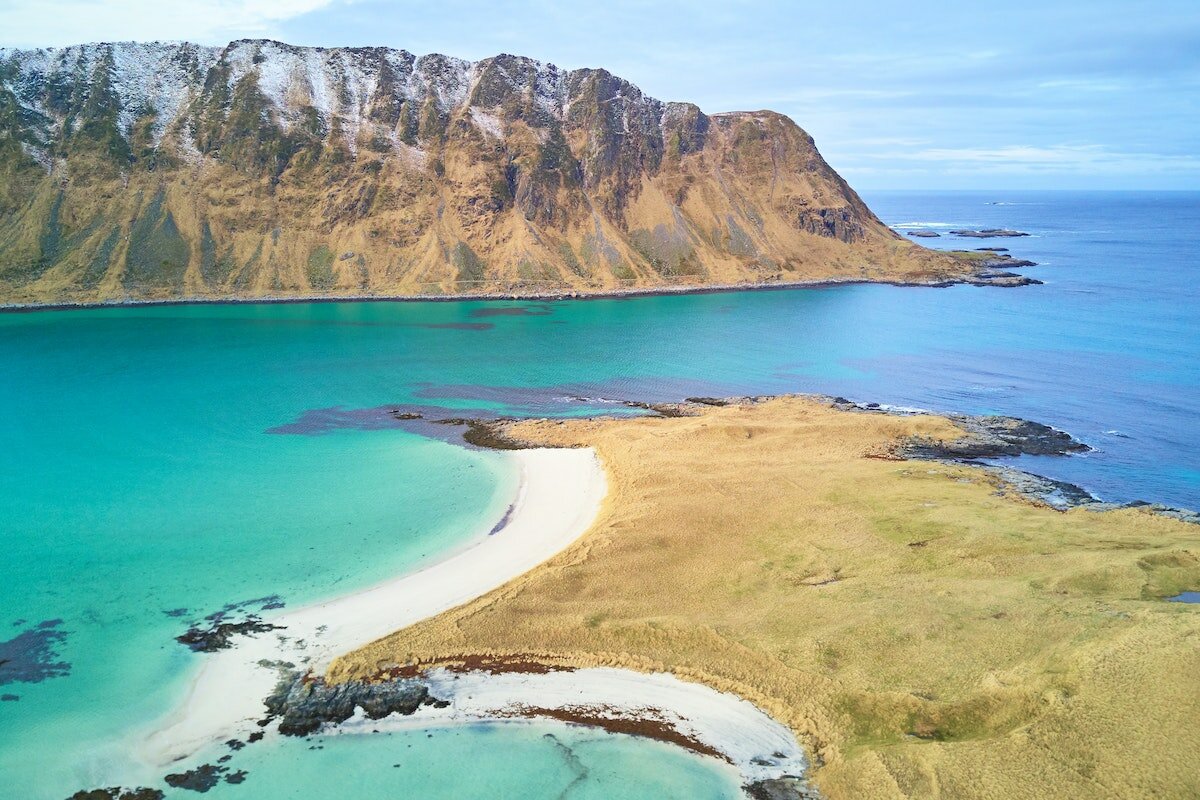 If you happen to be an avid surfer, too, we've got you covered with this guide to surfing in Norway.
Construction in the beach zone
Norway's government is committed to ensuring the entire public population has "good access" to the shoreline belt, and construction – strictly with a permit – is allowed in some cases.
Preliminary figures from SSB show that in 2020, there was an increase in construction permits for the beach zone for the first time in 15 years.
From 2005 to 2019, there was a steady decline in the number of buildings being built in the beach zone. In 2019, 3,328 permits were granted. In 2020, 3,363 permits were registered. As for building types, the increase is a result of demand for garages and accommodation. However, other building types across the entire beach zone are still on the decline.
Norway's Planning and Building Act covers construction in the beach zone. The document states: "In the 100-meter belt along the seashore and river systems, special consideration shall be given to the natural and cultural environment, outdoor recreation, landscape, and other elements of public interest."
Source: ©️ NTB Scanpix / #NorwayTodayTravel
Do you have a news tip for Norway Today? We want to hear it. Get in touch at info@norwaytoday.no